It's been almost 20 months since the last MLP IPO (May 2008). 2009 was the third year since 1995 that there were no MLP IPOs, the other two years being 1997 and 2003. There are no IPOs in the registration process as of now, but the strength of the equity markets leads me to believe that at least 1 MLP will go public in 2010. 
I thought it might be interesting to walk through the MLP IPOs from years past, and review some of the trends in the characteristics of IPOs over the years. 
Our review of MLP IPOs begins in 1996, when the electronic filings available on the SEC's website start. It should be noted that 7 MLPs that still trade today were trading by 1996, including the ones below. 


In addition to those that were trading back then and are still around, there were a number of MLPs that were trading back then that have not survived to present day. In addition, there were many in the early to mid 1980's that for whatever reason have not continued through today. Many in the 1980's were E&P MLPs. Below is a list of the MLPs that no longer trade today that went public pre-1996 that I know of. It's certainly not an exhaustive list, so if you know of any additional ones, please let me know (I only included energy MLPs, there were MLPs in the 1980s for any number of different industries that largely went away with the 1986 tax law changes).

E&P MLPs that no Longer Trade:
Apache Petroleum

Belden and Blake Energy Partners

Convest Energy Partners

Damson Energy Partners

Devon Resources Investors

Diamond Shamrock Offshore

Energy Development Partners

Enserch Exploration Partners

Entex Energy Development

Freeport-McMoRan Partners

Hallwood Energy Partners

Kaneb Energy Partners

Kelley Oil and Gas Partners

Lear Petroleum Partners

May Energy Partners

Mesa Limited Partnership

NRM Energy

Parker & Parsley

Petroleum Investments, Ltd

Santa Fe Energy Partners

Snyder Oil Partners

Sun Energy Partners

Transco Exploration Partners

Union Exploration Partners

Walker Energy Partners
Other MLPs that no Longer Trade:
Borden Chemicals and Plastics

Valero Natural Gas Partners

Santa Fe Pacific Pipeline Partners

Huntway Partners

El Paso Refinery

Kaneb Pipe Line Partners (acquired by NuStar Energy)

Pride Cos LP

TEPPCO Partners (acquired by Enterprise Products Partners)

Arcadian

GulfTerra Energy Partners LP (formerly El Paso Energy / Leviathan Gas Pipeline, acquired by Enterprise Products Partners)

EOTT Energy Partners LP
Below is a chart that tracks the number of MLP IPOs each year. The MLP sector really took off in 2004, and the IPOs reflect that growth, with a 3 year stretch from 2005 through 2007 that saw 40 IPOs. IPOs of 
GP Holding companies became very popular in 2005 and 2006, with a flurry of 10 GP's going public in those two years (but none since then). The chart below highlights the GP IPOs over the years.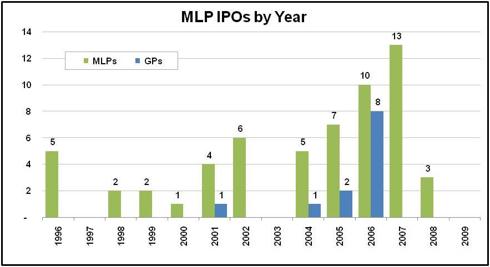 IPO Yield

The chart below tracks IPO yield for the last 25 MLP IPOs (midstream MLP IPOs are in green). Since 1996, the lowest yielding IPO was 5.45% (SEP in 2007), the highest yielding was 12.92% (APL in 2000). The chart below is misleading as the higher yielding IPOs of the past few years were largely E&P MLPs that have direct commodity price exposure that warrants a discount yield relative to the sector. Midstream MLP IPOs have not had an IPO yield above 8% since Holly Energy Partners in 2004, and most have been below 7.5%. A typical IPO discount to the sector yield is between 150 and 200 basis points vs. their comps. With the current midstream MLP average yield around 7.4%, an IPO in the midstream pace would probably have to go public above 9%.

IPO Size
MLP IPOs vary quite a bit in size. The largest MLP IPO ever was actually a GP IPO, Magellan Midstream Holdings (
MGG
) at $539 million in 2006. The largest non-GP MLP IPO was El Paso Pipeline Partners (NYSE:
EPB
) for $500 million in 2007. The smallest MLP IPO ever was Atlas Pipeline Partners (NYSE:
APL
) for $19.2 million in 2000. Since 2005, of the 33 IPOs, only 5 were for less than $100 million. Attached is a spreadsheet with the backup data of the IPOs since 1996.