MLPs had a good week, and so did most other risk assets. "Risk free" 10-year treasuries did not fare so well, as yields on those rose 17 basis points higher all the way to 1.82%, their highest point since May 11th. Oil futures also reached their highest point since May 11th, closing the week up 3.5% at $96.15 after 4 straight positive days. Natural gas futures dropped for the fourth week in a row to $2.74.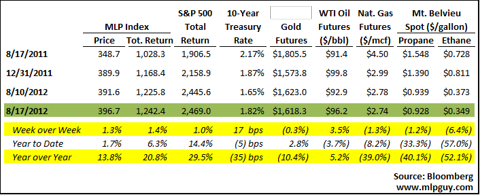 As discussed here before, in the short term MLP performance is much more correlated to oil than to interest rate moves. This week is a good example of that in action. Oil prices moving higher trumped the yield spike (hard to call it a spike when rates are still well below 2%, but on a percentage basis that's a big week over week move) and helped send MLPs higher. It is intuitive that oil prices should be more correlated to MLP prices than treasuries, because the impact of oil prices on operating results is much higher than the impact of treasury moves (which might have a small impact on interest expense), especially with an ever-increasing share of the MLP space taken by upstream MLPs.
The next few weeks, in the absence of capital markets activity, expect MLPs to move along with the broader market and with commodity price changes, with a slightly positive slant on account of less marginal supply of equity flooding the market. Over the last few months, the market and oil have been very nice things to hitch your wagon to, as confusing as the constant march higher for the stock market has been to most professional investors that are on TV.
The story of the week was the Hi-Crush IPO, which popped the most on its first day than any other MLP IPO in 5 years. The success of the two most recent MLP IPOs (Hi-Crush and Northern Tier), despite both pricing well below the price range, bodes well for other MLP IPOs in the offing. Not sure which one IPO will go off next, but there will be more services MLPs to file and go public going forward.
News of the (NYSE:MLP) World
Boardwalk Pipeline (NYSE:BWP) announces JV to acquire PL Midstream for $625mm from Lindsay Goldberg (press release)

BWP to invest $132mm, Boardwalk Pipeline Holdings Corp (owned by Loews) to invest $268mm, the JV will borrow the rest
PL Midstream operates salt-dome storage, pipeline transportation, fractionation and brine supply services from two hubs in southern Louisiana
Assets include: 53.5mm barrels of salt dome storage capacity, 11.2 bcf of working natural gas storage capacity, significant brine supply infrastructure and 240 miles of pipeline transportation assets

Hi-Crush Partners (NYSE:HCLP) prices $191.8mm IPO at $17.00 per unit

Priced $2.00 below the filing range of $19.00-$21.00 per unit, for an 11.18% yield
Traded up 17.6% on its first day of trading to close at $20.00
Regular MLP with IDRs, a minimum quarterly distribution and subordinated units

Calumet (NASDAQ:CLMT) announces acquisition of Montana Refining Company, Inc. for $225mm from Connacher Oil & Gas (press release)
EROC prices public offering of 8.8mm common units at $8.72 per unit

Gross proceeds of $76.7mm
Marketed offering over course of one day, 2.67% decline from announcement to pricing

MWE prices public offering of 6.0mm common units at $50.72 per unit

Total gross proceeds $304.3mm, priced at 3.85% discount to last close

Four S-3s filed this week: