Daily Forex Market Preview, 16/03/2017
The Federal Reserve increased the short term fed funds rates by 25 basis points in yesterday's meeting as widely expected and signaled two more rate hikes for the remainder of this year. The Fed's economic projections were little changed from December's projections while Neel Kashkari, Minneapolis Fed was the dissenter at yesterday's meeting.
The U.S. dollar fell after the FOMC meeting in what some view to be dovish as the markets were expecting the Fed to project an additional rate hike this year. Economic data released prior to the Fed's meeting included retail sales and CPI data which were lackluster.
In the Eurozone, Dutch exit polls put the incumbent Mark Rutte's VVD party in the lead as Dutch voters are expected to have delivered a crushing blow to the far-right leader Geert Wilders.
Official results will be announced on March 21, but some Dutch newspapers were already declaring a victory, noting that the Netherlands woke up to a "normal morning."
EURUSD intra-day analysis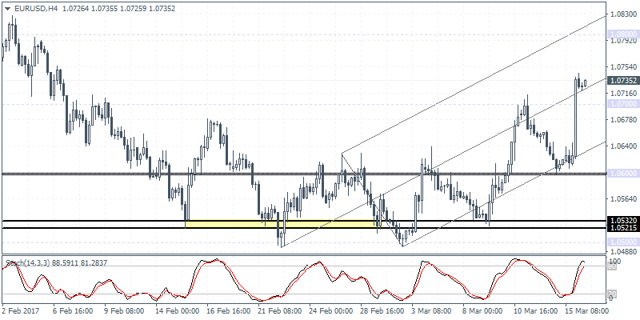 EURUSD (1.0735): EURUSD posted strong gains as the common currency broke past 1.0700 resistance yesterday. As a result, further gains can be expected albeit there are risks of a pull-back towards 1.0700 where support could be established. This would potentially pave the way for EURUSD to continue its gains towards 1.0800 in the near term. Over the longer run, however, the EURUSD remains trading flat and could remain range bound. In the event of a breakdown below 1.0700, expect to see short term declines towards the support level at 1.0650.
---
GBPUSD intra-day analysis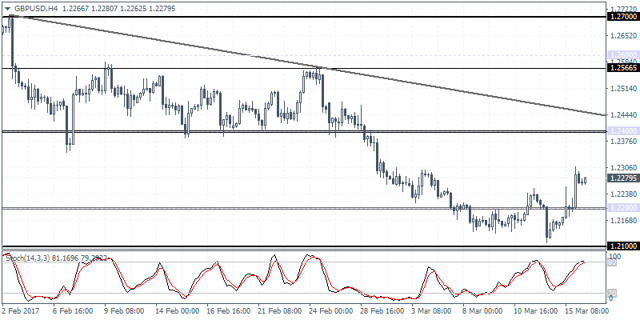 GBPUSD (1.2279): The British pound managed to rally on the back of a weaker U.S. dollar, although the risks out of the UK, both politically and monetarily could mean that any gains in GBPUSD will remain short lived. After breaking past the support/resistance level at 1.2200, further gains can be seen coming. Expect GBPUSD to slip back to 1.2200 to establish support following which GBPUSD could see an upside continuation towards 1.2400 where resistance is likely to be tested after prices broke down below this level previously.
---
USDJPY intra-day analysis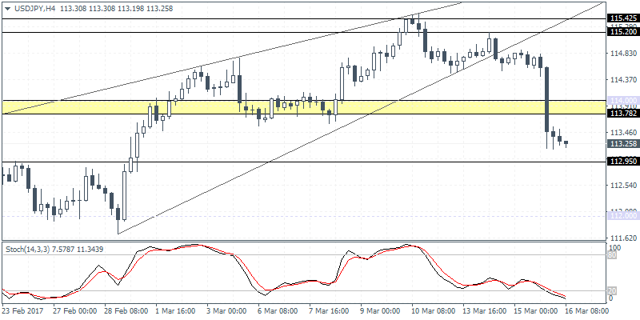 USDJPY (113.25): USDJPY is seen posting strong declines after prices broke out from the rising wedge pattern. The FOMC led declines saw USDJPY break past the strong support level at 114.00 - 113.78 region and the current momentum could see the dollar fall towards 112.95. In the near term, USDJPY could see a possible reversal back towards 114.00 - 113.78 where resistance could be established. The bias remains for a continuation towards 112.95, and only a breakout above 114.00 will shift the bias to the upside.