The U.S. dollar gained on Friday as the geopolitical tensions saw the Turkish lira plummeting. The euro was also not spared as initially news reports citing the ECB showed that the central bank was concerned about exposure to Turkey. The U.S. dollar index surged to new highs by Friday's close.
Does your trading knowledge measure up? Check out our Learn Forex Basics!
Economic data was clearly overshadowed by the broader themes. The UK's preliminary second-quarter GDP datashowed that the economic advanced 0.4% as expected.
Canada's unemployment rate fell to 5.8% in July compared to June's 6.0%, while the economy added 54.1k jobs during the month. In the U.S. the headline inflation rate was seen rising 0.2% on the month as expected. Core CPI also advanced 0.2% matching estimates.
Looking ahead, the markets look to a quiet day with not much of economic releases scheduled.
EURUSD intra-day analysis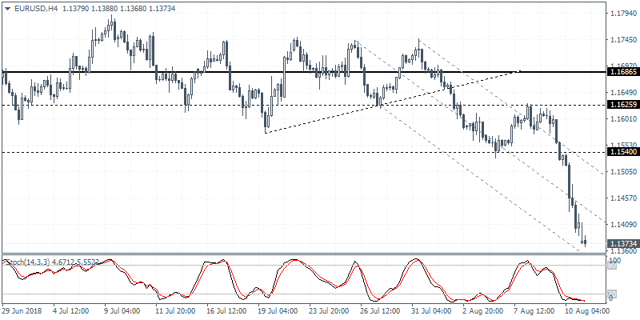 EURUSD (1.1373): The euro currency was seen breaking past the 1.1540 support level. The common currency fell close to 1% by Friday's close. The declines stalled as the EURUSD touched down to 1.1400 round number support. A rebound off this level could offer some temporary respite although further losses cannot be ruled out. On the 4-hour chart, the previously breached 1.1540 level could act as resistance on a rebound. The gains are likely to be limited as long as this resistance level holds.
USDJPY intra-day analysis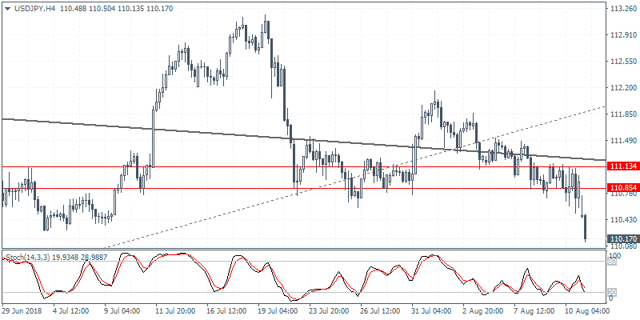 USDJPY (110.17): The USDJPY currency pair managed to trade flat, relative to the declines across other currency pairs. Price action continued to consolidate near the support level of 111.13 – 110.85 by Friday's close. Given the close below the support level earlier on Monday, the probability of a decline to the downside rises. The next main support level comes in at 109.45 which could be tested in the short term.
XAUUSD intra-day analysis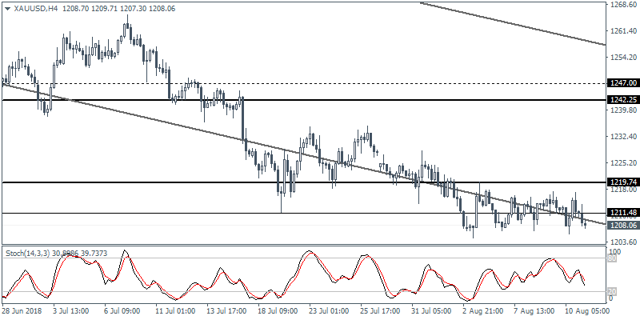 XAUUSD (1206.06): Gold prices barely budged on Friday despite the rising market sentiment. Gold prices continue to trade near the 1211.50 level of support with price action being rather subdued. However, we anticipate a potential breakout from this range between 1219.75 and 1211.50 in the near term. A break down below 1211.50 could trigger declines down to 1200.00 eventually. To the upside, gold prices could be seen testing the resistance at 1242.50.
Disclosure: I/we have no positions in any stocks mentioned, and no plans to initiate any positions within the next 72 hours.