Mainland China is purchasing a lot of gold. This might seem unusual given the fact that gold analysts are cutting their forecasts. In recent months Goldman Sachs cut its price forecast to US$1,200. Other banks including Citi, UBS and Credit Suisse are all bearish. So why is China buying?
A friend sent this to me courtesy of chartsrus.com.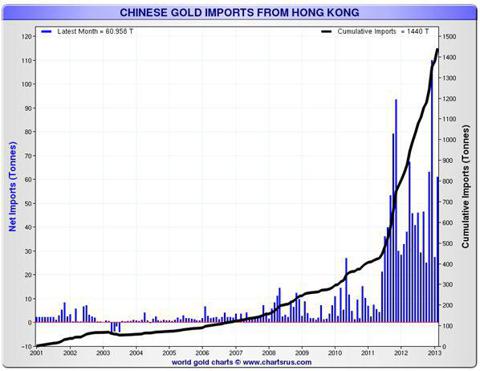 China doesn't necessarily announce its purchases of gold, but judging by what China buys out of Hong Kong, it seems clear that they are buying. For starters, China's SAFE (State Administration of Foreign Exchange - 国家外汇管理局) has roughly US$3 trillion in Fx reserves. They've been buying to maintain gold at 2% of their portfolio. There have been murmurings in Beijing that SAFE seeks to increase this percentage, but its hard to do without affecting gold prices in a serious way. For now, China keeps buying on the dips.
Other central banks have been making massive gold purchases. Last year they purchased 534 metric tons, the largest amount in 50 years. Do they know something we don't?
Disclosure: I have no positions in any stocks mentioned, and no plans to initiate any positions within the next 72 hours.