Summary
Led by Galaxy Entertainment (27.HK) (OTCPK:GXYEF), Macau gaming shares have recovered from a slump since December 2016 when over-optimism and rumors relating to the UnionPay card transaction limit.
February GGR +17.8% YoY - 22.991B MOP
As of March 1 Noon HKT:
Galaxy Entertainment is 38.5 (+3.5%)
Sands China 33.1 (+2.2%)
Wynn Macau 14.04 (+1.4%)
MGM China 14.18 (+0.3%)
Landscape
Galaxy has the largest land space in the new Cotai strip with the potential to grow with the Phase 3 and 4 of Galaxy Macau (2017Q1 construction planned).
Sands China has close to fully developed its available space which may cap further upside.
Wynn Palace runs a higher end casino and is ramping up according to their 2016Q4 statements.
MGM China delayed their new resort in Cotai until the second half of 2017 which threatens to maintain their market share.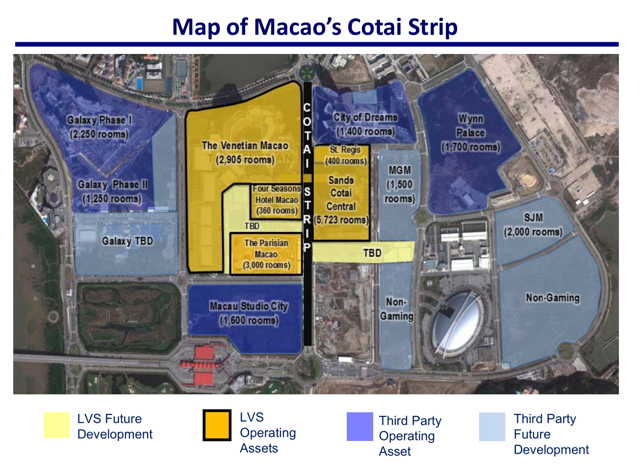 (source: LVS earnings slides)
Thesis and Catalysts
The Macau gaming sector recovery has been driven by mass market growth and particularly VIP gaming in the last quarter of 2016.
A company specific/bottoms-up valuation can reveal why certain operators can outperform but the overall demand for gaming is mostly driven by macro factors.
The vast majority of gaming revenue comes from mainland Chinese; and property price growth used to be a strong indicator for Gross Gaming Revenue (GGR) but has since become loosely correlated because property demand, especially for those in tier 1 cities, has largely outpaced global standards. Home equity loans are not common in China.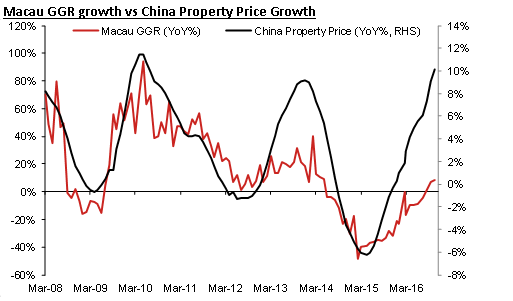 The relationship between GGR and oil price is very interesting because no one would have guessed it. I don't think this is spurious since oil prices has been a barometer of economic recovery.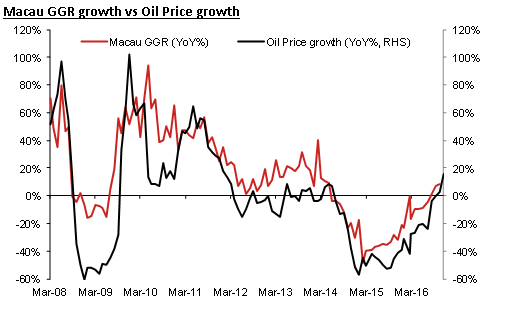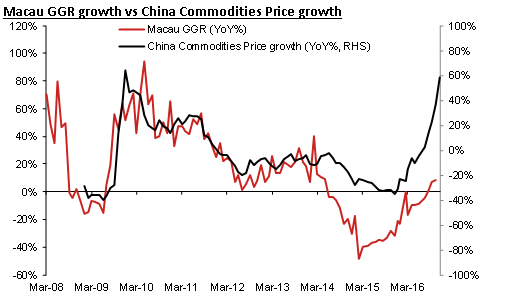 (source: Nomura)
Chinese Manufacturing PMI has been rapidly expanding since bottoming in early 2016 on government stimulus and recovering commodities sector.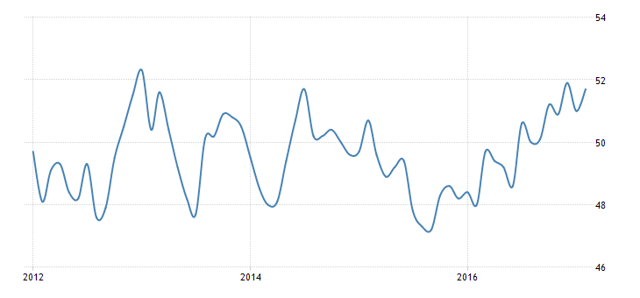 source: tradingeconomics.com
Catalysts for the sector will definitely come from the strengthening of the economy and credit expansion.
Valuations for the sector stands at about EV/EBIDTA of approx. 12 where historical average is approx. 14.
Indicators to track
Released every month, the Macau Monthly GGR gauges the strength of the market.
Macau M2 Money Supply is also worth noting although this is report with a delay.

source: tradingeconomics.com
A Bullish Outlook
Galaxy Entertainment gave the most optimistic outlook out of all Macau operators, citing increasing demand for leisure, tourism and travel from China and the rest of Asia and that the market is generally under penetrated. To capture this demand, the last phases of Galaxy Macau is slated to begin as soon as 2017Q1.
Disclosure: I am/we are long 27, 1128, 1928, 2282, WYNN.