Mike Pearson has disappeared and I think for good reason. In recent days, revelations in the House of Representatives' Oversight Committee Memo confirmed that Valeant's business strategy and revenue growth was premised on price play acquisitions. Buy a drug, increase its price, sell as much at the high price as possible, repeat and call it "growth". The ability to borrow funds and conduct continuous and rapid acquisitions began this cycle anew. Now this rotation has ended, leaving Valeant with an existing portfolio of drugs that will be challenged by generics, increased scrutiny from PBM's and politicians, the need for cash to execute its growth plans and significant cash requirements for payment of its growing Current Liabilities.
First, Valeant has provided overly optimistic 2016 Revenue Guidance. For a Company facing the challenges of a strategy shift, pressure to reduce prices, and the loss of a meaningful cash-generating distribution channel, Valeant's projections seem unsupportable. The analysis leading to this conclusion is outlined below. Starting with 3Q 2015 Revenue and annualizing these figures without adjustments, you will find a comparison of these numbers against the 2016 mid-point revenue and allocation guidance of $12.6B provided by the Company: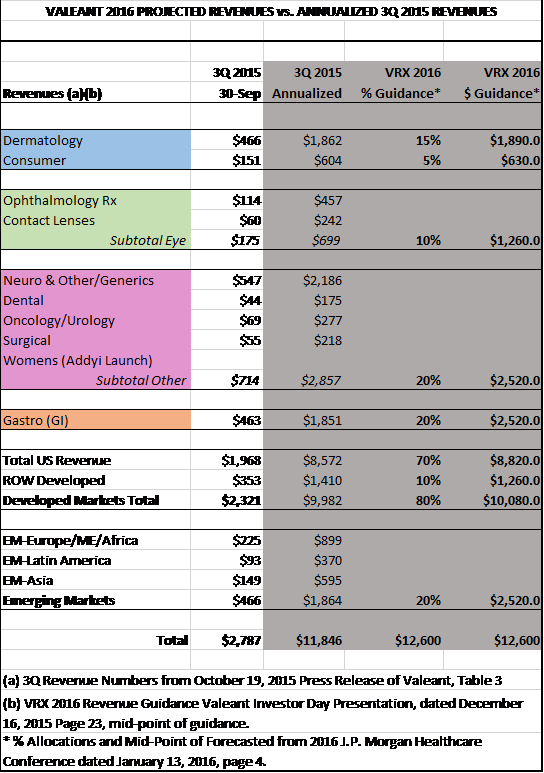 Valeant's projections assume a slight increase in Dermatology Revenue. This is incredibly difficult to believe, since as of September 30, 2015, Philidor accounted for a total of $454.9M of Valeant YTD Revenue (33% of Valeant's YTD US Dermatology Revenue). Valeant adjusted Q4 Revenue Projections by $250M to account for the loss of this distribution channel. I do not see how Dermatology Revenue in 2016 even stays flat, especially since the Walgreen's consignment arrangement is ramping up and price reductions are expected. It will be interesting to hear how Revenue will be accounted for through this new arrangement.
Valeant also assumes an aggressive 35% increase in Emerging Markets Revenue. With the acquisition of Amoun, an increase in Emerging Markets Revenue is expected, but an additional $655.6M additional seems aggressive to say the least. Amoun had approximately $225M in annual revenue at the time of acquisition, so assuming the complete addition of this and possibly slightly more, this EM Revenue number seems bloated.
Likewise, for GI, Valeant has stated Xifaxan would be a $1 Billion drug in 2016. Xifaxan was 47.5% of Q3 GI Revenues. Assuming $1 Billion of Xifaxan Revenue in 2016, Valeant projects the non-Xifaxan revenue to increase 56%, as it expects $2.52 Billion in GI revenue in 2016. Even assuming Xifaxan exceeds its $1 Billion goal, this is an aggressive assumption on non-Xifaxan GI growth or an overly optimistic assumption of more than $1Billion of Xifaxan.
However, the anticipated growth in U.S. Ophthalmology is remarkable. Valeant states 20% of its revenue will come from U.S. Ophthalmology, which implies $1.26 Billion in Revenue from this segment in 2016. This equates to a remarkable 80% increase in annualized Q3 Revenue, which is difficult to fathom or justify,especially when the twelve preceding months of revenue (October 2014 to September 30, 2015) totaled $712.5 Million. Valeant mentioned $1 billion of U.S. Ophthalmology Revenue in the last twelve months at the Jefferies Autumn Healthcare Conference too (see Jefferies Presentation dated November 18, 2015, page 4). However, these numbers do not tie out at all with the Revenue breakdown provided by the Company in its Quarterly Earnings Press Releases. None of this adds up.
More concerning than overly optimistic Revenue Projections for 2016 is the Company's cash flow expectations. We will know soon how 4Q shapes up, but below is an estimation of Q4 ending cash using Revenue based off Q3 numbers with adjustments for Philidor, Walgreens and price reductions: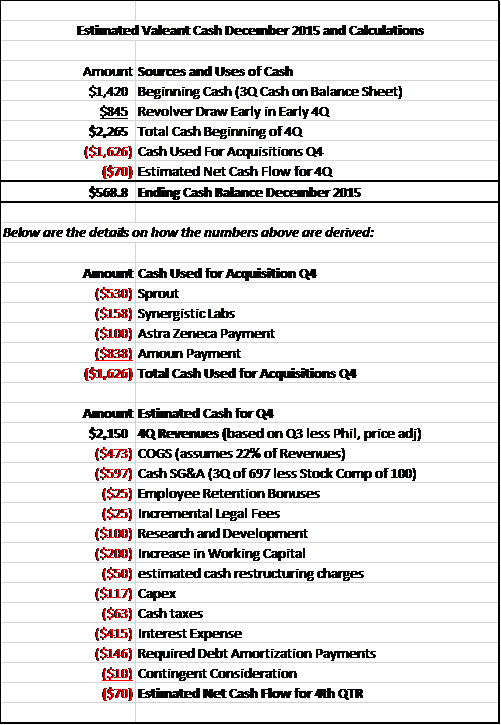 Adding to weak cash generation, Valeant has $3.293 Billion in Accrued and Current Liabilities on the Balance Sheet at the end of Q3. Ultimately, these liabilities will require cash and it is likely a large sum in 2016. Historically, this line item includes a large portion of Rebates and Returns (at the end of 2014 when Valeant last disclosed these details, the Rebates Balance alone was $715 million). Rebates relate to obligations under U.S. Government Programs and amounts owed to PBMs. Accrued and Current Liabilities increased $1.1 Billion through Q3. Valeant does not provide detail on how payments of any of these obligations will be made, although it does account for $600 million of working capital cash needs in 2016. However, working capital needs through September 30, 2015 alone were $700M and annualized at $800M.
At the end of the 3th Quarter, the "Quick Ratio" (Current Liquid Assets less Current Liquid Liabilities) for Valeant Looked like this: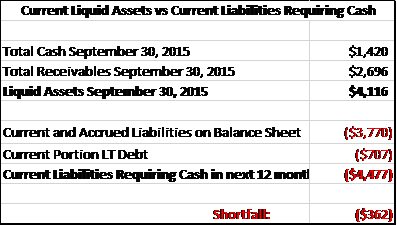 Although this shortfall existed on occasion in past quarters, it is important to consider this shortfall given what looks to have happened with Philidor. Some of the receivables likely relate to the Philidor arrangement and with Philidor contributing $190M to 3Q Revenue, this is a reasonable assumption. Although all the facts are not available yet, I suspect Philidor may have not been reimbursed for as much as $125M which could make this shortfall much closer to $500M.
In my opinion, 2016 revenues are going to be much less than Company projections and possibly less than 3Q 2015 annualized. Therefore, cash production will be less too. Valeant will require lots of cash to grow its existing product volumes. The likelihood the Company will have to pay a significant portion of Accrued and Current Liabilities, means Valeant will require its revolver for operations. Valeant will continue to use its Balance Sheet for "Rebates" given the patient assistance program of $1 Billion and the "Return of Inventory" related to its arrangement with Walgreens. Fortunately, for the Company, Valeant meets its quarterly secured leverage covenant based on a Pro Forma Adjusted EBITDA which could explain the optimism in these numbers, but I believe time will tell.
Disclosure: I am/we are short VRX.