After BRICs is it now MENA's moment to finally catch up?

The BRIC countries have so far impressed the world We (again) attempt to put this in perspective on the chart below. Something has got to give and we believe the MENA 'catch-up move' becomes more and more of a imminent possibility.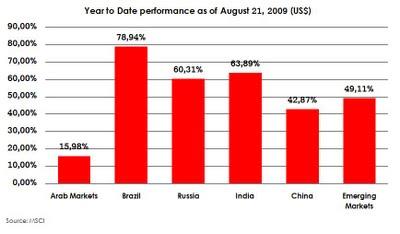 Morgan Stanley (NYSE:MS) issued a strategy paper last week in which they strongly support the case for the MENA region. Following are a couple of perspectives that we believe are worth highlighting.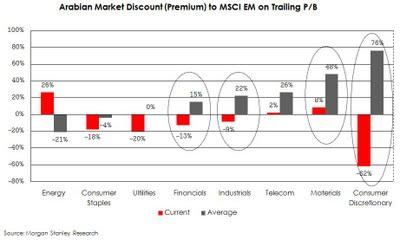 The below chart illustrates the thesis that cyclical and financial companies look quite undervalued. These sectors are trading at substantial discounts to where they normally trade versus global Emerging Market (NYSE:EM) peers, particularly in Asia and the region's petrochemicals offer a cheaper way to access the recovery in EM / Asian demand, as around 40% of sales originate in Asia (the new silk road story at play!). The chart below illustrates how current trailing Price/Book discounts to the MSCI Emerging Markets index when compares to average levels.

In terms of Price Earnings (P/E) versus Return on Equity (ROE), it could be argued that Arabian Markets are currently the cheapest region in the emerging market space. There is more ROE to be had in the MENA region but at the same time it comes at a very strong discount from a 2009 earnings perspective, especially when considering that the drivers for ROE superiority due to the competitive advantages in the region (low taxes, low cost energy, etc)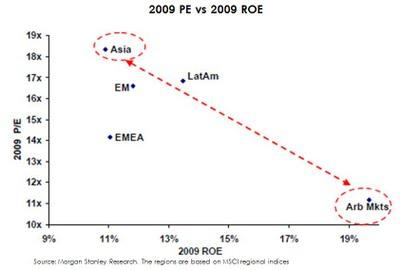 Although these findings are clearly based on MSCI averages and while at Silk Invest we focus more on the industrial fundamentals and stock specific drivers within the markets in which we invest, this information does clearly serve as supportive background for the MENA investment case.

Finally, on Tuesday, the IMF issued a report that mainly said that Saudi Arabia's economy remains solid and that its banks have weathered the global crisis. It commended the world's leading oil exporter for helping stabilize oil prices. They claimed "The outlook remains broadly positive" despite a projected one percent contraction in GDP this year due to lower oil production. It noted that non-oil GDP is expected to grow 3.3 percent this year on the back of a massive government capital spending program. The banking system remains profitable and well-capitalized with low non-performing loans.

We are running out ways to say this, but if you haven't done so yet, it might well be time to start taking a position in the MENA region!!

In the event that you would like to further discuss all this, pease don' hesitate to contact us.

Please also have a look at our weekly updates on the African and MENA markets. They cover the individual market specifics in more detail. The reports can be accessed on our webpage http://www.silkinvest.com/#/16-Pressmaterials

We look forward to keeping you updated. Happy investing!

Kind regards

Baldwin Berges