We have made some powerful enhancements to our Covered Call Screener and Naked Put Screner. Here is an overview of the features.
Our Call, Covered Call, and Naked Put Screener is a Powerful Tool for the Covered Call and Cash

Secured Put Option Writer.
Feature Summary...
* Quickly screen for Covered Call and Naked Puts trades covering 2,700+ stocks

and over 150,000 options!
* Save option picks in a watchlist
* Reduce risk by filtering by Probability of Assignment, Downside Protection and more!
* Monitor your stock

portfolio and keep an eye on the best covered call options to write
* Many powerful

features to limit results by Stock Price, P/E, Market Cap, and More
* Scan Weekly Options
* Export results to Excel for further analysis
* View stock charts of the underlying stock
* Quick links to your favorite news sites
* Packed with features and at $15 a month it cannot be beat!
* Keeping reading to see all the powerful features of our option scanner!
Typically options with a higher ROI and near term expiration present additional risk. Once a list of options is shown from the custom

settings of your choice you can then take that selection and perform any additional research such as checking news, analyst ratings, technical, or fundamental research.
I. Expert Option Search: This search feature was designed for the serious option writer. With many powerful search features the Expert

Search is tool that can be used to prospect for option profits. You do the searching, analyze the results, and make the call.
* Option Types: Search for Covered Calls or Naked Puts
* Expiration Date: Search one or all expiration dates
* Stock Symbols: Filter your search down to a group of stock symbols or leave this area blank and search over 1700 stocks!
* Probability of Assignment (POA): Low POA options can be good choices for selling puts for income where you do not want to take assignment.
* Moneyness: Search for covered calls, naked calls, or naked put trades by scanning a wide range of options from deep out of the money

to deep in the money, or any range in between.
* Downside Protection (DSP): This feature is best applied to Naked Puts. Searching for Naked Puts (example) with 15% downside protection means that the underlying stock would have to fall 15% before reaching the risk of assignment or loss
* Return on Investment (NYSE:ROI): When you search for Covered Call or Naked Put Trades you want to sell those options with the highest return on investment.
* Market Cap: Filter search criteria by Large, Mid, and Small cap stocks
* Sector: Filter by sectors such as Technology, Energy... S&P 500, NASDAQ 100 and more
* Stock Price: Select a range of stock prices

. Example: If you only want to sell naked puts on stocks trading under $15 dollar use this feature.
* Profit/Earning Ratio (P/E): Great feature to limit option choices to stocks that are valued to fit your comfort level. If you are a covered call value investor look for stocks trading between 5 and 18 P/E ratio. If you want growth set the values higher. See the top of this documentation regarding risk and high ROI.
* Dividend Yield: Many covered call investors like to purchase stocks with big yields then sell covered calls on those stocks to make additional income. Search for ranges in Dividend Yield can assist you in finding those stocks.
* Ex-Dividend Dates: Search for Option Trades on Stocks going Ex-Dividend.
* Options Watchlist: Click on the Plus Icon to add options to your personal watchlist.
* Stock Watchlist: Create up to 10 stock watchlists. This is a great feature to monitor a list of your favorite stocks for options trading. This feature is also wonderful to use for a portfolio of stocks that you write options on to earn income. Place all your stocks in a watchlist and find the best covered calls or naked puts to earn premium. Then simply add the options to the options watchlist.
Expert Option Sample: Top Pane - Search Parameters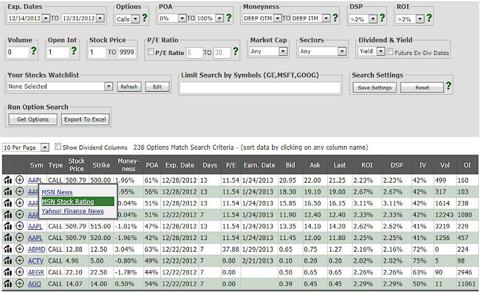 Here are a few more screen shots of the Expert Option Search Feature...
Create Custom Stock Watchlists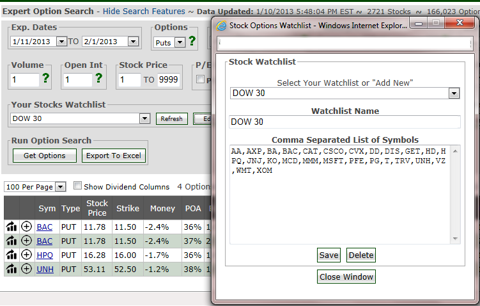 Limit Results by Probability of Assignment (POA)
Example: You own 100 shares of a stock and you want to sell a covered call, but you do not want the stock to get called away. Look for options that have a low POA to reduce the risk of the stock getting called away. On naked puts look for a low POA to reduce the probability of getting assigned the stock.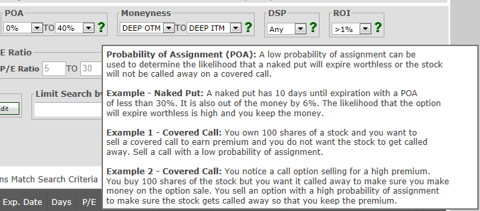 View Stock Charts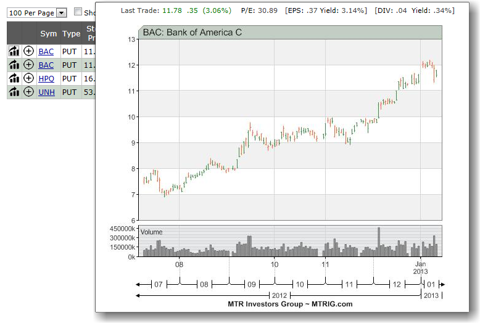 As you can see the Expert Option Search has many features, we showed just a few on this page.
There is no risk for trying our service. You can cancel at anytime, no questions asked, it just takes an email. We have a hassle free cancellation policy... because that is how it should be!
II. Express Option Search: The express search is a good choice for investors looking for pre-defined search criteria and that do not want all the features of the Expert Search Feature List
Pre-Defined Search Criteria: One click search for Covered Call and Naked Put trades that meet much of the criteria above.
Expiration Dates: Search by all or one expiration date
Watchlist: Click on the plus icon to add options to your personal watchlist.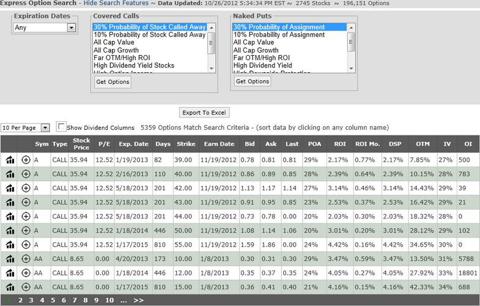 III. Options Watchlist: Keep an eye on all the options you found that meet the search criteria you set for profitable trades.
Save up to 100 options
View stock charts right from the watchlist