Individual investors who have dabbled with solar stocks know that they are not investments for the faint of heart.

With stock market volatility jumping sharply this month, the solar sector went from being the largest gainer last month to one of the biggest losers this month. In fact, the Chinese solar stock sub-segment was the worst of all stock market sectors we track, with a one month plunge of 26.9%.

Under the best of circumstances, the solar industry is still in its early commercial phase, and very immature. Demand fluctuations and geographic shifts, driven in large part by changes in energy policies by key governments, are compounded by self-induced cycles of under-capacity/over-capacity. Global installed solar capacity is increasing at record rates, but even faster price erosion has wreaked havoc with profitability and share prices of the more marginal manufacturers.

The largest solar market in the world, Germany, is slowing down due to reduced government subsidies and fears about the economic recovery of the Euro zone. With the Euro plunging nearly 20% in the last six months against other currencies (see Euro breaks support below), Chinese and American solar manufacturers have seen their costs increase in Chinese renminbi and U.S. dollars respectively, and their revenue fall in Euro, causing various analysts to slash earnings prospects of the industry group.

Euro breaks support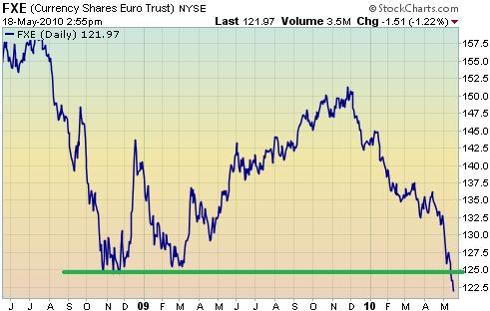 The same scenario repeats itself over and over, as new investors become aware of the sector after some highflying solar stocks hit the top of the charts, they get excited and start pilling in after the shares have already risen 100%, 200% or more. By then the entire sector is extremely overbought and overdue for a correction. That's when the same investors panic and the bottom falls out.

There are two critical factors to remember when investing in solar energy:
The global solar market will continue to grow rapidly for years to come
As always, the companies with the highest margins and the best geographic diversification will do better than their peers
As the chart below shows, solar stock performance can vary widely within the group. Yes, the recent declines have been brutal, with many company shares down 50% or more since the highs. At the bottom of the chart below is SunPower (SPWRA) which is down some 66% from its 52-week high with no bottom in sight. The better positioned companies, as exemplified by Trina Solar (NYSE:
TSL
), are still up close to 100% from their 52-week lows despite the recent losses. For a short review of the key metrics we like when selecting photovoltaic stocks, read "
Picking Solar Energy Winners
".
Solar stocks performance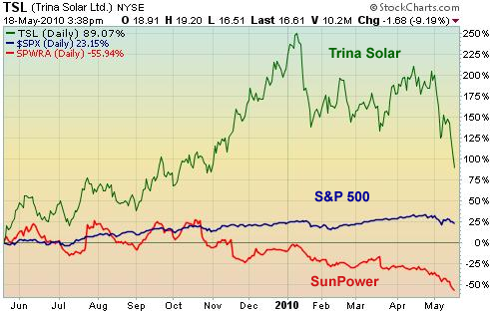 Disclosure:
No positions