Keane Group(FRAC) describes itself as one of the largest pure-play provider of integrated well completion services in the U.S. focusing on complex, technically demanding completion solutions.  As their stock symbol implies, they operate primarily in the shale basins in the U.S. with hydraulic fracturing fleets primarily deployed in the Permian Basin, the Marcellus/Utica Shale, the SCOOP/STACK Formation, the Bakken Formation, and Eagle Ford Shale.  These basins are projected to account for 87% of all new shale wells anticipated to be completed between 2017 and 2020.  Completing an oil well by "fracking" usually represents the largest cost of completing a shale oil or gas well in the U.S.

Keane Group competes with large, integrated oilfield service companies such as Halliburton Company(HAL) and Schlumberger Limited(SLB) and other diversified oil service companies like Superior Energy Services, Inc.(SPN).  At the end of 2016, according to Keane Group's 10K, there were six large providers with over 1 million hydraulic horsepower(HHP) for well completions.  In 2017, Keane Group surpassed the 1 million HHP mark and currently has 1.2 million HHP capacity among 25 active fleets.
Balance Sheet Data and Analysis 
Table 1 below is select data from the balance sheet for the second quarter and the recently completed third quarter of 2017.  These two quarters are focused on because of the Rock Pile Energy acquisition, effective July 3, 2017, which impacted the balance sheet beginning in the third quarter.  The stock and cash consideration for this acquisition was as follows:
$135 million in cash.
Approximately 8.7 million shares of Keane's common stock.
Approximately $26.5 million for capital expenditures to Rock Pile for recent equipment purchases.
A contingent consideration of up to $20 million through a contingent value right if the trading price of Keane's common stock is less than $19 a share during a trading period ending on the nine-month maturity date of the right.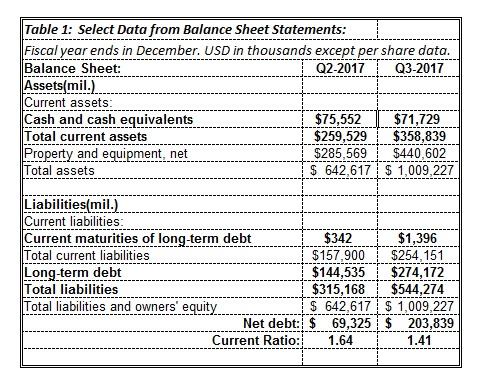 As expected, this acquisition increased net debt and the current ratio declined in the short term.  However, as shown below, the increased operating leverage provided by the Rock Pile acquisition and the improving fundamentals in this industry should enhance the balance sheet going forward.
Income Statement Data and Analysis
The metric that the management of Keane Group focuses on is the Average Annualized Gross Profit(AAGP) per Fleet.  This point is highlighted by Greg Powell(President and CFO of Keane Group) in their Third Quarter 2017 Results Earnings Call:
...As we have said before, I mean, there's a financial hurdle to it and we want to see the GP(Average Annualized Gross Profit) per fleet get into the low-20s(emphasis added) to achieve the financial hurdle we look at on initial capital investment plus the maintenance CapEx required on these fleets today....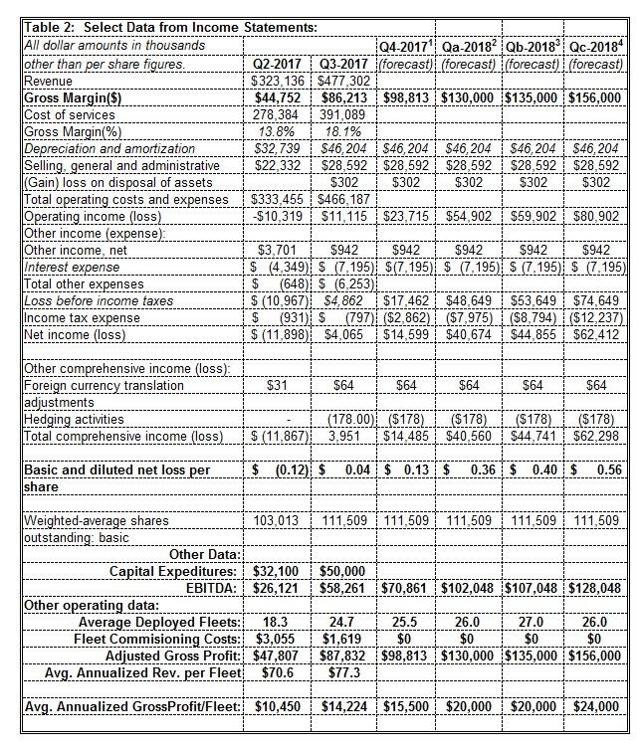 As shown in Table 2 above, the Average Annualized Gross Profit(AAGP) per fleet for the third quarter of 2017 was $14.2 million vs. $10.5 million in the second quarter.  For the other four(quarterly) scenarios I analyzed, I simply used the fixed costs of the third quarter and varied the Average Annualized Gross Profit(AAGP) per fleet based on management projections and comments.  These are as summarized below:
Scenario 1 Q4-2017:  Management guided Q4 to exit at $16-18 mil. AAGP per fleet, so I used $15.5 mil. AAGP for the quarter, 25.5 active fleets, which results in $.13/share and 70 mil. of EBITDA.
Scenario 2 Qa-2017:  Management says that new build economics does not work for them until AAGP gets to $20 mil.  For 26 active fleets and an AAGP of $20 mil, results in $.36/share and 102 mil. of EBITDA.
Scenario 3 Qb-2017:  This scenario shows the effect of adding one fleet to the company.  For 27 active fleets and an AAGP of $20 mil, results in $.40/share and 107 mil. of EBITDA.
Scenario 4 Qc-2017:  Management has also said that demand could push the AAGP beyond the $20 mil. level as there is an approximate nine month lag time in getting new fleets trained and operating in the market.  This could be thought of as a top of the cycle AAGP.  This scenario shows the effect of having 26 active fleets and an AAGP of $24 mil, which results in $.56/share and 128 mil. of EBITDA.
Please note all of these scenarios use the same percent tax rate and interest payments as the third quarter.  The balance sheet should begin to improve next quarter, which should positively impact the income statement going forward.  Management has also indicated an interest in doing further acquisitions in this space as Keane has several smaller, regional competitors.  In addition, I believe Keane management will be interested in getting the stock above the $19 level as to avoid the additional consideration as noted above for the Rock Pile merger completed in July 2017.
The Call on Shale
According to the EIA, in 2016, shale gas made up 60% of total U.S. natural gas production while shale oil made up 48% of total U.S. oil production.  In 2018, the U.S. is expected to become a net exporter of natural gas for the first time since the 1950's while total oil production is expected to rise from an average of 9.2 million bpd(barrel per day) in 2017 to 9.9 million bpd in 2018.  As has been the case for much of the last decade, these increased volumes are expected to come from shale oil and gas.
However, there are risks to these forecasts and concerns about how this will play out to 2020.  Mark Papa former CEO of EOG Resources(EOG) and current CEO of Centennial Resource Development(CDEV) recently said: 
We think the massive surprise will come in the 2019 and 2020 period, when total U.S. oil growth will be less than many people are currently predicting, because of the deterioration in the remaining number of tier-1 locations in the Eagle Ford and Bakken and declines in the Gulf of Mexico. Even in a robust oil price environment, I'd expect 2019 and 2020 total U.S. oil production growth to be 700,000 to 800,000 barrels per day per year, which is much less than the 1.5 million barrels per day, many people are predicting. Even likely, 2018 through 2020 global demand growth of 1.4 million barrel per day per year, this sets up a tight supply-demand picture.
I see this as mostly good news for Keane Group.  We still have an increasing demand picture and possibly higher prices.  In addition, if these shale companies are going to have to go outside of their core areas(ie. tier-1 locations), they are going to require more completions to offset the declines from their core areas.  I believe they will have to be motivated to do this(ie. by higher prices) as some investors are growing weary of the growth story in the shale oil and gas business.
Important Indicators to Watch for Keane Group
I believe for Keane Group to do well going forward then I think you are going to need higher oil prices.  At least in the short term, the business model that the shale oil and gas producers have been using for the past five years, outspend cash flow for production growth, is going to change to a one of capital efficiency and returns.  Here are two key indicators to look at and where to look at them:
Conclusion
Keane is a volatile stock day to day, so a dollar cost averaging strategy may be appropriate here.  I have built most of my position in the stock by selling cash secured puts targeting the $15 strike price.  I do expect considerable volatility going into 2018 as these shale E&P's try to set their annual capital budgets at a time when oil inventories are finally trending back toward normal levels in the United States. 
Disclosure: I am/we are long FRAC.