The PHLX Oil Service Sector Index is a market weighted index composed of companies involved in the oil services sector.  This index includes 15 companies in the oil services sectors.  These companies include well known names like Core Labs(CLB), Halliburton(HAL), and Schlumberger(SLB).
Seasonality of this index
Below is a seasonality chart and data for the PHLX Oil Service Sector Index for the past 19 years.  This chart was taken from Equity Clock and is as shown below: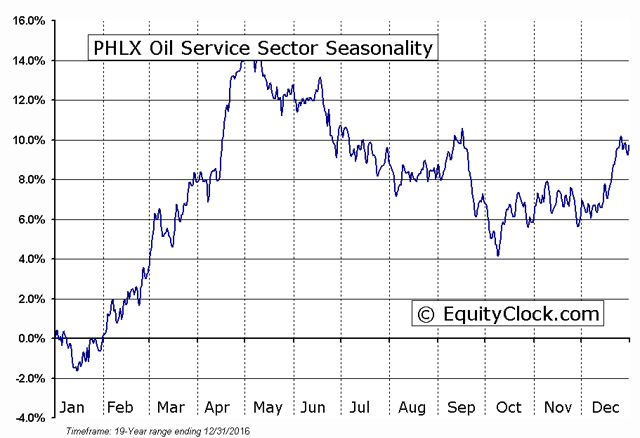 As shown above, May to mid-October is typically not a good time to be in this index. From mid-October to May, your odds are much better. Obviously, this does not always work.  However, this is another tool that you can use if you are considering taking a position in one of the stocks in this index and want to time your trades to align with what the seasonality trends have historically been.
Conclusion
I like to use these seasonality charts on both indexes and individual stocks that have a long track record.  In addition to the 20 year data provided by Equity Clock, I also break down the 5 year trading data in a spreadsheet in a similar manner, so that I can see if the 20 year pattern has held more recently.  I believe this can also be helpful on recent oil service sector IPO's like Keane Group(FRAC), Propetro Holding Corp(PUMP), and Mammoth Energy Services(TUSK) as they may also tend to follow a similar pattern.  This does not always work but it is another tool you can use if you are unsure of the timing of your trade.   
Disclosure: I am/we are long FRAC.