Article text goes here...
Continuation Pattern Points to 10-Year Treasury Yield Testing July 2012 Lows
http://link.reuters.com/rud92t
The end of the third quarter sees the 10-year U.S. treasury yield at around 1.63%. According to Fibonacci analysis and a candlestick continuation pattern, one can infer that rates would continue their recent declines to test and possibly displace the recent low close of 1.39%.
This Fibonacci analysis uses closing prices: the closing low yield on July 24 of 1.39 and the closing high yield on September 14 of 1.87% were used as the endpoints. One possible explanation for the run-up after the September 13 FOMC expanded QE could be that Treasuries were swapped in exchange for mortgage debt, which may appreciate more as the result of the announcement.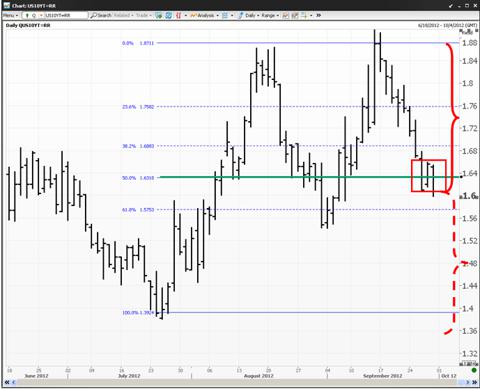 From the chart one can see that the 50% retracement of the low to high move is at 1.63%, just above the closing low of 1.61% of September 26, which marks the low end of the recent pullback in yield.
Market moves higher are considered strong if the pullback after a strong rally in fact would reverse sooner than hitting the 50% retracement level, as seen here. Not that hitting 50% is all that bad, although not hitting it is considered even better. The fact that rates are forming a rectangular pattern is interesting. Technicians consider rectangles as "continuations" of the prior trend. In this case the trend in rates is heading lower, so the ultimate breakout should be on to the downside.
How far can the yield fall? Again, technicians will take the distance of the initial move down and extend that amount to determine a low objective. From the high close of 1.87 to the recent low close of the continuation pattern of 1.61 on September 26 is a 0.26 move. Subtracting that amount from the 1.61% low implies a 1.35% objective, which is close enough to the July 14 low close of 1.39. Continued QE certainly doesn't hurt the chances of rates moving lower in the future.
Disclosure: I have no positions in any stocks mentioned, and no plans to initiate any positions within the next 72 hours.