FAS 157 was issued in September of 2006 and took effect on November 15, 2007.  The statement concerned fair value measurement and how to adjust the balance sheet, which measures assets at historical cost, if the fair value differs materially from historical value.  FAS 157 defines fair value as, "the price that would be received to sell an asset or paid to transfer a liability in an orderly transaction between market participants at the measurement date" (Paragraph 5).  Fair value is a measurement of an exit price (Paragraph 7).    The measurement of the exit price occurs only in the principal market for the asset or liability or, if a principal does not exist, the most advantageous market for the asset or liability (Paragraph 8). 
"A fair value measurement assumes the highest and best use of the asset by market participants, considering the use of the asset that is physically possible, legally permissible, and financially feasible at the measurement date. In broad terms, highest and best use refers to the use of an asset by market participants that would maximize the value of the asset or the group of assets within which the asset would be used" (Paragraph 12).  FAS 157 gives three valuation techniques for obtaining the fair value.  First is market value, frequently using a market multiple from a set of comparables.  An example would be using market cap rates of recent commercial office building sales in the area to determine the market value of your office building.  Second is the income approach which values an asset or a liability by determining the present value of all future cash flows.  An example of this approach is the Black-Scholes option pricing formula.  The last technique is the cost approach, or the replacement approach.  The value of a GE wind turbine is the cost that would be incurred by a potential buyer to construct their own wind turbine or to acquire a wind turbine from somewhere else adjusting for obsolescence (essentially technological differences) (Paragraph 18).
While market value is preferred, companies can use a combination of all three approaches as long as the weighting given to each valuation is able to be justified.  FAS 157 allows for the weighting of the valuation technique to be changed if necessary given new information (Paragraph 20).  The proper weighting for the three valuation techniques is the weighting which maximizes the use of observable inputs. 
Observable inputs reflect the assumptions that "market participants would use in pricing the asset or liability developed based on market data obtained from sources independent of the reporting entity" (Paragraph 21).  FAS 157 breaks observable and unobservable inputs into a hierarchy.  Level One inputs are quoted prices for identical assets in active markets.  Level Two inputs are inputs that are observable indirectly such as using the price of similar assets in active markets to derive the asset value for the firm or other observable measures such as prepayment risk, interest rates, and counterparty credit or default risk.  Level Three inputs are unobservable inputs which cannot be directly measured.  This often applies to assets in inactive markets. 
The year following implementation of FAS 157 will long be remembered as one of the most turbulent in financial market history.  Just four months later, in March 2008, Bear Stearns failed.  By that fall, Lehman Brothers had failed along with major depository institutions such as Washington Mutual and Wachovia Bank.  The market plunged, the money market broke which led to emergency government action to prevent a run on the banks, trillions of dollars of wealth disappeared, LIBOR reached record levels signaling a seizing of the credit market as banks were terrified to lend even to each other, and the financial panic led to millions of job losses.  Much blame was placed on "mark to market" accounting, the slang term applied to the accounting treatment laid out in FAS 157.  The attacks on the standard came from both sides of the aisle.  Newt Gingrich, writing in Forbes Magazine in September 2008 said, "the Treasury and its fellow regulators should follow their own counsel and take without delay the one regulatory action within their discretion that can help immediately to calm markets and dramatically reduce the taxpayer risk in any necessary government intervention: suspend mark-to-market."  Brian Wesbury of First Trust Financial said, "Probably 70% of the real crisis that we face today is caused by mark-to-market accounting in an illiquid market."  Paul Kanjorski (D-PA), head of the House Financial Services Subcommittee, convened a public hearing on the subject on March 12, 2009.  Before the hearing he said, ""I want to find a way -- within the existing independent standard-setting structure -- to still provide investors with the information needed to make effective decisions without continuing to impose undue burdens on financial institutions."
The complaints against FAS 157 essentially boiled down to whether banks should be forced to write down the value of assets, to fire sale prices during a financial panic, when they plan to hold the assets to maturity.  The recorded write down shows up as a loss on the balance sheet and requires banks to raise new equity to remain solvent.  In a financial panic, this is seen as procyclical, each write down scares away potential investors causing markets for assets to dry up and more losses to pile up until the bank folds because it does not have enough assets to cover its liabilities.  If banks are allowed to keep their assets at historical cost they can avoid new equity requirements and ride out the temporary financial market seizure until health returns.  An analogy that was often used is exercise.  Fair value accounting can give investors needed information and provides an honest assessment of its current financial condition.  This, like exercise, is a good thing.  Exercise isn't always good though.  If someone is suffering from a severe case of pneumonia, vigorous exercise may likely result in death.  During a financial panic, mark to market requirements were killing banks.  This is a patently absurd reading of the Statement though.  Three different valuation techniques, the use of both hard market data (observable inputs) and qualitative judgment (unobservable inputs), and the ability to change the weighting of each technique as facts on the ground see fit; is this the makings of a tyrannical, inflexible diktat?  The problems of our financial institutions had to do with bad loans and too much leverage, no reasonable accounting treatment would hide such flaws.  It did not matter though, a month later FASB revised FAS 157.
Banks are still required to recognize the difference between historical cost and fair market value but they do not have to recognize all this difference as an impairment against earnings.  Only estimated future credit losses must result in lost earnings and capital.  The rest of the impairment, due to factors such as liquidity risk, must only be mentioned in the notes to the financial statement.  The following comes from the most recent quarterly report of Regions Financial, filed for the second quarter of 2010: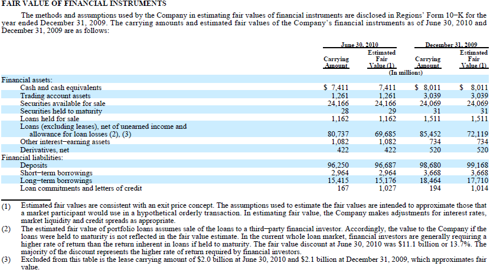 Regions, a rather small player in the US financial system, is currently carrying its loans at over $11 billion more than what they are worth in the market, using fair value.  We are now twenty three months removed from the failure of Lehman.  Is it fair to classify these losses as something else?  When does Regions believe that the market value will recover?  Considering that the fair value of loans decreased from December 2009 to June 2010, the answer is clearly not in the near term.  The revised FAS 157 gives banks the option to decide what is a future credit loss versus what is not.  These same banks have an incentive to mark all losses as something else so that they do not have to mark down the value of their assets and raise fresh equity.  Banks, and several government agencies, now have every incentive to engage in extend and pretend.  Over the past six months, as economic growth has stagnated from near 6% to 2.4% (a early estimate that JP Morgan's Michael Feroli says should fall to between 1.3% and 1.7%).  Since April, the employment to population ratio has shrunk from 58.8% to 58.4%.  People have literally given up looking for work.  Unemployment compensation has just been extended to nearly two and a half years.  Does this sound like the time to reduce future loan loss provisions?  No, but that is what many banks did to meet analyst Q2 estimates.  During the conference call for the second quarter, discussing the profit resulting from a reduction of loan loss reserves JP Morgan CEO Jamie Dimon said, "It's just ink on paper. It means nothing."  If a financial report means nothing as to the underlying health of a company, than what purpose does it serve?
This has been noted by many, including several mainstream columnists such as Jonathan Weil of Bloomberg.  He wrote in April about the Federal Home Loan Banks (OTCPK:FHLB).  In 2009, they reported net income of $1.9 billion.  They had $8.8 billion in losses on their mortgage portfolio during the same year which they did not classify as temporary.  None of those losses flowed through to the income statement though.  Using current practice, all 12 Federal Home Loan Banks had sufficient capital, above 4% of total assets.  If the other than temporary losses were included, four banks, one third in total, would be forced to raise additional capital to meet regulatory requirements.  That signals a banking system that is anything but healthy.  To pretend otherwise is extraordinarily dangerous.  It sets us up for a potential for another financial crisis. 
It is doubtful that this will change soon.  Moody's has been very vocal about the problems facing the housing market.  They estimate that it will take 10 years for the national median home price to match what was seen at the peak of the subprime crisis.  For the hardest hit areas, such as Nevada, they estimate a return to peak prices in…2028.  Current home sales data provides rather irrefutable vindication of such a bearish assessment.  The Mortgage Bankers Association Purchase Index has fallen by 30% since the end of the homebuyer tax credit.  Without government support, the housing market remains so weak that the head of the Federal Housing Administration David Stevens recently remarked, "This is a market purely on life support, sustained by the federal government. Having FHA do this much volume is a sign of a very sick system."  Maybe that is because, according to Robert Shiller of Yale University, excluding the recent mania, home prices are still more expensive on an inflation adjusted basis compared to any time in the past 120 years.
Given the headwinds facing us economically, the use of fair value measurement does not impose an undue burden on banks.  Instead, it is the most accurate measure of the present condition of our financial condition.
Disclosure:
No Positions in any stocks mentioned