Paushak (BOM: 532742)- Niche Business !
Sep. 15, 2020 10:17 AM ET
Please Note: Blog posts are not selected, edited or screened by Seeking Alpha editors.
Summary
Mastered one of the most complicated and hazardous chemistris- Phosgene.
The only dedicated Phosgene maker globally.
Phosgene derivatives are experiencing strong growth from end user industries like Pharma and Agri.
Given its hazardous nature entry barriers are expected to continue as government approvals become more stringent.
Paushak limited is India's largest manufacturer of Phosgene based specialty chemicals.
Paushak is part of the Alembic group of companies. Alembic Ltd is the oldest pharmaceutical company in India founded in 1907.
Phosgene is a versatile molecule with its derivatives having applications in diverse fields like pharmaceuticals, agrochemicals, polyurethanes, perfumeries, dyes, etc.
Phosgene is extremely hazardous in nature. Company has 4 decades of experience of handling phosgene gas.
The product range includes: Isocyanates, Chloroformates, Carbamoyl Chlorides, Carbamates, Protecting agents & Acid chlorides.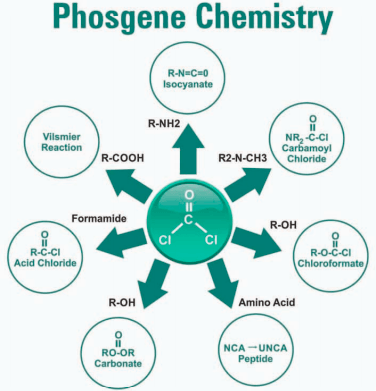 INVESTMENT SUMMARY
Paushak Ltd has mastered one of the most complicated and hazardous chemistris- Phosgene. It is the only dedicated Phosgene maker globally. Phosgene derivatives are experiencing strong growth from end user industries like Pharma and Agri. Given its hazardous nature entry barriers are expected to continue as government approvals become more stringent. Very few players globally has mastery over this niche chemical. Company recently developed indegeneous technology for a key product line, and is in the process of initiating contact manufacturing with a global innovator. CRAMS (Contract research and manufacturing) model can become a big growth driver for the future.
To back it all up the promoters have built companies to world scale starting from scratch in the past (built Alembic pharma into top 15 in India) and have quite am enviable track record.
Overall, a very strong investment case in niche business with extremely high entry barriers !
Trades at 13x FY23 PE. The ongoing capex can 4x topline and Profits in next 3-4 years. Price can go 4x in that time frame.
INVESTMENT ARGUMENTS
High entry barrier business
Phosgene gas is linked to the infamous Bhopal gas tragedy- a gas leak incident in 1984 at the Union Carbide India Ltd pesticide plant in Indian city of Bhopal. It is considered among the world's worst industrial disasters.
Phosgene gas is also believed to have been used as a chemical weapon during World War I where it was responsible for 85,000 deaths.
Being a hazardous chemical it is heavily regulated by government. Getting approval for manufacturing or expansion is an extremely long and complicated process. It may take 3-4 years for a single approval to materialise.
The strict environmental approvals required to setup a Phosgene plant deter most of the players from even conceptualising a phosgene expansion. As a result there have been barely any new Phosgene capacities in the past many years. The west has almost completely shunned the idea of putting capacities for such a hazardous chemistry while China continues to struggle with environmental issues. As a result only a handful players remain globally. Paushak is only 1 among 2 manufacturers left with licence to manufacture this hazardous chemical in India.
Paushak is a dedicated phosgene maker with experience in handling phosgene for last 4 decades now. New competition is not expected to come up in this extremely toxic chemical and existing players like Paushak can enjoy multi year growth as use of Phosgene continues to grow.
Extremely lucrative derivatives
With the government heavily restricting issue of new licenses, existing players are sitting on huge goldmine opportunity in derivatives/value added segments of Phosgene gas. Derivatives find application in some of the most lucrative industries like Pharmaceuticals and Agriculture. Demand still remains strong from global innovator companies for new/combination molecules in this chemistry.
The attractiveness can be gauged just be glancing at the financials of Paushak- consistently makes 25% PAT margin and 20% ROCE, combined with strong toppline growth over last many years !
Lead by strong promoter group
Company is promoted by Alembic Ltd. Alembic Ltd is the oldest pharmaceutical company in India founded in 1907. Promoters of Alembic have built one of the group companies- Alembic Pharmaceuticals- into a Pharmaceuticals biggie from scratch. Alembic pharma is now among top 15 pharma companies in India with sites that are USFDA/cGMP approved for API & formulations with more than 50 ANDA's, 64 USDMFs & 250 EU DMFs. It is one of the few companies globally with almost zero US FDA observations observed over last many years.
Promoters have four decade experience in handling the modalities of phosgene gas. With that kind of expertise in place, they should be able to scale up the company fast.
Capacity to multiply 3x
Paushak has initiated a huge Rs 120 crore capex program- to be executed over next three years (Gross Block FY18 was only 35 crore). This capex program aims to increase phosgene capacity by 3 times. The order visibility remains extremely strong.
Paushak is a zero debt company- this allows bandwidth to go for such massive expansion. Debt to equity and interest coverage ratio are expected to remain at about 0.4x and 5-6x even during the peak capex cycle.
Safety measures in place
Phosgene is an extremely hazardous chemical. Company has had 4 decades experience in handling Phosgene gas. Extremely high quality safety measures exist at the plant site. Company recently undertook massive revamp of the existing facilities to calibrate safety procedures/hazards.
The new upcoming plant is world class with high degree of automation/safety measures in place.
While risk of gas leak cannot be ruled out completely, the measures in place seem to suggest only minimal risk for such events occurring.
Advantage India
China's Chemical Market Size is roughly USD3.50 trillion(35% of the global market)–largest in the world. In some of the segments of Chemical sectors like dyes, pigments, agrochemicals, pharma APIs –China has almost 70–80% market share of the world. Chinese Government started implementing stricter environmental protection from January, 2015. The norms have got stricter every passing year.
India can become a major beneficiary of the 'Green' issues in China due to:
•Availability of low cost and skilled labour
•Already has strict environmental policy in place
•Strict IPR
This movement could benefit leading players like Paushak in a big way as India continues to gain market share in global market from China.
The attractiveness is further compounded by growing preference of Multi national/Innovator companies towards India as a preferred partner in producing chemical intermediates like Phosgene as demand from end uses/applications continues to grow. Indian players with strong chemistry skills like Paushak are expected to gain in a big way.
VALUATION
Trades at 13x FY23. Strong upcoming growth in 2-3 years combined with PE expansion could lead to strong market cap growth. Comparables like PI industries trade at much higher valuation. Entry barriers in Paushak are much higher Vs. peers.
| | | | | | |
| --- | --- | --- | --- | --- | --- |
| Key financials | FY19 | FY20 | FY21E | FY22E | FY23E |
| Net Revenues (CR) | 140 | 138 | 159 | 238 | 357 |
| % growth | | -1.1% | 15% | 50% | 50% |
| Operating Profit (CR) | 40 | 43 | 48 | 71 | 107 |
| % Opg margin | 28.8% | 31.0% | 30% | 30% | 30% |
| % Growth | | 6.5% | 11.1% | 50.0% | 50.0% |
| Net Profit (CR) | 39 | 35 | 40 | 62 | 93 |
| % Net margin | 27.9% | 25.3% | 25.0% | 26.0% | 26.0% |
| % Growth | | -10.4% | 15% | 50% | 50% |
| Diluted EPS | 126 | 113 | 128 | 200 | 299 |
| RoE (%) | 21.9% | 15.4% | 18.5% | 22.4% | 25.2% |
| P/E (X) | | | 30.7 | 19.7 | 13.1 |
| | | | | | |
| Current Price | | | | | 3931 |
RISKS
Safety aspect of phosgene & downstream products is a key risk, despite the controls in place.
With increasing utilization of its manufacturing capacities, Paushak Ltd needs to increase its investments and efforts on Environment, Health & Safety requirements considering the hazardous nature of its operations.
Cost competition and pricing pressure from Chinese manufacturers have been a threat to the industry in general.
APPENDIX
Phosgene derivatives value chain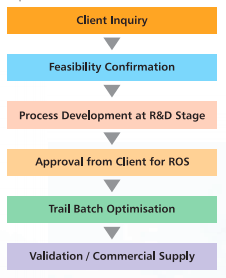 Custom Synthesis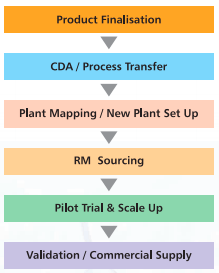 What phosgene really is
Phosgene is a major industrial chemical used to make plastics and pesticides.
At room temperature (70°F), phosgene is a poisonous gas.
With cooling and pressure, phosgene gas can be converted into a liquid so that it can be shipped and stored. When liquid phosgene is released, it quickly turns into a gas that stays close to the ground and spreads rapidly.
Phosgene gas may appear colorless or as a white to pale yellow cloud. At low concentrations, it has a pleasant odor of newly mown hay or green corn, but its odor may not be noticed by all people exposed. At high concentrations, the odor may be strong and unpleasant.
Phosgene itself is nonflammable (not easily ignited and burned).
Phosgene is also known by its military designation, "CG."
Global industry
While the global phosgene production is estimated to be more than 20 lakh tonne, only 5 percent of this compromise specialty segment catering pharmaceutical and agrochemicals industries. This segment is expected to grow by 5-6 percent per annum.
Just a side note: I've been tracking this stock since many years now. I hold this stock since late 2018. Already been 2x. Despite the runup the long term story is still very promising!
Analyst's Disclosure: I am/we are long PAUSHAK (BOM: 532742).
Seeking Alpha's Disclosure: Past performance is no guarantee of future results. No recommendation or advice is being given as to whether any investment is suitable for a particular investor. Any views or opinions expressed above may not reflect those of Seeking Alpha as a whole. Seeking Alpha is not a licensed securities dealer, broker or US investment adviser or investment bank. Our analysts are third party authors that include both professional investors and individual investors who may not be licensed or certified by any institute or regulatory body.