We have had a rocky few months but perhaps the most dramatic moves have occurred in a flight to safety. Both Bunds and US Treasuries have rallied without stop. Two year treasuries are yielding 0.61% while the Ten Year has broken down through 3%. The last time that the Ten Year was at this level, the S&P 500 was below 900. So what does this price action mean for equities, and the future health of the economy?
Logically, treasuries are in essence a measurement of risk. They are the safest assets you can hold, as you are banking on the credit risk of the US government. The ultimate question is whether this mass risk aversion is justified?! Treasuries act as a barometer for inflation/deflation as the market moves into anticipation of what lies ahead in the second half of the year. The current rate of inflation stands at 2%. Therefore, with regards to the Two Year, there is a 1.4% relative loss.
So with all the bearish risk adverse signals, the underlying cyclical results can be interpreted differently. Although fears of capital depreciation have all but subsided, equities are suddenly very attractive – big caps such as Pfizer are suddenly yielding 5% more than your bank account. Oil spills aside, sustainable big caps are regarded as attractive as a long term holding. 
For the American consumer, a sliding housing market would welcome nothing better ten year treasuries below 3% compared with 4% in April. Lower mortgage rates may not be as clearly recognized as stimulus tax credits but still bear some encouragement. 70/100 bips on a $250,000 mortgage over 25 years equates to $43,750 in the long term – higher than then the initial $8,000 credit. If only first time buyers had longer term rates in mind and understood the interpretation of the yield curve!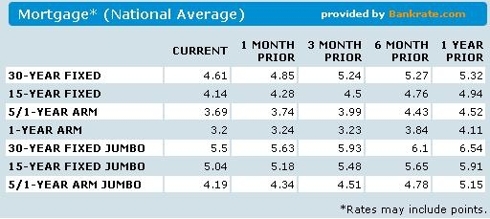 Closing this analysis, it seems to me that the market has swung to an extreme. Participants have not factored in the greatest risk of all which is the risk of not making money while others profit. Fear is beating greed but the pendulum should come back to an equilibrium, which I believe means a sell off for treasuries as fund managers seek yield in other asset classes. Investors have historically embraced risk when there is no light at the end of the tunnel for saving accounts. To abbreviate this, data below has back tested similar scenarios when the two year treasury has yielded historical lows and the results are directly correlated with a positive aftermath for risk assets.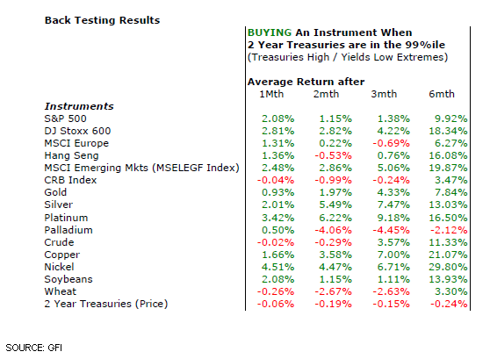 Disclosure:
No positions