On June 13, 2018 Muddy Waters Research, who prides themselves on 'peeling back the layers' to find a company's true worth, published a report alleging fraudulent reports from Chinese education group, TAL. According to the lawsuit filed by Johnson Fistel, LLP investors who purchased shares of the company (TAL) between April 26, 2018 and June 13, 2018 were misled. According to reports, the Class Action Complaint states "(1) the Company overstated its net income; (2) the Company's net income was deteriorating; and (3) as a result of the forgoing, Defendants' statements about TAL's business, operations, and prospects, were materially false and/or misleading and/or lacked a reasonable basis." Muddy Waters claims that TAL has been overclaiming their profits since 2016. With some speculation hinting it could have gone on before then.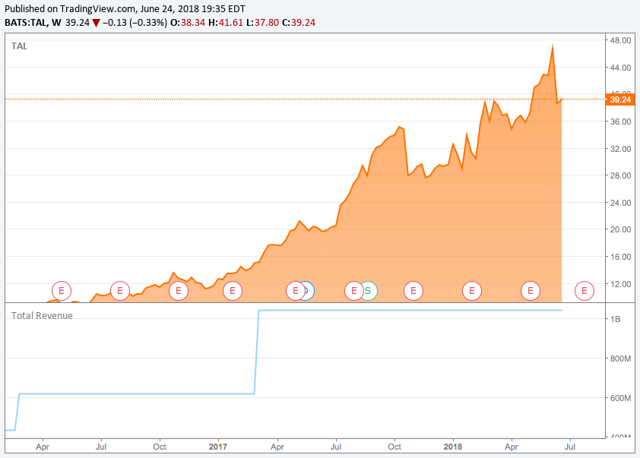 This chart signifies the correlation of stated total revenue in correspondence with stock price
Additionally, the Schall Law Firm announced it was investigating claims on account of investors of TAL Education Group, citing they violated §§10(b) and 20(a) of the Securities Exchange Act of 1934.
Disclosure: I/we have no positions in any stocks mentioned, and no plans to initiate any positions within the next 72 hours.
I wrote this article myself, and it expresses my own opinions. I am not receiving compensation for it (other than from Seeking Alpha). I have no business relationship with any company whose stock is mentioned in this article.