Ackroo (VEIFF) is a SaaS based loyalty and rewards technology and services provider located in Ottawa, Canada. Shares of the company trade at the TSX Venture exchange and have been highly volatile through the past years. With 16.4 million shares outstanding (25.8 million shares on a fully diluted basis - excluding 1.4 million $7 warrants expiring this year) and a price of 0.52 CAD per share the current market capitalization of Ackroo is 8.5 million CAD. Shareholders of Ackroo have suffered in the past, because the company was quickly approaching bankruptcy by using the wrong distribution channel. Recently this misstep has been corrected and the company - and its stock - is poised to perform well in the future.
(Source: Stockcharts)
Business Model
Ackroo Inc. is a holding company that provides gift card and loyalty program solutions to its clients in Canada through its wholly owned subsidiary Ackroo Canada Inc. and has established Ackroo Corporation in the USA in anticipation of geographic expansion. Ackroo allows its clients to develop gift card, rewards and loyalty programs tailored to their respective needs. It offers physical cards as well as electronic cards. The Ackroo3 (AKR3) platform integrates directly with existing point-of-sale equipment and provides a relatively low priced solution for their clients. This allowed Ackroo to gain traction in the SMB market where competition is sparse. Clients can profit from Ackroo's turnkey services in multiple ways. Loyalty and reward programs heighten customer loyalty and boost profitability. Gift cards are widely accepted and can enhance revenue of just about any customer from a typical retailer to the fitness center next door. Additionally the analytical tools provided by AKR3 help customers track their progress and possibly modify their strategy as they go. One advantage of Ackroo's platform is that it allows clients to bundle all of these features just using one card. This greatly simplifies the usage of Ackroo's solutions for clients and their customers.
Ackroo bills their customers on a monthly basis for the usage of their software platform and has more recurring revenue through (semi-)regular reordering of gift cards by their clients. Additionally there is a one-time setup fee for new locations. Ackroo used to directly sell their solutions to clients, but has recently moved towards referral partners and resellers which provide the company with a cheaper channel to the market.
The financial performance of Ackroo in the past has been less than stellar.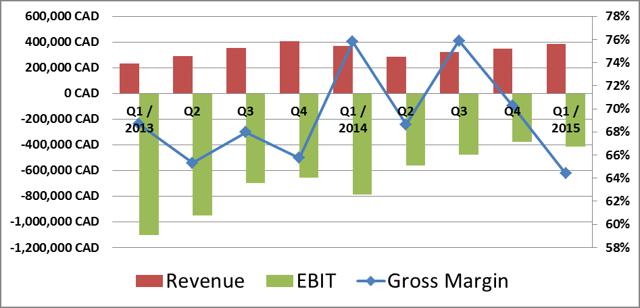 The consistently high gross margins ~70% are evidence of a high quality business. Revenue grew quickly throughout 2013, but declined in the beginning of 2014 before returning to a growth trajectory with quarterly revenue growth >9% for the most recent three quarters. The setbacks in revenue growth in Q1 and Q2 of 2014 lead to year of year growth in revenue of only 3% for 2014. The problem with past financial performance is the negative EBIT and the high burn rate. In Q1 2013 the EBIT margin was roughly -400% and while there has been improvement the EBIT margin of -100% for Q1 2015 is still bad. In order to understand the narrative behind these numbers and to gauge the future of the company one has to take a look at unit economics.
Unit Economics
Analyzing the cash flow from a typical customer relationship is a powerful tool to understand the economics of any SaaS business. Ackroo is a typical SaaS business and has the highest cost at the beginning of a customer relationship - the customer acquisition cost CAC - and then starts to recoup these costs through recurring revenue and eventually earns a profit after some time. One important metric is the customer lifetime value (LTV). It is the present value of all cash flows from a typical customer relationship. LTV has to be bigger than CAC for the business to be viable - for a flourishing business it should be considerably bigger (LTV > 3 CAC as a rule of thumb). Unfortunately this metric is not provided in Ackroo's financial statements, but it can be estimated as follows:

Ackroo has typically operated with a gross margin of ~70% (see figure above) in the past and it is a reasonable to assume these gross margins to persist into the future. Customer retention is a main focus for any SaaS company and Ackroo managed to retain 91% of customers in 2014 which is equal to a churn of 9%. This rate may change in the future, but 9% is a good first order estimate. The annual recurring revenue per location ARR can be gleaned from the last investor deck and was 1392 CAD YTD 2015 (given by the monthly recurring revenue MRR of 101 CAD and the yearly one time revenue for existing location of 180 CAD). Using a reasonable conservative discount rate of 10% this results in a LTV of 5128 CAD. It is worth noting that LTV has been lower in the past (4123 CAD as of February 2015). One main factor causing an increase in LTV of roughly 25% over the last three months is the acquisition of Dealer Rewards Canada in May 2015. This acquisition brought >100 new car dealership locations with average MRR >500 CAD. The LTV has to be compared to the cost of acquiring a location . CAC can be estimated by the cumulative marketing and sales expenses in a certain timeframe divided by the new locations acquired over this timeframe:

At this point it is useful to take a look into Ackroo's past and see how the previously employed direct sales force fared in this metric. Using historical data from Q2 2013 to Q4 2013 cumulative marketing and sales expenses were 479437 CAD while 200 new locations have been acquired in this timeframe. This results in a CAC of 2397 CAD. At first glance it seems fine to spent 2397 CAD to acquire a customer relationship with present value of 4137 CAD. The problem with a CAC this high in relation to LTV and ARR is that it takes more than 2 years to break even on a newly acquired location. In the beginning new locations consume cash. Combined with the fast growth of the company in the past (89% revenue growth in 2013) this caused a liquidity problem. New shares had to be issued several times and investors fled from the stock. Ackroo even had to do a 10-to-1 share consolidation in December 2014, because the TSX Venture exchange does not allow issuing shares at a price under 0.05 CAD. Recently the company has taken steps to lower CAC. The distribution channels have shifted away from a direct sales force to referral partners and resellers. These cost reduction measures were really emphasized as the new CEO, Steve Levely, took office in May 2014 and the achieved declines in marketing and sales expenses are impressive.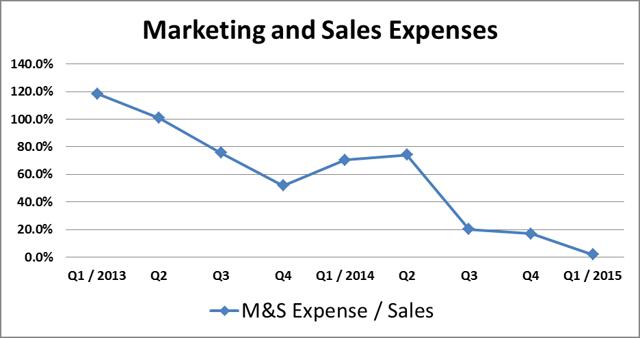 This whole effort has brought CAC down to 33 CAD/location in Q1 2015. However this is not a sustainable level going forward as the whole sales force was fired during 2014 in order to save costs. The transition from direct sales to resellers and referral partners is also responsible for the declining revenue in H1 2014, because the new partnerships take a few months to contribute to revenue. Currently the training of resellers and all other marketing and sales activities are carried out by the existing team. This has to change in the future and will drive CAC back up. A reasonable estimate going forward is that the company has to employ ~5 people in M&S to train resellers and start direct selling again. Assuming generous wages this will cost the company no more than 125.000 CAD/quarter. Further (pessimistically) assuming that the company will continue to grow at a pace of ~200 locations/quarters CAC will increase to 658 CAD/location going forward. The LTV will also change going forward, because the current customer base has been recruited mainly by the - now non-existent - direct sales force. By changing to a reseller/referral partner based distribution the LTV will decrease. The company gives up roughly 50% of MRR to resellers and 10% to referral partners. It is planned to counteract this decrease in MRR by increasing efforts in cross and up selling the different solutions (currently most clients use only one solution). In order to derive a lower limit for LTV it is instructive to assume that these measures do not work as expected and that average MRR decreases from 101 CAD to 70 CAD going forward. Furthermore the company does give up some of the customer interactions to the resellers, which may cause churn to rise if the resellers do this badly. In order to derive a lower limit for LTV one can make the very pessimistic assumption that churn rises by 1/3 to 12%. This leads to a LTV of 3245 CAD/location. Even under these pessimistic assumptions the unit economics are vastly superior to those of the past and are indicative of a working and somewhat resilient SaaS business. Time to break-even for new locations is reduced to ~10 months and the liquidity drain by expanding is vastly reduced compared to the unit economics of the past.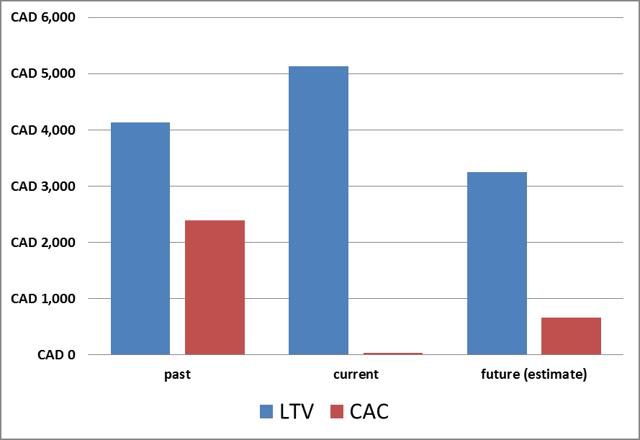 As long as the economics do not turn out considerably worse than this estimate the business seems viable and should be able to grow with vastly reduced cash needs going forward.
Management
Investing in microcap companies is always a bet on management especially on the CEO. Whereas a large cap company can often withstand bad management to some extend due to an existing moat and easy access to funding bad management at a microcap will quickly sink the ship. In Steve Levely Ackroo has a new CEO with a background in sales management and business development. He previously served as vice president of sales at Ackroo and held positions at Maritz Canada and Pitney Bowes Canada. It is the first time Mr. Levely serves at the board of a public company and thus there is a limited history from which to access the quality of his leadership. His tenure at Ackroo has been a success so far and he has delivered on his promises. After addressing the pressing liquidity problems in 2014 a new strategic plan was unveiled in December 2014 to put Ackroo on the road to profitability. From this plan many objectives have already been accomplished including two acquisitions (PhotoGIFTCARD, Dealer Rewards Canada), signing more resellers, and the enhancement of the product offering to mobile. Furthermore Mr. Levely bought out the previous management team (at prices higher than the current share price) aligning his interests with those of the other shareholders. It is also worth noting that dilution has been kept at the necessary minimum since Mr. Levely is in office. This is especially evident through the structuring of the Dealer Rewards Canada acquisition. It allows the company to use operational cash flow to pay for most of the acquisition and only ~770000 new shares had to be issued. If the whole acquisition had been financed through shares it would have taken in excess of 4 million new shares to do so.
Market, competition and growth
The market for Ackroo's services is very large ($160 billion+). In principle every B2C business can use and benefit from Ackroo's solutions. The market has considerable barriers to entry as the software has to be developed upfront, providers of point-of-sales solutions have to be convinced to allow integration with their products and early stage operations consume cash rather than producing profits. Coupled with the fact that current market participants are still profiting from conversions from paper based systems to electronics (which new entrants may already be too late to) there is a considerable competitive advantage for current incumbents. The market itself is highly fragmented, but Ackroo has found a niche in the SMB market where competition is less fierce than it is for larger customers. The most serious competitor offering both gift card and loyalty solutions in Canada is Givex. But even the competition from Givex in the SMB market is limited by their higher price point such that Ackroo has an advantage in this market segment.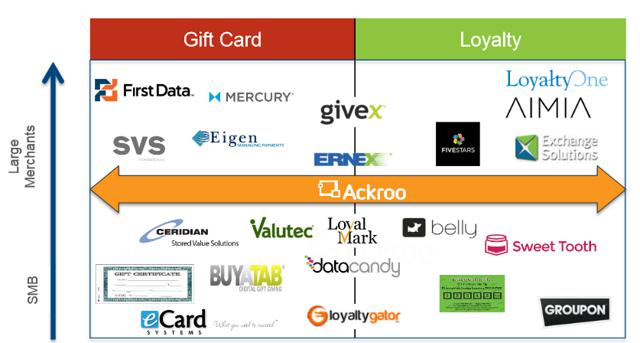 (Source: Ackroo's Investor Deck)
Ackroo's current referral partners represent more than 200000 locations and their product partners roughly 1000000 merchant locations. The current size of Ackroo (~ 1600 locations) pales in comparison and leaves ample room for growth even within its current base of referral and product partners. Ackroo is also looking to expand internationally if the right partners can be found. The way for US expansion has already been paved by founding a subsidiary in the US.
The path for growth is set for Ackroo, despite the lack of a direct sales team. There are two pillars which will drive growth in the near term. First of Ackroo has already signed deals with three resellers and plans to sign more deals in the future. These resellers take 4 to 6 months to be integrated. Their sales force needs to learn everything about Ackroo's solutions before it can sell them to their respective customers. Revenue from signing Everlink Payment Services as a reseller in October 2014 is expected to kick in Q2 2015 as well. Finally West Technology Group was signed as a reseller in February 2015 and will help Ackroo expand in the Caribbean market. Revenue from this deal is expected by Q3 2015. The second pillar for near term growth is through M&A activity. In January 2015 Ackroo acquired PhotoGIFTCARD. This acquisition does not only complement the product offering but also adds roughly 500 merchant locations to Ackroo's customer base. In May 2015 Dealer Rewards Canada was acquired. This acquisition added only ~100 new locations, but added in excess of 50000 CAD to MRR. Management indicated that it would like to pursue further complementary acquisitions in the future if it is beneficial to do so. Ackroo should be able to exceed its growth targets for 2015 just from these two sources. Growth beyond this year will depend on the ability of management to sign more resellers and to find more sensible M&A deals. The possibility to restart direct sales after the current liquidity crisis will provide another boost to growth in the near to medium term.
Valuation
The value of any SaaS company is driven by its future revenue growth rate. This variable is the determining factor, almost to the exclusion of all other variables, of the EV/Sales multiple that the market attaches to such a business. For publicly traded SaaS companies the correlation is remarkable: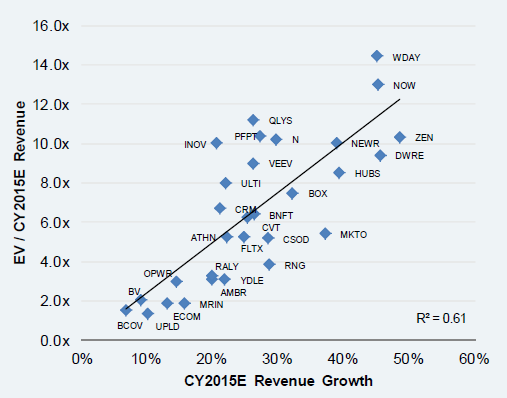 (Source: Dave Kellogg's excellent Kellblog)
Assuming a 50% revenue growth rate going forward (as in the companies guidance) one would expect Ackroo to trade at roughly 12x EV/Sales according to the data. This is more than 300% above its current valuation at 4 EV/Sales (using Q1/2015 sales + MRR of Dealer Rewards Canada acquisition and annualizing them). Considering that Ackroo is still not fully out of its liquidity problems and is a thinly traded microcap a discount to bigger, market leading SaaS companies seems warranted and shares should probably trade around 6x EV/Sales. Buying Ackroo at current levels is a bet on the company executing which I believe it will. Once the clouds from the liquidity situation lift (e.g. by investors from the private placement in January exercising their warrants early and providing ample liquidity to reach break-even) and the company executes on its revenue growth plan of at least 50% p.a. the discount should narrow and the company could trade at 8-10x EV/Sales. Note that not only does this mean market value appreciation driven by multiple expansion, but also by an increase in revenue. Using the low end of management guidance (3 million CAD revenue in 2016) results in an enterprise value of 24 million CAD at an 8x EV/Sales multiple. With 25.8 million shares (fully diluted) this would result in a share price of ~0.93 CAD implying an upside of ~80% from current levels by the end of 2016. Going out to year end 2017 the lower end of management guidance is 5 million CAD in revenue which would result in a share price of ~1.55 CAD which is a 3x from current levels. If the high end of guidance is reached (10 million CAD) - which I believe to be conservative - shares could reasonable be a 6-7x by year end 2017.
Risk
Risks for Ackroo should not be underestimated at the current juncture. First and foremost there is the possibility that unit economics could deteriorate beyond my estimates and thus strain liquidity of the company more than suggested. One particularly worrisome point is that the company gives up some of the direct customer relationships to the resellers and thus loses the ability to control churn. Higher churn rates in particular and worse unit economics in general may result in more dilution for existing shareholders (somewhat likely) or could even end in a bankruptcy filing (highly unlikely). If the liquidity crisis is weathered the future will mainly hinge on the ability to execute the revenue growth plan. Competition in the SMB space could heat up making growth more challenging and/or eroding the margins. The company relies on resellers for growth. The reseller model has not yet been proven to work for Ackroo. The first reseller deal (with Kubera Payments) was signed in September 2014 and revenue contributions were expected by Q2 2015, but recently the company converted to a referral partner. So there is no fully integrated and working reseller yet. If the deals with the other resellers evaporate it would make growth considerably more challenging. Furthermore it is possible that there could be missteps in M&A in the future, even though the recent acquisitions were executed very well.
Additional risk arise from the fact that SaaS companies could be in a bubble. EV/Sales multiples have inflated measurably in the last years. If they revert to the level of 2013 this would throw of the valuation outline above by roughly 40% and thus decrease the implied upside significantly.
Summary
Ackroo is a high quality business that suffers from liquidity problems. A recent change in cost structure has made it increasingly likely that the company will come out of this situation as a going concern and without further dilution. The growth opportunities that lie ahead of Ackroo are huge and the company has set itself up to take advantage of them. Management is doing a good job on executing on the strategic plan set in late 2014. If the company delivers according to guidance shares could be a 3-7x by year end 2017.
Disclosure: The author is long VEIFF.
The author wrote this article themselves, and it expresses their own opinions. The author is not receiving compensation for it (other than from Seeking Alpha). The author has no business relationship with any company whose stock is mentioned in this article.