"Two or Three Trillion dollars should be spent on infrastructure in this country, do you understand the ramifications if it isn't?"


The Department of Homeland Security had a well-attended workshop last month at Columbia University in New York City on the issues of Aging Infrastructure. We need to make a substantial investment in adding and rebuilding bridges, locks, roads and other elements that make up our infrastructure. This should be the real crusade that Congress should fund. Why? Because it provides jobs in the short term and huge residual value that promotes better regional and economic sustainability in the long-term.
Infrastructure is the platform for commerce and trade routes in the global economy. China, Taiwan, South Korea and other countries understand this and are funding initiatives that go well into the billions of dollars. They understand the concept of building a solid platform for global commerce that will accelerate their gross national product (GNP).
ADDING RESILIENCY AND RESIDUAL VALUE
Many people came to this workshop with very focused views of their own discipline. Besides directors from various areas of the Department of Homeland Security and other federal and state government agencies, there were many from various segments that support the infrastructure.
From structural engineers and bridge builders to mechanical engineers, road builders and academics from leading universities, all were looking for new solutions. Some were focused on utilizing advanced materials as well as intelligent transportation systems. New preventive maintenance approaches, like monitoring corrosion in suspension bridge cables, were discussed. (http://www.youtube.com/watch?v=0GOjBDLtMGY&feature=related ) This type of use of embedded sensors in a new application lends itself to what I call the cross-pollenization of technology across different industries. If it is proven in one industry, why not try to see if there is an application in another industry?
There was a consensus that more emphasis was needed to fund various infrastructure initiatives. What also needs to happen is that everyone gets a better appreciation of the total picture, which means having more of a multi-disciplinary understanding of the linkages between layers of infrastructure and their impact on global economic competitiveness.
INFRASTRUCTURE HAS BEEN BUILDING FOR OVER 3,000 YEARS
In my presentation, I pointed out the need to understand the multiple layers of the infrastructure as well as their new interdependencies that are becoming more evident than they were 50 or 60 years ago. Infrastructure over the last three Millennia has always been the platform for commerce which helped expand trade routes and commerce.
The now-classic example of what happened between the economic growth of Chicago and St. Louis after the Civil War regarding the restriction of the railroads was also presented. This is a great example of what having a solid infrastructure can do for regional viability and what happens when you do not have all the layers of infrastructure that your competition has in place.
St. Louis was touted as the Gateway to the West for settlers going to California and other western territories. The railroads which were just beginning to grow, wanted to use St. Louis as the central hub for their trains.
St. Louis listened to the lobbyists of the day, the riverboat owners, and restricted the new layer of infrastructure, the railroads, from coming through St. Louis and crossing the Mississippi River.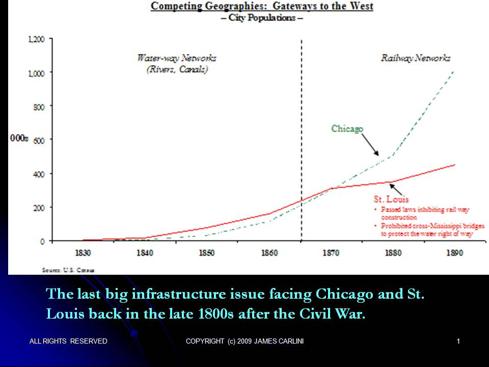 Chicago let the railroads create a central hub and in the next 25 years, they grew both in population and economic growth which dwarfed St. Louis by 1890.  St. Louis sunk from its prominence to becoming a second-tier city.
Chicago grew faster because they had an additional layer of infrastructure which catapulted their economic development as well as their population.
We are at the same type of critical juncture again. This time with broadband connectivity, the latest layer of infrastructure which focuses on providing multiple gigabit per second connectivity. As I pointed out in my presentation, many have yet to realize that the three most important words in real estate today are Location, Location, Connectivity.
INTELLIGENT INFRASTRUCTURE
Defining what this means at every layer of infrastructure was touched upon, but not finalized. Finding common ground among those in charge of designing, implementing, and maintaining the various layers of infrastructure, as well as common definitions, seems to be the next big step.
We cannot compete in the accelerated pace of the 21st Century global economy relying on 19th and 20th Century infrastructure.
CARLINI-ISM
:  Infrastructure is the platform for commerce and trade routes.
From:
carliniscomments.com
Executive Advisor, Infrastructure Strategist and Expert Witness in Civil & Federal Court, Keynote Speaker.