In my Dec. 15, 2011, Investing Daily article, America's Overlooked Energy Advantages, I highlighted one of North America's greatest assets: large quantities of natural gas and crude oil found in shale fields and other unconventional formations. Production from these plays has afforded US consumers a degree of insulation from rising energy prices--a huge economic advantage relative to households in Asia and Europe.

The shale oil and gas revolution has enabled the US to overtake Russia as the world's leading producer of natural gas and grow domestic oil production for the first time in decades. Many master limited partnerships (MLP) also continue to benefit from this revolution; booming production from these unconventional plays requires a massive build-out of midstream infrastructure to prepare and transport this oil and gas to market.

A number of innovations have enabled producers to unlock the oil and gas resources trapped in unconventional fields such as the Bakken Shale in North Dakota and the Marcellus Shale in Appalachia. But two breakthroughs catalyzed the shale oil and gas revolution: horizontal drilling and hydraulic fracturing.
Horizontal Drilling Explained
This diagram from the North Dakota Petroleum Council illustrates the benefits of horizontal wells, compared to traditional, vertical wells.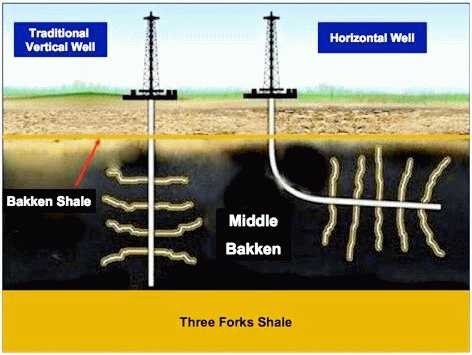 Source: North Dakota Petroleum Council

The Bakken Shale formation is located roughly 8,000 feet to 11,000 feet below the surface in many of the play's most-productive regions. This image omits several other rock strata above and below the Bakken: the Madison Group, which rests above the Bakken; the Three Forks, another oil-producing deposit below the Bakken; and the Birdbear, Duperow, Prairie and Interlake formations.
Not all these rock formations contain commercial quantities of oil and gas. Let's say a producer is targeting a productive layer that's about 150 feet to 200 feet thick. If the producer were to drill a vertical well through the formation, only a 150- to 200- foot section of the well would yield oil.
The well would be far more productive if the producer were to drill a 10,000-foot horizontal well off the vertical shaft to increase exposure to the productive region of the play. Horizontal wells--particularly those with longer laterals (the horizontal segment)--are usually more expensive to drill than traditional wells and require advanced equipment.
But these additional costs and complexities don't prevent operators in the Bakken and other prolific plays from earning internal rates of return in excess of 100 percent.
Hydraulic Fracturing Explained
Conventional oil and gas fields occur in rock formations with some degree of permeability. Check out this image of sandstone, a common reservoir rock in conventional oil and gas plays.
As you can see, the porous and permeable sandstone includes plenty of chambers in which oil and gas can accumulate and plenty of channels through which the hydrocarbons can flow.
Shale plays and other "tight" oil and gas fields lack permeability; that is, the hydrocarbons can't flow through the reservoir rock.

Hydraulic fracturing is a process whereby producers pump a liquid into a shale reservoir under such tremendous pressure that it cracks the reservoir rock. This creates channels through which hydrocarbons can travel, improving permeability. Over the past several years, US producers have honed this technique in a number of prolific shale gas plays, increasing the number of fracturing "stages" along the lateral portion of a horizontal well.
Fracturing fluid is primarily composed of water and sand or ceramic particles (proppants) that enter the cracks and "prop" them open when the fluid is removed.
The exact composition of fracturing fluid differs depending on local geologic conditions, and producers often arrive at the best cocktail after a period of experimentation. Not surprisingly, some in the industry have been loath to tip their hand and lose their competitive advantage.
Some states have mandated that producers disclose the composition of their fracturing fluid to regulators, while some producers have shared the basic components of their secret sauce.
For example, Canada-based Talisman Energy's (TSX: TLM, NYSE: TLM) website lists the ingredients in the typical fracturing fluid that the company would use in a 10-stage well in the Marcellus Shale. Water makes up 90.71 percent of the mixture, with sand accounting for 9.12 percent of the mixture and assorted chemicals accounting for the remaining 0.17 percent.
The recipe calls for about 1 gallon of friction reducer for every 2,000 gallons of water; 1 gallon of scale inhibitor for every 10,000 gallons of water; 1 gallon of a biocide for every 2,000 gallons of water; and 3,000 gallons of acid (diluted to 7.5 percent) for the entire well.
Here's a look at some of the chemicals that make up the last 0.17 percent of Talisman Energy's fracturing fluid.
FRP-121 is a polyacrylamide (PAM) that acts as a friction reducer. Outside the energy industry, PAMs are sprayed on the ground to reduce erosion caused by storm-water runoff. PAMs are also used in the manufacture of paper and soft contact lenses.

Dibromo-3-nitrilopropionamide (DBNPA) is a pesticide, algicide and bactericide used to prevent the buildup of slime in fracturing fluid. DBNPA is also used to disinfect lab equipment and as a slimicide in cooling systems and papermaking. The Food and Drug Administration regulates its use in food packaging.

Surfactants reduce the surface tension of water and are used primarily in detergents. Talisman Energy doesn't disclose the surfactants in its fracturing fluid.

Ethylene glycol is an organic compound widely used as antifreeze in automobiles and to produce certain synthetic fibers.

Although you wouldn't want to drink a glass of these chemicals every day to start your morning, the media tends to overhype the health risks associated with fracturing fluids, often citing the industry's secrecy regarding these proprietary mixtures. However, many individual investors aren't aware of the relatively small concentrations of these chemicals in fracturing fluid.
Many subscribers of my investment advisory service, MLP Profits, have asked whether the US Environmental Protection Agency (EPA) would attempt to ban fracturing outright or increase regulation to the extent that the practice is no longer economically viable. Environmentalists have long expressed concern that either the fracturing fluid or hydrocarbons could seep into and contaminate the supply of drinking water.
On Dec. 8, 2011 the EPA released a draft of Investigation of Ground Water Contamination near Pavillion, Wyoming, an inquiry prompted by residents' complaints of unpleasant odors in their drinking water supplies. This report, which is currently open to public comment, suggests that nearby wells may have contaminated the drinking water and, predictably, elicited a chorus of calls to ban hydraulic fracturing.

But this EPA draft isn't the smoking gun environmentalists have sought. Moreover, a ban on or restrictive regulation of hydraulic fracturing is unlikely in the current economic and political environment.
Disclosure:
I have no positions in any stocks mentioned, and no plans to initiate any positions within the next 72 hours.