Elevator Pitch
The pharmaceuticals subsector will have a strong demand because of the national health coverage program
Kalbe Farma is a proven company the pharmaceuticals industry
The target price is Rp 1.734 with a potential gain 11.9%
Company Description
This year, the potential of pharmaceuticals products is still strong because of the macro economy conditions that have been predicted to be better. KLBF is a proven company in the pharmaceuticals subsector. Actually, it is the largest listed pharmaceuticals company in South East Asia. The economy conditions will increase the income, and with the healthy consciousness trend, it will boost the sales of KLBF in the future. Combine with the KLBF expertise in the operational of the industry will margin grow wider. The stock price history is also great, so KLBF is worth in your portfolio.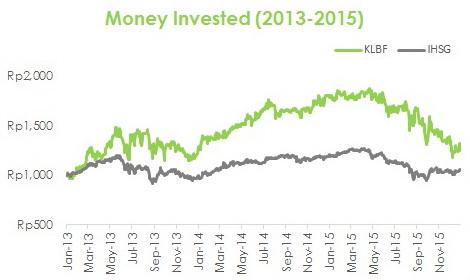 Thesis & Catalyst For PT Kalba Farma IDR (KLBF)
The prescription drug will still have a strong demand from the market, because of the national health coverage program (BPJS). But still, the margin of will be pressed because of the high competition environment in this division. KLBF manage it with developing higher margin products.
In 2015 consumer health products only gave a single digit growth. But in this year we hope it will get better, Extra Joss which comprises about 25% of the consumer health product mix introduced a new variant Extra Joss Blend and Extra Joss Go. I have expected a growth of 12-13% of KLBF's consumer products sales this year.
The nutritional still drives most of the sales in this year, compared with other products it has the highest growth in the later year and because of its high growth sales in the future it will still dominating the sales mix of KLBF. But because of the price increase of one of its main ingredient (skim milk), the margin will slightly drop. Hopefully, the purchasing power of Indonesian will increase simultaneously with the increase of Indonesia economy so the customers can handle the price increase of the product.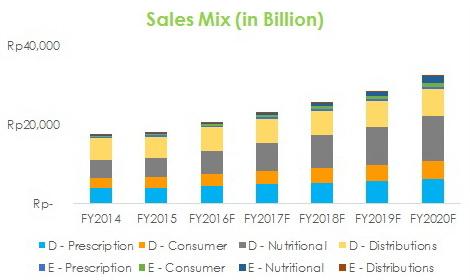 Valuation
I still recommend KLBF in your portfolio because of it shows a great promise of volume growth and the margin broadening on the back of the operational efficiency. The target price of KLBF is Rp 1.734. So with today price of Rp 1.550, it still has a potential gain 11.9%.
You can download the model here.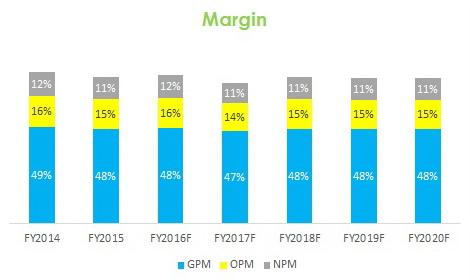 Forecast

Disclosure: I/we have no positions in any stocks mentioned, and no plans to initiate any positions within the next 72 hours.