I have a personal story to share this week, which I hope will offer some insights into the increasingly interconnected world in which we live and how these connections alter the way we live and share information. Last Sunday afternoon – the day before Labor Day – my family and I evacuated our home near Austin, Texas due to a wildfire. At the time we first learned of the fire, around 4pm, my wife and daughter were visiting with some friends down the street from our house, while I was home with my son. Initially, my wife notices the smoke and ashes in the air and called me to see if I knew anything about the source of the fire – which I did not. I went outside and saw ashes falling around our house as if a light snow was beginning to fall. I could see dark smoke nearby and it certainly appeared to be coming from a fire that was close to us.
For a minute or two I quickly scanned traditional news sources looking for information about the fire.  I visited the webpage for our local newspaper and saw "breaking news" about a road in downtown Austin that was closed, apparently due to some traffic incident.  Next, I tuned-in to a local TV station that was running a news show at the time.  I learned about an upcoming triathlon in the area and where I could park my car, but absolutely nothing was mentioned about the fire.  My wife and I then checked our Facebook pages and discovered through posts of friends the actual location of the fire (about 2 miles away) and promptly decided to evacuate.  There was a lot of information about the fire onTwitter as well.  Within the next 15 minutes our community, called Steiner Ranch, began to lose power and some residents had received reverse – 911 calls informing them of a mandatory evacuation order.  We quickly grabbed a few things, got the kids and cat in the car, warned a neighbor, and proceeded to leave.  By the time we reached the main road to evacuate our neighborhood there was a line of hundreds of cars trying to evacuate.  We could see heavy smoke and there were helicopters dropping water on the fire.
As we drove we continued to receive information about the fire through Facebook and Twitter.  We later learned where our friends had gone to stay for the night.  We saw photos that people had taken and posted online and learned of other resources for additional information.  Meanwhile, on one local news station, we saw a story about good recipes to cook for your Labor Day festivities.   I relay this story for one primary reason: this is the first direct experience that I have had with a fairly widespread emergency since the large-scale adoption of social media platforms such as Facebook and Twitter.  It was truly interesting to experience, first hand, the powerful nature of rapid information flow through social networks vis-a-vis the comparatively poor information provided through traditional media sources.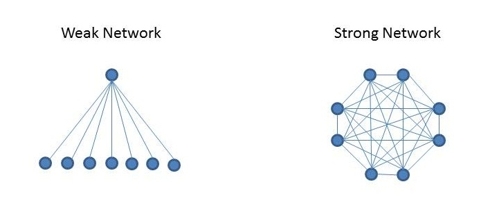 As seem in the image above, traditional media sources such as TV, radio and newspaper are similar to the depiction of a weak network.  One node, representing the source in the network, has a single connection to the other nodes in the network, but there are no other links between the nodes.  Furthermore, in actual practice, the traditional media model only allows information to flow in one direction, making it even worse than would appear to be the case from this network diagram.
By contrast, the strong network diagram more accurately depicts the manner in which Facebook works – each node in a network is fully connected to all other nodes, with information flowing in both directions through the links.  As you can discern, the true value of any network is largely a function of two things: the number of nodes in the network and the number of links that connect those nodes.   A local TV station, or newspaper, is nothing more than one node in the network.  And, in a situation such as the recent wildfire that forced my family and I to evacuate our home, the TV station was effectively a useless node, adding little value in the first hours of the emergency.  The most important nodes were our friends, who happened to live even closer to the fire and were able to rapidly disseminate information (using smartphones) to all of the other nodes.  It may be fair to question the accuracy of some of the information that we received, but it is often the case that timely, if somewhat inaccurate information is much more important than perfect, but delayed information.
During the next two days we largely relied upon Facebook and Twitter for the majority of the information that we received and shared with others.  I chuckled when I saw that the local news stations were using Facebook and Twitter as well, asking local residents to share their pictures and videos of the fire.  Rather than being the most important node in a weak network, the traditional media sources were marginalized and reduced to being a relatively unimportant node in a strong network.  I have to confess that I don't use social media to the degree that many others do, but I recognize the awesome power and value that comes from a strong network with large numbers of links and nodes.  Facebook and Twitter are two of the most powerful networks that exist today.
To wrap up the story, we were allowed to return to our home on Tuesday morning, two days after the initial evacuation.  At its closest point, the fire was about two miles from our house.  On that morning, my wife and I had taken our kids for some play time outside – we had been staying at our in-laws house during the evacuation period.  When news broke that we could return home, I'm sure the local news sources, TV, radio, and so forth reported it immediately, but it didn't really matter.  I was outside at a park, playing with my kids.  I learned about the lifting of the evacuation order immediately, through my smart phone, as the information was disseminated on Twitter.