No secondary reaction in the precious metals' universe yet.
Not all days are relevant under Dow Theory. Today this post in this Dow Theory blog is going to be short, since today in spite of the bullish display of the markets, is an inconsequential day. I will spare my letters and words.
The three stock indices we monitor closed strongly up for the day. However, the last recorded highs have not been broken out and, hence, the secondary trend remains bearish. We have to see further market action. The primary trend remains bullish.
The Transports continue displaying good relative strength. I think this is a bullish sign since the former weakest index is turning stronger.
Volume was again bullish today. We had a clearly up day on higher volume. Little by little the short term pattern of volume is turning bullish (4 bullish days in the past 4 days).
Here you have an updated chart.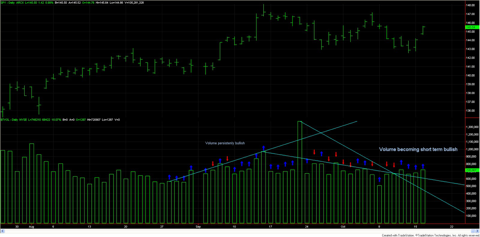 Volume is turning short term bullish
If I had to make a guess, I'd say that the odds strongly favor the termination of this secondary reaction. Volume is becoming bullish short term (and it has always been bullish long term) and the stronger Transports seem to suggest underlying strength for the whole market. However, as I constantly repeat we are not in the business of forecasting or trading secondary reactions. They are too unpredictable and there is little to gain by trading them. Again, I insist that we study secondary reactions because we need them in order to set our trailing stops. More on secondary reactions and its usefulness for setting stops in my post "Why Dow Theory matters: Outstanding Risk Reward Ratio thanks to the Dow Theory's trailing stop" which you can find here.
To close with the issue of secondary reactions. Even though I feel that it is likely that the secondary reaction may have finished, as with primary trends, it is impossible to know in real time when the secondary reaction has finished. We just can make guesses, as I have just done right now based on volume, non confirmations, etc. We will only know for sure that it is finished when the last recorded highs of 10/05/2012 (NYSEARCA:DIA) and 09/14/2012 (SPY and Transports) are penetrated. However, there is nothing wrong with that, since we don't trade them.
In a future post, I will show you some numbers that will convince you about the futility of attempting to trade in and out of secondary reactions. Unless you are a master trader, it is a waste of time and energy that would be better applied in becoming a master investor along the primary trend.
As to gold, silver and their ETFs, all of them closed up for today. Technically, there are no changes. All of them refuse to correct. Thus, both the primary and secondary trend remain bullish.
I wrote a post earlier today that may be helpful in order to provide investors with the big picture and how to survive financially in these very challenging times. It's named "Jim Rogers and the Dow Theory", and you can find it here.
Sincerely,
The Dow Theorist