By tomorrow morning, Nov. 7, 2012, the new 45th President of the United States will be presented. "President Barack Obama and Republican challenger Mitt Romney are essentially tied on the eve of Election Day, but the Democrat has a slight edge in some of the pivotal states where the election will be decided," according to Reuters/Ipsos polling released on Monday. No, we will not predict the outcome here, but we will review one major factor affecting the election result in this article: the changing U.S. Demographics.
As directly quoted from the article written by David Lauter from Los Angeles Times,
Obama's Edge:
"For at least a decade, Karl Rove and other Republican strategists have warned that the party risked failure if it could not find a way to reach out to the country's fast-growing Latino population. Instead of doing so this year, Mitt Romney ran a primary campaign that stressed hard-line positions against illegal immigration. The goal was to outflank Texas Gov. Rick Perry, and it succeeded, but at high cost. (And ultimately, Perry did so poorly that he might have lost anyway.)
Polls of Latino voters show that Obama probably will get 70% or more of their vote. Already, early vote statistics indicate that strong support from Latinos has given Obama a big lead in Nevada. Depending on the size of the Latino turnout, he could add Colorado and Florida to his column."
Romney's Advantage:
"A smaller, older and whiter electorate: In 2008, 61.6% of the population potentially eligible to register and vote actually cast ballots. That was the highest level since before 1971, when the 26th Amendment to the Constitution gave 18-year-olds the right to vote. Most analysts expect this year's turnout percentage to be lower. But how much? And which voters will stay home?
Professor Michael McDonald of George Mason University, the leading expert on voter turnout, estimates that 60% to 61% of the voter-eligible population will turn out. That would put the 2012 turnout level slightly lower than that of 2008, but likely higher than 2004's 60.1%.
Some Republicans expect a bigger decline. They believe turnout of younger voters will drop significantly from 2008 levels and that minority turnout also will decline because of what they see as lowered enthusiasm for Obama. Turnout of older, white voters will rise because of greater intensity on the GOP side, they predict. The result would be an electorate that is both older and whiter than the one in 2008, which was 74% non-Latino whites, according to exit polls.
In 2004, when Bush won reelection, non-Latino whites made up 77% of the electorate, and in the 2010 midterm elections, when Republicans regained control of the House, the white share was 78%. Many Democratic strategists expect the white share of the electorate to fall to 73% this year, but some Republicans expect the white share to rise, which would give Romney an edge in key states because of the sharp racial polarization of the vote."
Furthermore, in the 2008 election, Latinos and Asians comprised 11.6% and 3.4 respectively, of all Nevada voters - a combined 154,000 voters. That total exceed the margin of victory for Obama, who beat McCain by 120, 909 votes, according to the non-partisan research group immigration Policy Center. That dynamics where the number of Latino and Asian Voters exceeding the margin of victory for Obama, held true for Florida, Colorado and North Carolina too, as reported by Jose Antonio Vargas from the Guardian. In the report, it stated that in order to win the election, Obama can afford to lose the white vote by a double-digit margin so long as he takes at least 80% of "minority voters," as he did four years ago.
Here, we will look at the data for the population change from 2000 to 2010, as provided by United Consensus Bureau.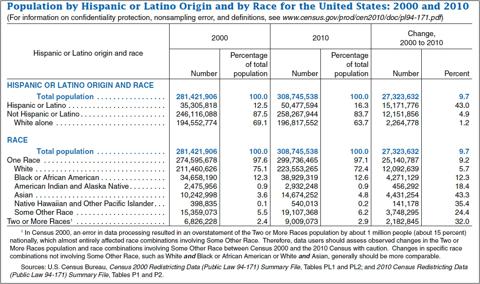 As we can see, White population had decreased from 75.1% to 72.4% and Black or African American had increased by 0.3% and Asian had increased by 1.2%. The trend will continue based on the current declining U.S. birthrate and the strong immigration rate to the United States.
While investors are focusing on the economics and the unemployment rate to determine the election outcome, it may be a good time to pick up the trend for the U.S. demographics change and the result of U.S. Presidential Election will be a good indicator for the trend. It is the demographics that ultimate dictate the election result as a country is made of people, not numbers. As the Republican Senator Lindsey Graham said, "If we lose this election, there is only one explanation - demographics."
Disclosure: I have no positions in any stocks mentioned, and no plans to initiate any positions within the next 72 hours. I wrote this article myself, and it expresses my own opinions. I am not receiving compensation for it (other than from Seeking Alpha). I have no business relationship with any company whose stock is mentioned in this article.