Why Co-Diagnostics' Coronavirus Test Might Not Receive FDA Approval And More Unanswered Questions
Please Note: Blog posts are not selected, edited or screened by Seeking Alpha editors.
Long/Short Equity, Short Only, Growth, Special Situations
Seeking Alpha Analyst Since 2016
We provide deep research and valuable information on small cap stocks to hedge funds and high net worth individuals. We specialize in the technology and healthcare sectors.
We have an over 80% success rate, see our reports at whitediamondresearch.com. See the 3rd party verified return on each of our bearish reports over the last 24 months at:
https://breakoutpoint.com/as-summary/white-diamond-gvmtg/

To inquire about becoming a premium subscriber, send a PM here or email us at research@whitediamondresearch.com.
Follow us on twitter @whiteresearch
.
Summary
With so many diagnostic companies receiving FDA Emergency Use Authorization ("EUA") for their coronavirus tests, Co-Diagnostics (CODX) is at a big disadvantage without it.
CODX still hasn't revealed a single customer or user of its coronavirus test kit.
CODX has never received FDA clearance for any of its tests, which include for Zika, Dengue, Chikungunya and Tuberculosis.
CODX applied for EUA almost two months ago, yet just now says it finished a clinical study for it.
The coronavirus tests are evolving and getting better all the time, where itappears that CODX test isn't making improvements.
Co-Diagnostics (CODX) issues a PR almost every day regarding its coronavirus test. But it hasn't mentioned a single customer, be it a lab, University, hospital, or government who has bought, used or vouched for its Logix Smart coronavirus test. The company also has not given any indication as to how much revenues it has made, or how many tests it has sold. The only numbers it has given, is how many tests it has sold to its distributor, which is a company that is a penny stock who is peddling the tests to third world countries.
Looking at CODX recent PRs, many unanswered questions arise. CODX has maintained a high market cap of over $200M which we don't believe is justified. The company has still not received FDA approval, or Emergency Use Authorization ("EUA"), like many other reputable diagnostics companies have for their coronavirus tests.
Co-Diagnostics Applied For Emergency Use Authorization Almost Two Months Ago, Yet Still Has Not Received It
On 2/6/20, CODX issued a PR, where the CEO Dwight Egan states:
We are already in communication with the FDA regarding clearance of our 2019-nCoV test on an emergency use basis. If approved, it will allow us to commercialize the test as an IVD, reaching even more markets affected by this disease.
Now it has been almost two months since CODX applied for EUA with the FDA, and CODX still hasn't received it. We don't believe CODX will ever receive FDA clearance or EUA in the US. In fact, CODX expressed this opinion in its 2018 10-K. It states:
We do not anticipate offering our tests in the United States in the near future. 
Diagnostic companies are receiving EUA right and left. The following is the group so far with the date of each approval, as shown in an article by Investor's Business Daily published on 3/20/20: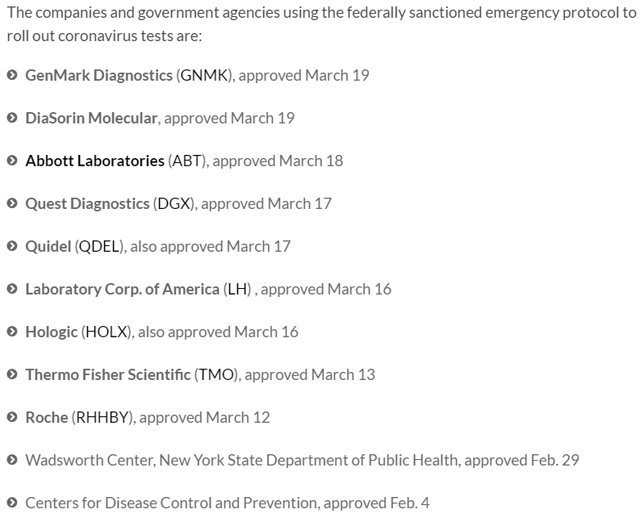 Source: Investor's Business Daily
Note the above list doesn't include Cephied's, a subsidiary of Donaher (DHR), coronavirus test that received EUA on 3/21/20. It's the first FDA approved bedside coronavirus test.
It wouldn't make any sense for a hospital or lab to choose CODX's test over the many that have received EUA by the FDA. It would add increased liability and perhaps problems to use a test like CODX's that hasn't gotten the FDA's stamp of approval.
CODX hasn't revealed the reasons why it still hasn't received EUA whereas all of these other diagnostics companies have. No one knows for sure the reasons except CODX insiders and the FDA. We speculated in our last report that CODX' test likely has some problems with effectively diagnosing the coronavirus. We gave a couple reasons which we won't repeat here.
Even if CODX does receive EUA, it seems like it has already been left in the dust by these other coronavirus test companies that have received it. CODX says it was the first company to receive CE mark for its coronavirus test. And it submitted to receive EUA from the FDA at about the same time as its CE mark submission. Yet, many other companies have leap-frogged CODX in getting an EUA for their coronavirus test. For example, this article from 3/20/20, reports that GenMark (GNMK) submitted its coronavirus test on 3/10/20, and received EUA nine days later on 3/19/20. It also states that GNMK has 30 distributors globally who are requesting its coronavirus test kits. CODX has only reported having one distributor, PreCheck Health. Yet GNMK's market cap is currently only about 30% higher than CODX's. That tells us that CODX is likely overvalued, and GNMK is likely undervalued.
Questions We Have Asked Co-Diagnostics And Encourage Investors To Ask
CODX has published many PRs with sensational language, but a lack of details. We emailed the company a list of questions to try and get more details on how their Logix Smart COVID-19 business is doing. Since there are many questions, instead of spreading them out in the appropriate sections of this report, we just made this a section in itself. The questions we emailed to CODX on 3/22/20 are:
On 3/20/20, you stated in a PR you have finished a "successful clinical evaluation". Why wasn't this clinical evaluation mentioned before, and are you going to report what it is and its results?
How many coronavirus tests has the Logix Smart performed so far?
On 3/17/20, you stated in a PR that you've shipped the Logix Smart COVID-19 test kits to: Italy, Germany, the UK, Turkey, Greece, the Phillipines, Thailand, Australia, Paraguay, Ecuador, Israel, South Africa, Canada, and to research institutions in the US. Which hospitals/labs was it sent to? How many of these were free shipments, how many have you received payment for? Are any of your Logix Smart test kits being used consistently today, and if so, where exactly? Which laboratories in the US are you working with?
You say that you're going to "aggressively expand your presence in the U.S. market". How are you going to do that without EUA? Are you currently speaking to any state governments to get permission to sell there?
Do you have a distributor in the EU?
Your distributor, PreCheck Health Services, stated that it has purchased 37,500 test kits from Co-Diagnostics. How much did it pay for these test kits, and where did it get the funds? PreCheck only reported $14,000 on its balance sheet for quarter ended 9/30/19.
PreCheck states in press releases that it has distribution agreements in Russia, Ecuador, Panama, Romania and Moldova. How did it attain these distribution agreements, are they with the governments? Have you received payment for the Logix Smart test kits from any of these countries? If so, how much have you received and from which hospitals/governments have you received payment from?
We have not yet received a response from CODX for these questions. If/when we do, we will update this report.
A Strange Press Release By Co-Diagnostics Regarding "Clinical Evaluation"
On 3/20/20, CODX issued a PR titled:
Co-Diagnostics, Inc Completes Successful Clinical Evaluation Required for FDA Emergency Use Authorization
This announcement came to us as a surprise. As we showed earlier, CODX has been in talks with the FDA about receiving EUA since early February. It doesn't make any sense that now, almost two months later, they've finally finished a "clinical evaluation." Nowhere from the company, has any executive mentioned in an interview or in PRs that they have been working on this clinical evaluation. They've always said that they are waiting on the FDA to approve it and it's out of CODX hands.
For example, in this video from 2/21/20, over a month ago, Egan states:
We've been working on the submissions required to get Emergency Use Authorization from the FDA, a CDSCO approval in the Indian government, and the CE marking in the European union. We think the CE mark will come in short order, and we hope the others will be forthcoming but we don't have control over those timetables.

We are in the middle of those discussions with the FDA, and we are in the middle of that process not only with the FDA...We are hopeful they will respond in short order to that request. We believe that this CE marking will help along that way in terms of motivating them. I would point out to you that the FDA has been very responsive and recently, the CDC went on record asking for other diagnostic companies such as ours, to amp it up and get ready to commercialize the requirements and needs for this type of a test."
In the quote above, and in other CODX interviews we've seen, neither Egan nor the company has ever once mentioned needing to work on and finish a clinical evaluation in order to receive EUA. We've never seen any other company that submitted its coronavirus test to the FDA mention this clinical evaluation. Perhaps CODX was late to submit clinical validation of its test? And what is the clinical evaluation, exactly? CODX provides no details on what this evaluation actually evaluates, where it took place or what the results are. CODX has no studies reported on clinicaltrials.gov.
Then to make the PR even stranger, the next four paragraphs say nothing about this "clinical evaluation", but are a repetition of how the company is reassuring investors that they don't need an EUA because of a recent FDA rule change. This rule change allows companies to sell their coronavirus test without receiving FDA clearance or EUA. Here is the message from the FDA with details about this rule change. The FDA states in this message:
We urge state authorities and commercial developers to take all necessary steps to ensure the availability of accurate tests. Inaccurate diagnoses during a pandemic can impair prevention efforts and delay appropriate treatment for sick patients.
There's no evidence right now, except what CODX claims about its own test, that its Logix Smart Covid-19 test is accurate. It still hasn't received FDA approval, and it hasn't shown any clinical study results. We don't believe CODX should be repeating the news of this FDA rule change in a PR that should be giving more details about their clinical evaluation.
CODX already mentioned this rule change in a PR on 3/17/20 titled:
FDA Policy Change to Allow Rapid Domestic Expansion of Co-Diagnostics COVID-19 Test
CODX CEO Dwight Egan has been on many news shows talking about this FDA rule change and how great it is for CODX. Below is a clip of Egan discussing this issue on CNBC.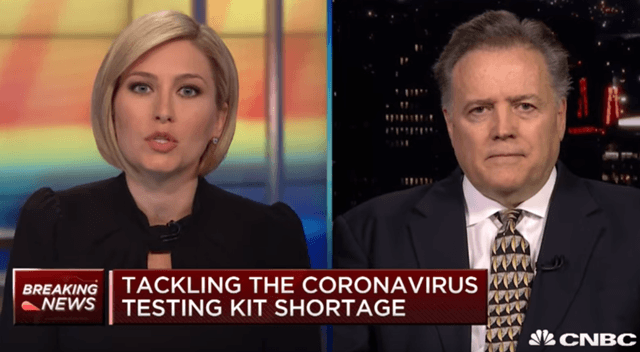 Source: YouTube
Egan states in the above interview on 3/17/20:
The whole issue is to get everyone tested who would like to be tested.
With the large amount of COVID-19 tests now receiving EUA, we don't believe that will be a problem very much longer. They will all be fighting among each other for market share while CODX will still be waiting for EUA.
Even with this rule change, we believe it's doubtful that CODX will get many sales without EUA. It's the equivalent of saying, "now it's legal to get hired for an executive job without a college degree." Even if it's legal, it's much more likely that an employer would hire someone for an executive position with a college degree than without one. CODX is like the job applicant without a college degree in this analogy.
Has CODX not received EUA yet from the FDA because there's a "logjam" or because they hadn't finished their "clinical evaluation"? Up until that clinical evaluation PR, the company suggested that it's just because the FDA's process takes a long time, and CODX has no control over that. But the company would have control over when they finish their clinical evaluation, so what the company is communicating to investors doesn't add up in our opinion.
Co-Diagnostics Doesn't Seem To Be Making Improvements In Their Coronavirus Test, Whereas Other Companies Are
On 3/19/20, Egan was on the Varney show on Fox Business, as shown below:

Source: Fox Business
Egan states in the interview:
Based on a new policy by the FDA, which is a very unprecedented policy, our tests are now available to laboratories across the United States. And this new policy is really going to break the logjam.
The reason why this policy is "very unprecedented" as Egan states above, is because it's allowing a medical device to be sold on the US market that isn't ready to be sold. It's a last resort policy because the device hasn't been cleared yet by the FDA to be safe and effective. We don't believe this is a good thing. But luckily, for people who want to be tested for the coronavirus, there are already plenty of tests that have been cleared by the FDA, so the CODX Logix Smart test doesn't have to be used as a last resort.
There was also a point made in this interview that we look at as bearish. Varney asks Egan in the interview:
Is there any chance that at some point in the really really near future, you could make it so you don't have to stick something in the bottom of your throat and it's not so unpleasant? Can you do that for me?
Egan responds:
We'll work on that Stuart, but for the time being, we're where we are.
How Egan responds to Varney's question tells us that it doesn't seem like CODX is working to improve their test. By the time CODX might actually be able to sell its test and make revenues, it could become obsolete by a new, better generation of coronavirus tests.
In a White House coronavirus update on 3/22, starting at 3:14:35, Vice President Mike Pence says:
With the current testing format, they are evolving regularly now. We just mentioned that at the end of this week there will be a new test and there's all new technologies, I would say again, all the governors looking on and their state health officials, contact FEMA it will give you all the new testing including the steps we're making for Americans to be able to test themselves and send it in. For me and Mrs. Pence, it was kind of a pinch, it was invasive, but we're grateful for the support. We want to continue to work with new technology, the new focus and guides from HHS, to get the results from that as quickly as possible, for every American.
This article, from 3/22/20, mentions many companies are now providing home-sampling kits, including Cepheid, Everlywell, Nurx, and Carbon Health. It also mentions Oxford Nanopore and Fulgent Genetics use gene sequencing to identify the virus. It mentions Mammoth Biosciences and Sherlock Biosciences are creating CRISPR-based coronavirus tests.
This article, from 3/20/20, reports Scanwell Health's launch of smartphone-enabled at-home serology coronavirus test.
This article, from 3/20/20, reports that Amazon is investing $20M to accelerate diagnostic research, innovation, and development that speeds understanding and detection of the coronavirus.
This page shows that the Australian Government is investing over $2.6M in the Peter Doherty Institute for cutting-edge diagnostics research.
Co-Diagnostics Has Not Received FDA Clearance For Any Of Its Tests, Including Zika
Over the past couple of years, CODX has received CE Mark for its Logix Smart Test to detect various viruses such as tuberculosis, most recently for the coronavirus, and last year for a Zika/Dengue/Chikungunya ("ZDC") multiplex test. As stated in CODX's 3Q19 10-Q:
We will be regulated by the U.S. Federal Drug Administration and our products must be approved by the FDA before we will be allowed to sell our tests in the United States. We currently have CE Marks issued for our tuberculosis test, our zika virus test, and a triplex test that tests for zika, dengue, and chikungunya simultaneously.
The PR on 3/7/19 states:
"Logix Smart ZDC Test now available for export from the United States as a CE-marked IVD".
In other words, CODX tests are made in the US and shipped out to other countries. CODX hasn't applied for approval in the US for their tests. Their tests haven't sold very well outside of the US. CODX only made $62K in revenues in Q219, and $41K in revenues in Q319.
There are quite a few diagnostic test companies that have received EUA to test Zika. The following is the list from FDA.gov: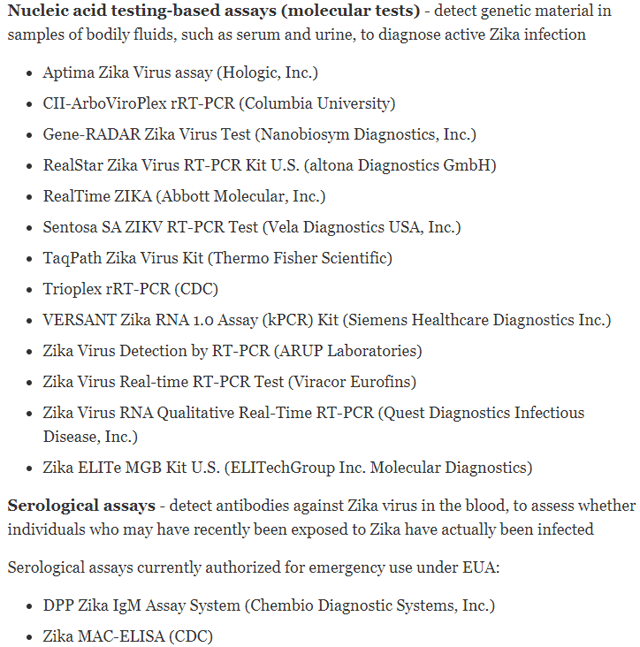 Notice that CODX isn't on this list. That could be another testament to the inferiority of its Logix Smart diagnostic system.
It's Easier For A Device To Obtain CE Mark Than FDA Approval
CODX' Logix Smart received CE mark very quickly for its coronavirus test. CODX says it was the first company to receive a CE mark for its coronavirus test. The Logix Smart has also received CE mark for its other tests mentioned above. It's much easier to receive CE mark than FDA approval. As explained in this article published on 11/5/18:
CE mark requires proof of the safety of the device usage. FDA approval, on the other hand, requires proof of the safety and efficacy of the device.
Since it was already approved for other virus detections, and it is safe, it makes sense that it immediately received CE mark for COVID-19. However, FDA approval is a different story, it must prove efficacy. Which we assume that it hasn't yet, which is why it hasn't received EUA.
The article also explains that FDA approval requires clinical trial data first. Whereas CE mark can be obtained through successful clinical evaluations of equivalent pre-existing devices and then have a subsequent post-market study.
Co-Diagnostic's JV License In India Does Not Yet Allow Sales In India
On 3/19/20, CODX published a PR titled:
Co-Diagnostics JV CoSara First Indian Company to Receive License for COVID-19 Diagnostic
But this doesn't mean that the test kits will be able to be sold. First, as stated in this article from 3/20/20, there are actually 14 companies that have received a test license in India including CoSara. The article also states that a test license doesn't mean approval to sell commercially in India. It means that those companies first must evaluate the quality of their testing kits and then submit the data to the Drug Controller General ("DCG") of India. Then, the DCG does an assessment and decides which ones will be approved for commercial sales. CODX also doesn't reveal what percentage of the JV profits it will receive for the coronavirus test kit sales.
Conclusion
Coronavirus testing is already a big business. But that doesn't mean that every company that sells a coronavirus test will be successful. In most industries, it's usually just a few big players that take most of the market share and the rest either get small pieces or starve. In this article, Max Masucci, an analyst at Canaccord Genuity is quoted:
"While I expect the diagnostics titans like Roche and Thermo Fisher to supply the lion's share of tests, I expect smaller companies to help fill pockets of demand for COVID-19 testing."
However, now there are so many big, established companies that are providing COVID-19 testing, we don't think CODX will even secure a small piece of the pie, but may just find a scrap here and there, with or without EUA.
Analyst's Disclosure: I am/we are short CODX.
Seeking Alpha's Disclosure: Past performance is no guarantee of future results. No recommendation or advice is being given as to whether any investment is suitable for a particular investor. Any views or opinions expressed above may not reflect those of Seeking Alpha as a whole. Seeking Alpha is not a licensed securities dealer, broker or US investment adviser or investment bank. Our analysts are third party authors that include both professional investors and individual investors who may not be licensed or certified by any institute or regulatory body.