With the Russian perspective on Ukraine, which takes into account historic borders per se(similar to Tibet arguably, at least vaguely), being somewhat in the lime-light these days, perhaps discussions of borders in general are somewhat apropos.
----------
A recent "strange facts" blurb on the internet lead me to some research per se, on the Codex Gigas, and in turn to the "Thirty Years War", which perhaps isn't so well known, on the west side of the Atlantic per se. Either way, the massive partially illuminated codex that is the Codex Gigas, was supposedly "hoisted" by the Swedes during the Thirty Years War, hence the reference, but anyway, the map of the territories and sovereign's per se, involved in said conflict perhaps speaks to the convoluted nature of historic claims to borders in a region which has been so thoroughly inhabited for the past millennium, namely Europe/Central Europe.
-----------
Central Europe is perhaps a little more complicated than western Europe, in general, because there we have the Ottoman Empire, which at various times for example parceled off Romania to the highest bidder(due to some revolutionary struggles by the locals per se), as well as the sort of Land-Holding Gentry based Magyars of Hungary to the north(of Romania), and the Austro-Hungarian Empire to the west of Hungary, but anyway, surely as we go further south in that region things get even more splintered; with Russia, the Ottomans and various disparate tribes battling for the Caucuses, but perhaps what we may think of more traditionally as "Western Europe" has also seen its fair share of puzzling maps.
-----------
As an example of this here(bottom of post) is a map of the various territories involved in the Thirty Year War. Supposedly the war was the kind that bankrupts all parties involved, and interestingly enough relied heavily, supposedly, on side-changing-mercenary forces; the type which continue to exist in modernity in the form of the Papal Guards(landsknecht).
------------
Landsknecht;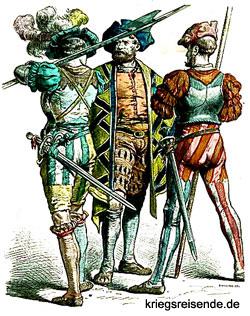 source; http://www.kriegsreisende.de/neuzeit/neuz-img/landsknechte.jpg
------------
Papal Guard;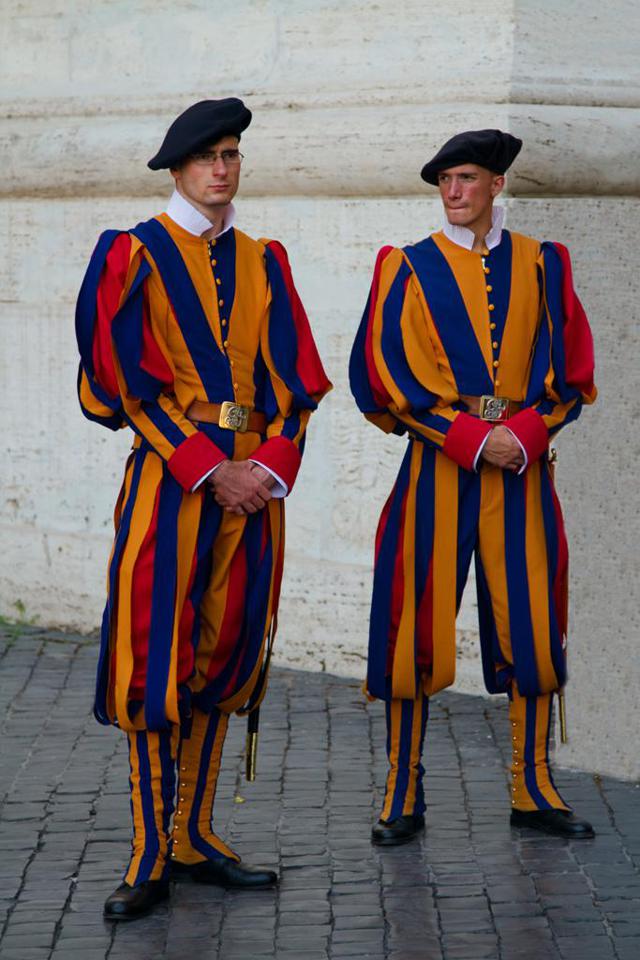 Source; http://faithbooknz.files.wordpress.com/2012/05/
------------
Without further adieu however, here's the interesting map, and perhaps it shows just how tricky these sorts of territorial/border histories can be.
------------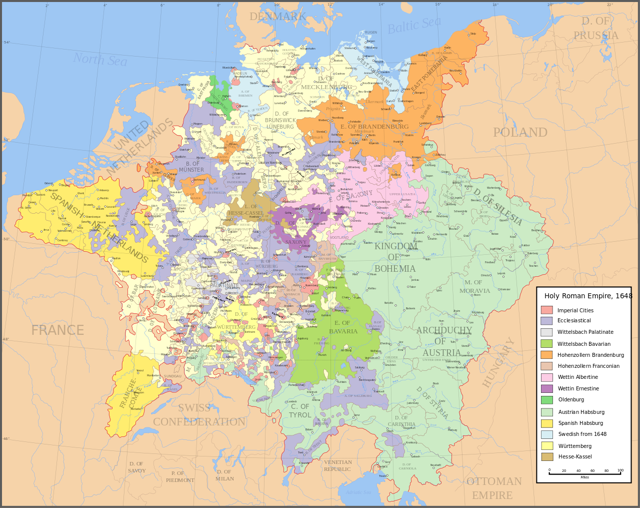 Source;
http://upload.wikimedia.org/wikipedia/commons/
thumb/7/7d/Holy_Roman_Empire_1648.svg/1280px-Holy_Roman_Empire_1648.svg.png