Though the market is looking a touch tumultuous this fine morning there is some interesting activity none the less going on with some familiar faces to the "Friday Fancy" favorites per se.
_________
Amongst the chaos and hurley-burley, none other than our old friend NRP seems to be in an interesting state per se. Though it is still in its relative trough per se in regards to long term prices, it does seem to be on the upswing today, even though some other interesting commodity plays per se, like timber companies in particular seem to be getting the short end of the stick as it were(RYN, and PCL, are down a decent amount this morning).
_________
NRP has some interesting moving average dynamics going on in that its 20 day moving average has been dragged a touch lower by the recent trough in prices, and may present an attractive pick up opportunity per se, as it may be tempted to rise higher per se, if recent market machinations are so inclined,and it may be a good looking stock today one way or another.
_________
NRP and the markets in general have none the less been witness to perhaps what might be described as "profit taking" or other non-fundamental related price activity per se as of late, so, factoring in the Iraqi situation in regards to oil prices, this may be a sort of tricky period for stocks, as in addition to this; presumably a bunch of multi-factor models out there have to be reconfigured or at least meditated upon per se, while what is meant by "kinetic action" per se in regards to the US response to the Iraq situation is taken into account, or better understood, along with its consequences per se, as in how long Iraqi oil may be in "jeopardy" per se.
__________
Either way, NRP is at least showing some resilience in this sort of tricky market today, with some other stocks like Vale, and CSX if those are tempting to anyone, but either way, there's some interesting plays to add to one's portfolio potentially today if one feels so inclined, between railroads(NYSE:CSX), international mining(Vale) and commodity related leases(NYSE:NRP) there may be something in there for that sort of niche taste one may or may not have in regards to one's portfolio. For a quick wrap up of yields; CSX; 2.11%(not bad relative to the slightly lower dividend yield of UNP for example); Vale; 9.68%, and NRP; ~9.12%. So there's tasty rebounding in price yields if one so desires, and perhaps these sorts of stocks are always fun for the diversity they may add to one's portfolio as well, even in a potentially highly-correlated market per se.
___________
Correlation or no, hopefully everyone's investing and yields on said investments are going well, one way or another, and thanks again for reading.
With all of this subterranean/earthly stock discussion it may be appropriate to throw in a picture of Uncle Scrooge in said environ, so without further adieu here is some subterranean Scrooge action;
___________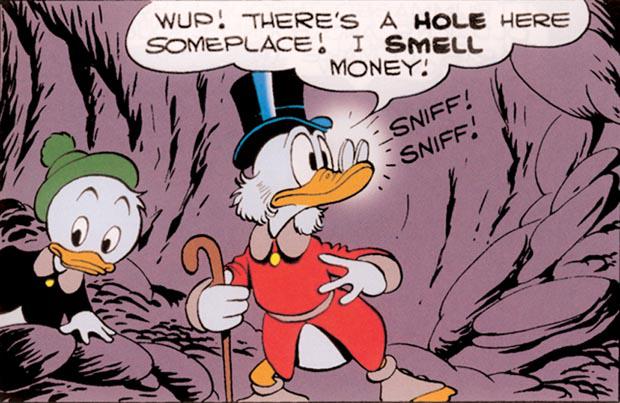 source; http://www.comicbookbrain.com/_imagery/2014-02-05/620/uncle-scrooge-shacktown-01.jpg