Today's Friday Fancy is perhaps a little more brief than usual, but in looking at some stocks recently, I noticed that one of our old friends mentioned in previous posts had taken a dip recently(10.5 to 7.9 to 8.25$).
________________
Raiffeisen bank(Raify), an Austrian bank, with a strong presence in Eastern Europe in general, is sort of on a slight upswing, but might have more room to grow. Now that Nato per se, and hence Austria et al. have taken a firmer grip of Eastern Europe per se, one might presume that more Euro-based banks might have a little more headroom per se, in the region, particularly if the unfortunate situation in the region, becomes anymore sort of faction oriented per se(Nato vs. not Nato).
_________________
"Raify" also(according to Google finance, which at times can be "squirrelly" in regards to changing yield values) has a yield of about 5-6% so its perhaps decent per se. RAIFY has a potentially confusingly similar sounding pseudo-doppelgänger RAIFF(Raiffeisen Bank Intl. as opposed to RAIFY being associated with "Raiffeisenbank" from what I understand) which is over 30$ per share as opposed to RAIFY's 8~$ or so, and which has an indeterminate yield if any according to Google finance.
Google finance link for Raify;
www.google.com/finance?q=OTCMKTS%3ARAIFY...
_________________
For a quick look at the Eastern European emphasis of RAIFY and Raiffeisen in general, one may look at the listing of markets in which the bank operates here; www.rb.cz/en/information-service/raiffei.../ to see that it operates in most of Eastern Europe and in its home base in Austria as well per se.
_________________
(list from aforementioned link)
_________________
On another note, though Austria along with Germany was perhaps dealt a semi-mortal blow in their defeat in WWI its perhaps somewhat interesting to see their less militaristic national appendages in the form of banks slowly expanding into former abodes per se, perhaps this is a sort of grace of the modern age, but perhaps who can say.
_________________
Either way, perhaps if one wants a little more Austrian exposure than simply Raify one can always turn to the interesting manufacturing/finance/consumer staples ETF of Austria namely "EWO"(yield of 4.75%). If one wants a semi-decent yielding bit of Eastern Europe however, if one thinks its a good time to glance into said semi-troubled region, then Raify may be a satisfying Friday Fancy per se. In any case, I hope everyone's investing is going great, thank you very much for reading.
Google finance link for EWO;
www.google.com/finance?q=ewo&ei=RQit...
__________________
Without further adieu, another scene from the seemingly, and hopefully, inexhaustible library of Uncle Scrooge images available on the internet;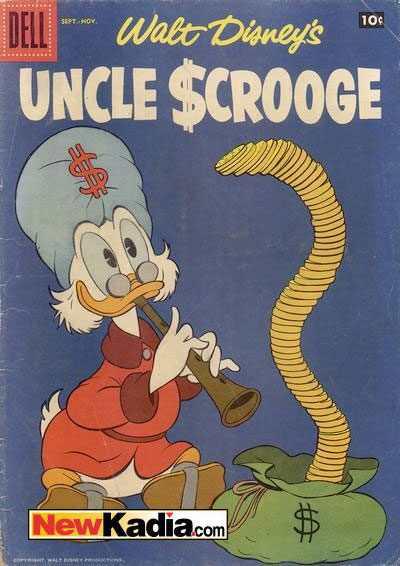 source; www.covernk.com/Covers/L/U
/Uncle%20Scrooge/UncleScrooge19.jpg