Overview
The investment objective of the Fund (IRR)  is total return through a combination of current income, capital gains, and capital appreciation.
The fund seeks to achieve its investment objective by investing at least 80% of its assets in the equity securities or derivatives linked to the equity securities of Natural Resources Companies.
Equity securities held by the Fund may include common stocks, preferred shares, convertible securities, warrants, and depository receipts. The Fund invests primarily in companies with large market capitalizations, but may also invest in mid- and small-sized companies. The Fund may invest 20% of its equity portfolio in securities of companies located in emerging market countries.
Notes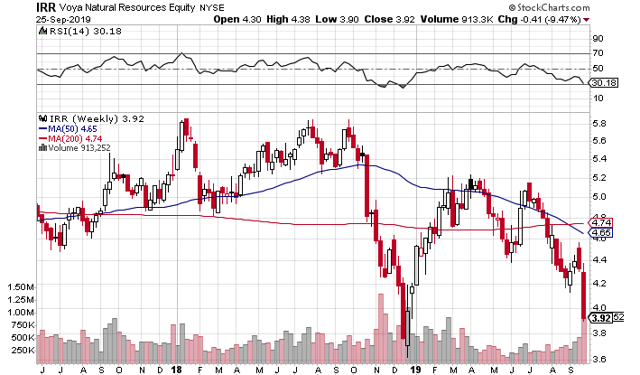 TOP TEN HOLDINGS
Chevron Corp
Exxon Mobil Corp
ConocoPhillips
EOG Resources Inc
Occidental Petroleum Corp
Schlumberger NV
Valero Energy Corp
Enbridge Inc
Suncor Energy Inc
Marathon Petroleum Corp
Total return ranks below peers over the last three years. The Voya Natural Resources Equity Inc has returned an annual rate of -1.03% since inception.
More recently, the fund has generated a total return of - 4.16% in the last five years, 2.96% in the last three years, and -14.44% in the last year.
On total assets of $112.32 million, IRR maintains a high expense ratio compared to its Sector - Energy/Natural Res peers of 1.29% to cover all operating costs. 
Disclosure: I/we have no positions in any stocks mentioned, and no plans to initiate any positions within the next 72 hours.