Overview
The (KSA) Fund seeks to track the investment results of a broad-based index composed of Saudi Arabian equities. The Fund seeks to track the investment results of the MSCI Saudi Arabia Investable Market Index (IMI) 25/50 Index (Underlying Index), which consists of stocks traded primarily on the Saudi Arabian Stock Exchange.
Notes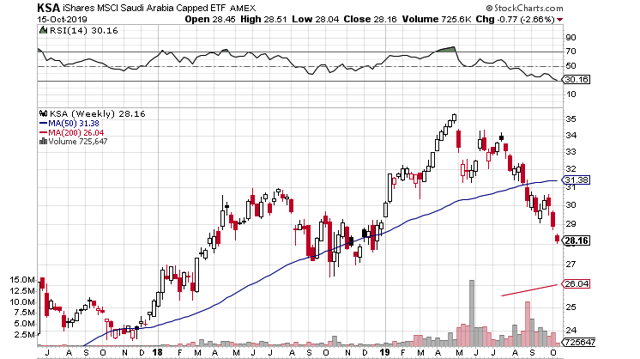 The iShares MSCI Saudi Arabia has returned an annual rate of 7.28% since inception.

The fund has generated a total return of 16.29% in the last three years, 9.32% in the last year, and 7.70% in the last six months.

High expense ratio.

TOP HOLDINGS (64%)

Saudi Basic Industries Corporation SJSC Al Rajhi Banking & Investment Corporation National Commercial Bank SJSCSaudi Telecom Company SJSCSamba Financial Group SJSCRiyad Bank SJSCSaudi Arabian Mining Co SJSCAlinma Bank SJSCAlmarai Co SJSCYanbu National Petrochemicals Co SJSC
Disclosure: I/we have no positions in any stocks mentioned, and no plans to initiate any positions within the next 72 hours.