DIN (Dine Brands Global) – restaurant chain which mostly operates as a franchise. Dine Brands Global has two popular chains – International House of Pancakes and Applebee's Neighborhood Grill and Bar. The company operates in 20 countries and has about 3600 restaurants around the globe. Due to the franchise strategy DIN has a steady stream of cash flow which are easily forecasted. However, in 2016 and 2017 the company's revenue has fallen by 6.9% and 4.6% respectively, fortunately, the revenue decrease is slowing down so I am expecting a turnaround here. There are three main reasons for that – strategy and the specific offering of the holiday season.
Strategy
Main growth strategy for Dine Brands is to increase Same-Store Sales and focus on delivery. The company started to implement this strategy back in 2016 both in IHOP and Applebee's, but this strategy didn't have any results even a year later – in 2017 Applebee's SSS parameter dropped 2,5% compared to the industry drop of 1,3%. For example, Applebee's added to the menu different pasta options which start from $11.99. Moreover, Applebee's is offering registered runners and their guests who are about to run in the biggest marathons in the world, to participate in a Pastathon in New York. Pastathon allows runners and guests to get a free bowl of the new Neighborhood Pastas.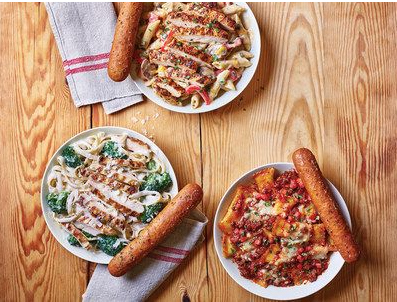 Another example is a perfect fit for millennials who love Halloween and parties. They offer Dollar Zombie - the cocktail which consists of rum, pineapple, passion fruit, cherry and lime flavors. On the top of the cocktail, you can see a gummy brain. It has a perfect look for Halloween mood – blue ice-cold drink. I am absolutely sure that it will definitely get some attention from millennials.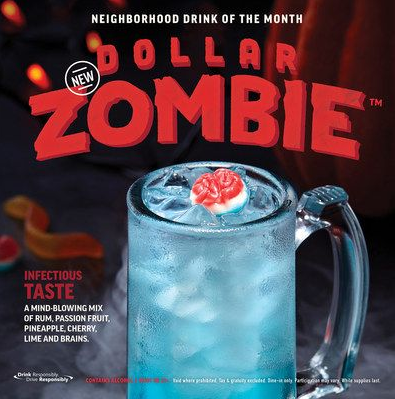 IHOP is keeping up with Applebee's and offers their clients pumpkin stout. Customers can find this beer only at specific places which increase brand engagement of IHOP.
The company has great potential to ace holiday season with the current strategy. As for the long-term growth potential, I am sure we can expect some great acquisition picks from as reported.
Aside from M&A partnerships with delivery services might have a great synergy with Dine's business. Right now, sales off-premise represents 9% and 6.5% at Applebee's and IHOP's respectively. Management expecting to boost this parameter to 20% b 2022. I believe that delivery can be a short run and a long-run growth driver for Dine Brands as their partnership with DoorDash is expected to show some results in upcoming Q4-Q1. Delivery revenue will increase by more than 20% at IHOP in upcoming quarters due to phenomenal results in 2017 where IHOP reported an 11% increase in sales delivery. This is another growth factor for the Dine Global Brands
Q2 Results and Projections
Aside from Same-Store Sales impressive results, the company's revenue has fallen by 2% YoY to $184.5 mln. At the same time COGS increased by more than 10% and due to a small increase in operating expense (not considering income tax provision and Gain on disposition of assets) net income dropped to $12.7 mln from 22.1 mln (42% drop). However, top management of the company expects to increase comparable multiples guidance for the chain by closing about 90-110. Domestic comps are expected to rise 3.5%-4.5% at Applebee's and 0.5-2% at IHOP by year end 2018.
I expect a boost in Same-Store Sales by another 6% at Applebee's and by 1% at IHOP in Q3 due to the mentioned above strategy company has implemented over the years. Revenue will go up by more than 27% to $184 mln in Q3. EBITDA will decrease to 30% because the company is planning to spend 30 mln in Q3-Q4 on advertising and help struggling franchises. Here are my estimations for the next 4 years

(comma represents dot here)
Based on my analysis my short-term target for the stock is $95 and long-term is $115.
The technical side of things

(Source: MarketBeat)
There are 4 analysts who are covering the stock and we can see that my target in line with a wall street expectation. However, price target was always above current stock price which means that the company cannot convince the market of its potential but in March 2018 this trend has broken down. Meaning we are about to enter an upward sloping trend.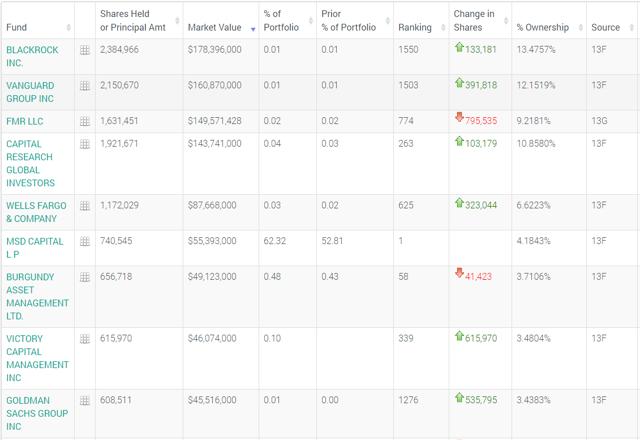 (Source: whalewisdom)
Funds increased their holding in the stock in the Q2. So this stock is in favor of the big funds and asset management firms. There is one particular point to be made in the holding section – aggregated amount 13F shares on 06.30.2018 is 19,372 mln. However, actual number of shares in the last filing 10-Q is 17.698 mln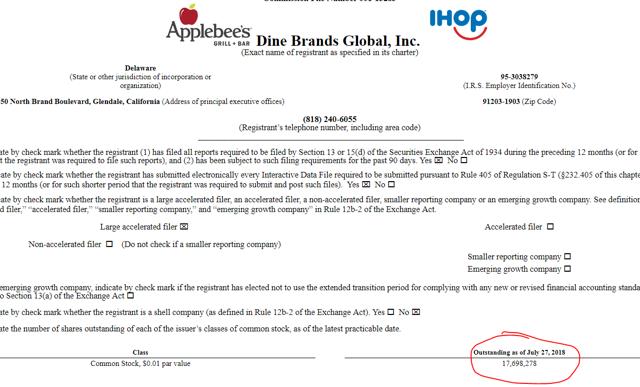 Short interest is now at 15.38% of the float or 2.5 mln shares – the exact amount by which funds holding exceeding the actual number of shares.
If the next quarter results will be positive as it should be there is a great chance for short squeeze due to low liquidity of the stock. Average daily volume is around 300 thousand shares – it will bloodbath.
I suppose Dine Global Brand is really a strong play this current season assuming trade tension and Fed rate will keep the pressure on the market.
Disclosure: I am/we are long DIN.