Research Coverage- Viking Therapeutics ($VKTX)
This is meant as a scientific/business development post as to the merits of VKTX. It is well known VKTX is undervalued (by upwards of 40x), but these details will not be discussed here- for a more detailed valuation analysis see the end of Zacks SCR's post.
Background
Viking Therapeutics is a clinical stage biopharmaceutical company specializing in metabolic and endocrine disorders. They currently have two clinical assets: VK5211, a selective androgen receptor modulator (SARM) for hip fracture; and VK2809 a thyroid receptor beta (TRβ) agonists for hypocholesterolemia and NASH. VK0214, another TRβ agonist for X-adrenoleukodystrophy (Berger 2014), is still in preclinical work in ABCD1 KO mice, with data expected at the end of 1Q17.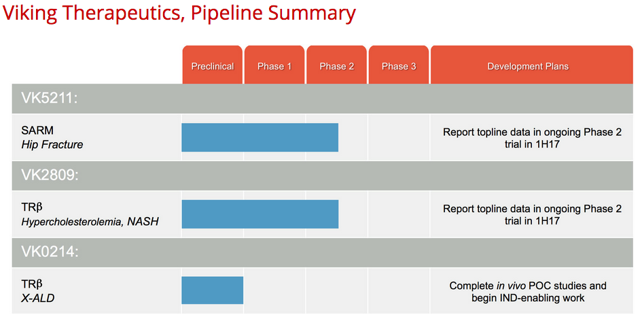 Management:
A link to the Management team can be found here. VKTX has recently added three new management positions (PR here): Amy Broidrick, SVP of Corporate Development; Greg Zante, CPA, VP of Finance and Operations; and Dr. Catherine (NASDAQ:CASS) Kelleher, VP of Clinical Development. These individuals bring a wide range of skills from large- and small-cap biopharma companies, and will presumably work to benefit VKTX in it's pursuit towards late stage trials and industry partnerships.
Board and Advisors:
The list of Board members and Advisors can be found here. The Board and Advisors are representative of academic medical schools, large pharmaceuticals, and non-profits, with experience in drug and business development.
Financials:
As of the end of Q3, VKTX reported a net loss of $3.8M ($0.20/share), with $14.6 million in cash and cash equivalents. An agreement with Aspire Capital provides VKTX with up to $12.5M (details below), ATM worth $4M. Analysts' target price: $5 (Maxim Group), $8 (Zach's), $9.25 (Feltl & Co), and $10 (Laidlaw); average $8.08. Q4 and full year reports are expected March 8th, 2017.
Pipeline
The two most advanced drugs in the pipeline for VKTX are VK5211 (SARM, for hip fracture) and VK2809 (TRβ, for hypocholesterolemia/NASH).
VK5211:
VK5211 is a novel, non-steroidal selective androgen receptor modulator (SARM) inhibitor originally developed by Ligand Pharmaceuticals (as LGD-4033) and licensed to VKTX in May 2014 for $1.5M in milestone payments. VK5211 is being investigated for the use in elderly patients (considered age >60) after hip fractures. Hip fractures in the elderly leave patients at significant risk for morbidity and mortality, and decrease patient's general ability to care for themselves (Keene 1993). SARM inhibitors attempt to replicate the action of steroids from natural (testosterone) and artificial (tomoxifen) sources to increase bone mineral density and muscle mass to allow for significantly improved bone healing and quality of life (QOL).
The advantage of SARM inhibitors over standard steroids is their selectively, which decreases side-effects. Outward side effects for normal, non-specific androgen use include oily skin, acne, hirsutism (unwanted male hair growth on a female), central adiposity, and androgenic alopecia (sudden hair loss). Organ-level disturbances, including metabolic disorders, increased lipids and diabetes, and hypertension risk, are also common and much more likely to cause long-term defects. Specifically in younger patients these risks are seen to outweigh benefits and lead to poor compliance (Jones 1995).
First generation SARMs (circa 2003) increased target specificity from 3:1 to 90:1 (for reference, systemic testosterone is considered 1:1) (Yin 2003). While promising, these effects are still seen as risky due to the offsite sexual and metabolic effects seen through long-term use.
In preclinical analysis, VK5211 was 500x more specific to muscle than bone (500:1), while keeping a similar efficacy/muscle specificity to administered testosterone in castrated rats. In monkeys, >85% of gains were maintained after 4weeks of recovery, which is important for patient compliance concerns.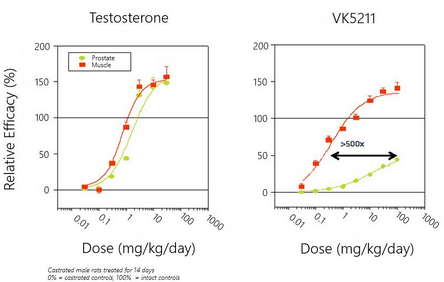 In the Phase 1 multiple ascending dose clinical trial in 76 healthy men (Kapil 2010, Basaria 2011, Basaria 2013), VK5211 (as LGD-4033) was well tolerated, showing similar safety profiles as placebo. Increased dosages (0.1-1mg) demonstrated increased efficacy in improving lean body mass content without inducing gains in fat mass, lipid content, or PSA, results that corroborate with preclinical primate studies. Leg press strength also increased in a dose-dependent manner but was not statistically significant.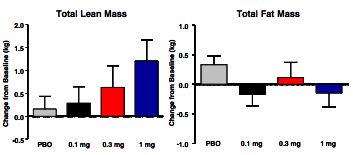 VKTX has initiated a Ph2 trial for VK5211 (NCT02578095) for hip fracture in males and females over 65 who are 3-7 weeks post-injury, with topline data expected end of 2Q17. This ongoing trial will observe patients over a longer time period than the Ph1 (24weeks) and use higher dosages (0.5-2mg). The primary endpoint(s) are increases in lean body mass; and an increase in bone density as measured by dual energy x-ray absorptiometry (DXA). Secondary endpoints include change in bone mineral density (BMD), functional status, activities of daily living (ADL), and general QOL. The DXA endpoint, as opposed to strength, is crucial because previous pre-clinical work for VK5211 has shown statistically significant DXA results in dosages >0.3mg, whereas strength measures, while trending positive, have not been significant at p<0.05. FDA registration expected post-Ph2; the Ph2 plan can be seen below.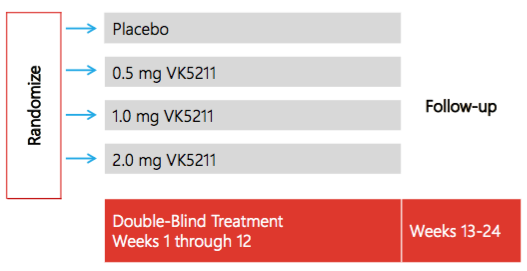 VK2809:
VK2809 is a selective thyroid hormone receptor beta (TRβ) agonist being tested against lipid diseases such as hypercholesterolemia and non-alcoholic fatty liver disease (NAFLD). It is a pro-drug cleaved to activity by cytochrome P450 3A4, an enzyme specific to the liver and intestine, further proving specificity.
The market size for hypercholesterolemia and NAFLD is enormous: it is estimated that 20-30% of the Western population and 5-18% of the Asian population has fatty liver characteristics, with prevalence only increasing. NAFLD is defined as accumulation of lipids in >5% of hepatocytes (Masarone 2014). Recently, hypercholesterolemia and NAFLD has been implicated as a precursor to non-alcoholic steatohepatitis (N.A.S.H), an advanced, inflammation-based form of NAFLD. Untreated NASH can lead to cirrhosis and liver cancer (Chalasani 2012), and is thought to affect 20% of Americans with NAFLD.
VK2809 works at the front-end of this cascade by decreasing systemic free triglycerides and LDL cholesterol. In preclinical murine models VK2809 (as MB07811) significantly decreased blood cholesterol concentrations, and reduced liver weight by 38% through removal of accumulated liver triglycerides (Erion 2007; Cable 2009). Importantly, in all dose cohorts the drug did not affect cardiac size or function, demonstrating a targeted liver-specific thyroid β-agonism (α-receptors are found in cardiac tissue).


Preclinical large animal models also demonstrated significant changes in plasma cholesterol at 10mg/kg/day after 2weeks. Of particular note is the non-inferiority to atorvastatin (Lipitor), a first-line therapy for high cholesterol/triglycerides that exceeded $1B in revenue in 2015, 12years after it's discovery (peak annual sales >$12B).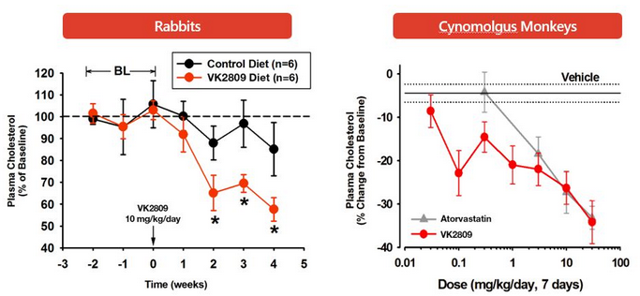 In a clinical Ph1b looking at reduction of free cholesterol and fasting triglycerides, VK2809 at 10mg/kg/day lowered LDL cholesterol by 21.6% and triglycerides by 61% while demonstrating no SAEs. At higher dose (20-40mg/kg), LDL reduction plateaued around 40% while triglyceride reductions exceeded 78%. For comparison, Lipitor at 10mg decreases LDL by 35.7% but triglycerides by only 16.5% (Jones 2005). Additionally, 150mg injections of the new PCSK9 inhibitor alirocumab (PraluentTM, Regeneron/Sanofi) once every two weeks reduced LDL cholesterol by 61% but triglycerides by 15% (Robinson 2015).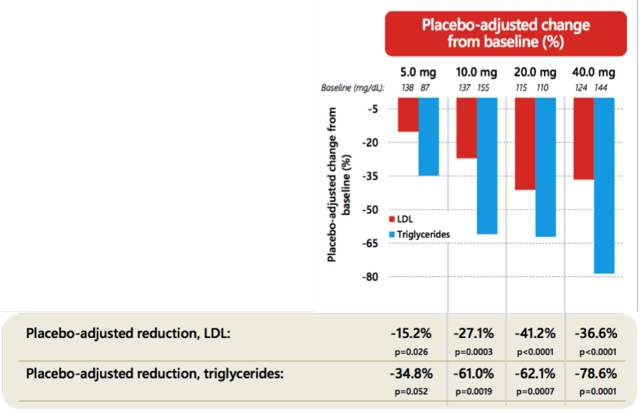 Currently, lipid-lowering drugs like statins are being prescribed for NAFLD to prevent NASH progression because there few other marketed options (Pastori 2015), even though it is known that NAFLD progression is thwarted mainly by blocking triglycerides, not LDL (Carey 2013; Corey 2015). VK2809 can therefore become a crucial product for patients that cannot tolerate statins, or who need an aggressive triglyceride-lowering agent to prevent liver disease progression.
VKTX has initiated a Ph2 study (NCT02927184) to assess 12-week administration of once daily VK2809 in patients with primary hypercholesterolemia and NAFLD, with topline data expected at the end of 2Q17. The primary outcome measure is a reduction in LDL-C, with secondary measures of liver fat content via MRI PDFF, triglyceride lowering, inflammatory markers, and liver fibrosis. The Ph2 plan can be seen below.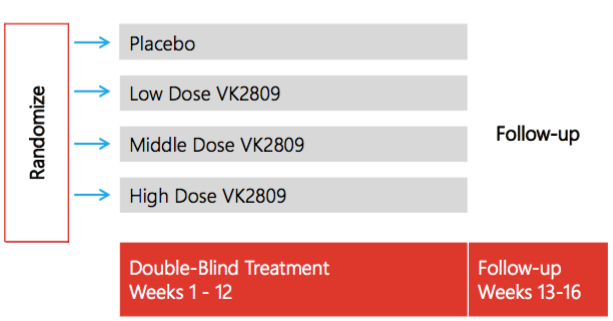 What is not currently being discussed concerning VKTX?
VK5211:
Ph2 endpoint.
The DXA choice (as discussed above) is a reasonable and crafty endpoint, supplying fairly assured success given preclinical and Ph1 analysis. Caveat: this is the endpoint on clinicaltrials.gov, but not what was presented at Bio Investor Forum/Biotech Showcase (there, it was increases in lean body mass). If they choose the latter, there is demonstrated but statistically insignificant evidence that topline data will be positive (see image above from Basaria et al., 2011).
Off label use.
As mentioned in previous articles, VK5211 (as LGD-4033) is available via the internet mainly as a bodybuilding supplement. While this back-alley usage should not prevent doctors from prescribing VK5211 if it gets approval, particularly for older patients, this ready availability of (unproven) product may decrease the patient pool (particularly if the prescription drug is priced too high). Similarly, side effects seen in off-label use by internet users may dissuade some individuals from pursuing the drug. Impact: ~1-3% sales.
Alternate disease indications.
Some other posts have mentioned VK5211 for cachexia, which would be an ideal alternate use. What they have left out is the patent(s) cover an immense number of diseases, such as "AIDS, weightlessness, burn and trauma recovery, chronic catabolic state (e.g., coma), eating disorders (e.g., anorexia) and chemotherapy", further increasing the indications for VK5211.
VK2809:
NASH
There is so far no evidence for VK2809's effectiveness in treating NASH, though it seems VKTX doesn't mind planting the idea of efficacy in the heads of others. Their Ph2 secondary measure of decreased or no progression of fibrosis in NAFLD patients will go a long way towards convincing larger companies that VK2809 could be a first-line therapy for patients at risk of NASH; for example, a company like Allergan ($AGN), who owns two clinical NASH candidates via 2016 acquisitions, could then have a monopoly covering both at-risk and currently affected patients (a potentially $103B market; see table below).
VK2809 is known to lead to a decrease in triglycerides, a leading cause of NAFLD to NASH progression (see explanation above), but thyroid receptor suppression can also decrease TGF-β/SMAD-induced fibrosis in the liver (Alonso-Merino 2016). By marketing VK2809 as a preventative measure and not a NASH treatment, VK2809 can preempt many of the competitors focused solely on NASH (Madrigal included), significantly increasing it's value.
NAFLD
Penetration in this market will be quite low, but could be aided if long-term clinical insignificance is noted in Amgen's Fourier and Regeneron/Sanofi's Odyssey Outcomes PCKS9 CVOTs. Ease of use, comparable LDL decreases to statins, and significant outperformance in lowering triglycerides could lead VK2809 to be a best-in-class molecule. Amgen also recently won a patent case against Regeneron/Sanofi allowing for sole sales rights to PCSK9 in the US; removing a large competitor significantly increases the available patient population for VK2809.
As stated above, it will be crucial to properly market this drug as preventing NASH progression. Current valuation has VK2809 as merely a triglyceride/LDL lowering drug, which are a dime a dozen, and helps explain why Madrigal's drug, which they are displaying solely for NASH, is valued much more highly.
Personal Issue:
Cross-platform corroboration.
The stated endpoints in the clinicaltrials.gov reports are different from VKTX's most recent presentation (Bio Investor Forum) for both VK5211 and VK2809. For example, trial NCT02578095 for VK5211 lists "Efficacy in hip fracture patients confirmed by DXA scan" as the sole endpoint; the Bio Investor Forum presentation however lists "change in lean body mass" as the primary endpoint, with secondary endpoints of "change in BMD, functional status, ADL, QOL". I'll chalk this up to them being busy, but it is a small measure of disorganization that I hope does not grow.
| | | |
| --- | --- | --- |
| Deal Making Company | Asset Producing Company | Deal Terms |
| Allergan | Tobira | |
|   | Arkarna | |
| Bristol Myers | Nitto | |
| J&J | Bird Rock Bio | |
| Gilead | Phenex | |
Table: NASH-related assets are desired by large pharma companies.
Conclusion
Viking therapeutics is an undervalued company with many assets that could lead it to significant profitability. In the Biotech Showcase presentation, Dr. Lian, VKTX's CEO, said the current Ph2 trials are "derisked" because of the breadth of efficacy seen so far in humans. Peers in the endocrine and metabolic disease space, such as Madrigal Pharmaceuticals and Can-Fite Pharma, are valued much higher but do not have the specificity or preventative effects of VKTX's therapeutics. That said, VKTX is not without it's issues, and needs to begin differentiating and branding it's products to carve out a niche in this crowded arena. With two upcoming catalysts in 2Q17, VKTX is poised to finally bring itself into the spotlight.
Catalysts
Previous and upcoming catalysts are presented below.
In Q3/Q4:
Sept 26th: Aspire Capital finalizes 7.5M share deal with VKTX. $0.5M given upfront with an additional capital infusion agreement of up to $12M over 30months.
Oct 4th: 1st dosing of patients in Ph2 for VK2809 for hypocholesterolemia/NASH
Nov 15th: Insider purchase, 13,000 shares @$1.206- Matthew W Foehr, President
Dec 6th: VK0214 for X-ALD receives Orphan Drug Designation from FDA
Jan 5th: Hiring of SVP of Corporate Development VP of Finance and Operations, and VP of Clinical Development
Jan 5th: 6 separate Insider purchases, totaling 461,536 shares @$1.19-1.25
1H17:
Jan 11th: Presenting company at Biotech Showcase in San Francisco- live webcast available 9:30am PT/12:30pm EST
March 2017: VK5211 study completion date
2Q17: VK5211 topline data due
June 2017: VK2809 primary study completion/data collection
2Q17: VK2809 topline data due (per Bio Investor Forum presentation)
Disclosure: I am/we are long VKTX.