Viking Therapeutics ($VKTX) recently reported 4Q16 earnings and full year 2017 guidance. This post is meant to provide a pipeline update for VKTX, as a simple addition to my longer post (link here).
Company Financials:
VKTX reported a net loss of $0.18 in 4Q16, $0.02 above analyst expectations. Full year loss reported was $14.7M ($0.90/share), compared to a loss of $23.4M ($3.68/share) in 2015. End of year cash, cash equivalents, and investments totalled $13.2M.
Noted Carol Ann Werther, analyst from H.C Wainright: "...always think you're going to spend more money than you're going to Brian [Lian, CEO]."
Company Pipeline Background:
VKTX is a clinical stage biopharmaceutical company developing orally available small molecule drugs for metabolic and endocrine disorders. It has two drugs in PhII clinical trials: VK5211 for hip fracture; and VK2809 for non-alcoholic fatty liver disease (NAFLD)/hypercholesterolemia. Two preclinical studies for orphan diseases are also in development: VK2809 for glycogen storage disease 1a (GSD1a); and VK0214 for X-linked adrenoleukodystrophy (X-ALD).
VK5211:
VK5211 is a novel, non-steroidal selective androgen receptor modulator (SARM) inhibitor being investigated for use in elderly patients (considered age >60) to increase lean muscle mass after hip fractures. Hip fractures in the elderly leave patients at significant risk for morbidity and mortality, and decrease patient's general ability to care for themselves (Keene 1993).
VKTX has initiated a Ph2 trial for VK5211 (NCT02578095) for hip fracture in males and females over 65 who are 3-7 weeks post-injury, with topline data expected end of 2Q17. Yale Jen, analyst from Laidlaw, asked about study completion considering the timeline is 12weeks from enrollment to readout and the trial is not yet fully enrolled. Dr. Lian mentioned enrollment has been "lumpy" and while they are on track for a 2Q17 readout, full results may not come until 3Q17.
Jason McCarthy, analyst from Maxim group, asked about PhIII plans for VK5211 (provided PhII provides positive results). Dr. Lian indicated that all primary and secondary endpoints would be evaluated and used to guide any PhIII development.
VK2809:
VK2809 is a selective thyroid hormone receptor beta (TRβ) agonist being tested against lipid diseases such as NAFLD and hypercholesterolemia. It is a pro-drug cleaved to activity by cytochrome P450 3A4, an enzyme specific to the liver and intestine, further proving specificity.
VKTX has initiated a Ph2 study (NCT02927184) to assess 12week administration of once daily VK2809 in patients with NAFLD and primary hypercholesterolemia. Topline data was expected at the end of 2Q17, but at the Bio Investor Conference in February 2017 Dr. Lian briefly mentioned readout would not occur until 4Q17. He provided guidance for this change in this recent corporate update, explaining enrollment was surprisingly slow due to strict enrollment criteria and competition for patients. To this last point, Monish Bahl, analyst from MHB Capital Advisors, asked about whether slow patient enrollment was due to extreme competition within the clinical NASH space. Dr. Lian responded with "...we are implementing certain changes to the way we are identifying patients..." and that he expects enrollment to pick up soon. Additionally, a total of 30 enrollment sites are expected to be active by April.
David Bautz of Zacks asked an interesting question concerning parallel clinical development of VK2809 for both GSD1a and NAFLD (provided both prove positive). For GSD1a, Dr. Lian said the goal would be to take it mainly on their own since it is an orphan disease (fewer patients) and would therefore not require as large a capital investment. For NAFLD they are performing diligence to find a large partner to take the drug into PhIII trials. To this end, in January VKTX hired Amy Broidrick as Senior Vice President of Corporate Development to investigate possible industry tie-ins for VK2809.
For GSD1a, positive proof-of-concept (POC) data was reported 1Q17. An IND filing and first-in-human POC study are expected in 3Q17, with potential PhIb study as early as 1Q18.
VK0214:
VK0214, another TRβ agonist for X-linked adrenoleukodystrophy (Berger 2014), modulates gene expression to enhance the transport and degradation of very long chain fatty acids (VLCFAs). Buildup of VLCFAs, particulary as a result of a malfunctioning ABCD1 transporter, is a major cause of X-ALD.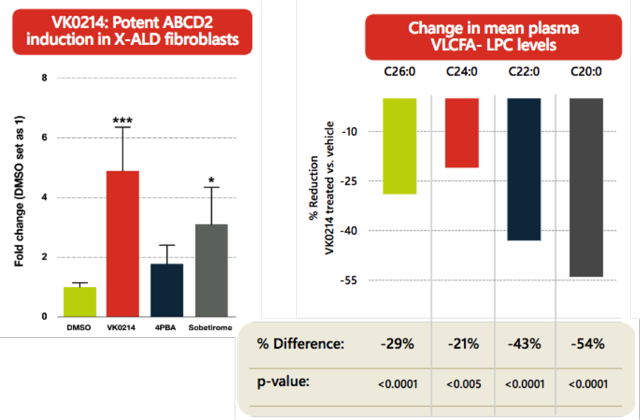 In February 2017, VKTX reported positive POC data showing VK0214 significantly decreased multiple VLCFAs in an ABCD1 knockout mouse model. In conjunction with the Kennedy Krieger Insititute, VKTX has initiated a second POC study, with readouts expected "in the next few months" (end of 2Q17). IND filing and PhI results could come as soon as 1Q18.
Overall Takeaway:
Positive:
With current burn rate and available cash as of Dec. 31, 2016, VKTX should be able to see full clinical readouts for both VK5211 and VK2809. Speculations on potential clinical results can be seen in my previous article.
Very encouraging to hear an explanation behind VK2809 in NAFLD/hypercholesterolemia. Mr. Bahl's pivotal question tells us management is doing what it can to increase enrollment, including compensating patients.
Good to see collaboration with a big name (Kennedy Krieger) to develop POC data for X-ALD, and it means VKTX will not file and IND or initiate a registration trial until the drug is fully ready.
Negative:
It was disappointing to hear VK5211 readout may be delayed into 3Q17 if patient enrollment remains spotty.
If VK2809 enrollment remains challenging, readouts could be delayed to 1Q18.
Many projects ongoing with unforseen issues arising in existing (read: crucial) clinical trials resulting in delays. No good having great POC data if clinical trial delays bleed all free cash.
Overall VKTX is a company with large potential. All reporting analysts have a "Buy" or "Strong buy" rating, with an average price target of $7.50 due to promising ongoing clinical work. It is encouraging that all potential delays are related to enrollment, and that management has plans for increasing patient numbers.
Disclosure: I am/we are long VKTX.