About twenty years ago, people were much less aware of action sports cameras than they are now. Up to now, consumer sales, mainly for extreme sports, have taken up for the most of the worldwide demand for photographic equipment up to today. According to Futuresource, the worldwide action sports camera market increased by 44% in 2014, reaching $3.2 billion. Futuresource adds that the action sports camera market will see continued growth for at least the next five years for multiple reasons, including lengthening replacement cycles.
One of the revolutionary companies of the action sports camera industry has been GoPro, Inc. (GPRO) For those of you that do not know what a GoPro is, it is an HD video camera that often inhibits a filmmaker to take real risks with shooting. In the first ten years of its existence, the GoPro doubled its revenue annually and became the best-selling camera in the world.
"GoPro started as an old 35mm disposable, one-use wrist camera for surfers," Kash Shaikh, Senior Director of Global Communications at GoPro, says. "It's a simple but powerful idea that filled an unmet need."
It is definitely simple, and it is definitely successful. The next billion-dollar idea does not always need to be a crazy invention, and that's what entrepreneurs fail to realize. However, there are companies that are making useful and simple products that have the potential to compete with companies like GoPro.
Life Clips, Inc. (OTCPK:LCLP) works in the action camera industry. The company's action cameras are focused on families, athletes, and vacationers. It features innovative accessories such as one-time use batteries for phones and will allow for live streaming as well as high definition videos from any perspective. Now, this sounds very similar to a GoPro, but there are a number of additional benefits.
The first benefit is the feature set that the camera comes with. On May 12th, the company announced that it placed its first order for its camera, the SoloVu™. The company has various features that GoPro does not have. For instance, there is a built-in gyroscope for precise stabilization, built-in motion detection for activation, as well as a 16-megapixel camera. In addition, the video options were 4k, 2k, 1080 and 720, will have a 32GB memory card, and will have a burst mode, time lapse & looping video modes.
The second benefit is Life Clips' cameras are more than half the cost of any GoPro Camera. The average price of the three main cameras GoPro sells is over $350 per camera. However, Life Clips truly undercuts that with a price of $159. Here is what Life Clips CEO, Bob Gruder, had to say, "We are coming out of the gate swinging. We aim to aggressively compete with companies like GoPro by offering comparable or better features at a far lower price. The SoloVu™ will retail for $159.00, which is significantly less than the leading brand. What we have here is a feature and option rich product with a quality and a price that should be extremely attractive to consumers. We are not putting the cart before the horse; we are currently in the advanced stages of conversation with some of the nation's largest distributors and big box retailers. We anticipate having a great roll out of this initial camera product. We hope to have several more exciting models releasing this year as well."
GoPro surely had its run in the past, but it looks as if companies such as LifeClips have found an innovative way to differentiate themselves from the competition. It is safe to say that the SoloVu™ and the GoPro are substitute goods. Therefore, when potential buyers of GoPro see the price and features of a SoloVu™ camera, they may be more attracted to purchase a SoloVu instead of the GoPro.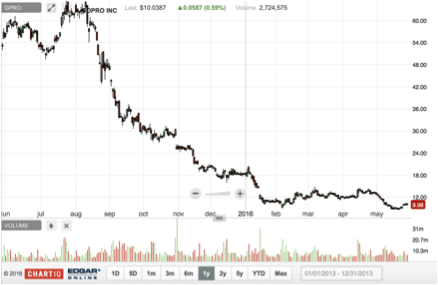 Ultimately, this could potentially lead to an increase in demand for the SoloVu™ and a decrease in demand for GoPro products.
Another indicator that GoPro may be outcompeted is evident when comparing both stock's price performance over the last year. Almost a year ago, on August 10th, GPRO saw a high of $65.49. Up to today, the stock has dropped approximately 86% to a low of $8.62.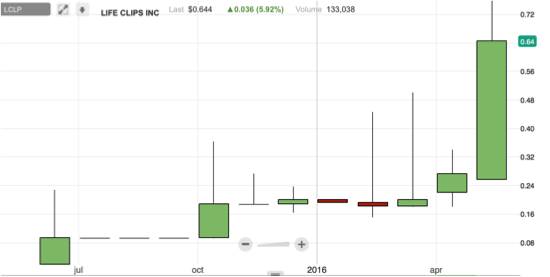 On the first trading day of June 2015, LCLP saw a low of $0.0182. However, almost 1 year later, LCLP has displayed an increase in price per share by an impressive 3,718.68% after hitting daily highs during Friday's trading session of $0.695. It is evident; Life Clips may have the potential to be the next big player within the action sports camera industry.