Company Background
Snap-On, Inc. develops, manufactures, and markets high-end tools, shop equipment, repair information, and diagnostic systems for professional users. The company was founded in 1920 and is headquartered in Wisconsin. Its market capitalization is approximately $9 billion, trailing twelve-month sales were approximately $4 billion, and it operates in over 130 countries.
Snap-On operates through the following segments: Snap-On Tools Group; the Commercial and Industrial Group; and the Repair Systems and Information Group; and Financial Services. The Snap-On Tools Group segment provides equipment to vehicle service and repair technicians through the company's worldwide mobile tool distribution channel. The Commercial and Industrial Group segment serves customers in end markets including aviation, agriculture, construction, mining, and power generation through direct and distributor channels. The Repair System and Information Group segment serves other professional vehicle repair customers, primarily owners and managers of independent repair shops and OEM dealerships. The Financial Services segments provides financing solutions for customers and franchisees.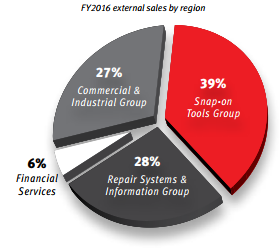 The company's "coherent growth" strategy focuses on developing and expanding its professional customer base in its legacy automotive market, as well as in adjacent markets and additional geographies. In addition to its coherent growth strategy, Snap-on is committed to its "Value Creation Processes," a set of strategic principles and processes designed to create value and employed in the areas of safety, quality, customer connection, innovation, and rapid continuous improvement. In most cases, Snap-On provides customers with mission-critical solutions, so it can charge a premium for its products and services and customers are reluctant to switch suppliers.
According to research from Frost and Sullivan, Snap-On is the preferred brand for hand tools of 69% of professionals compared to 11% for the next best competitor, and the preferred brand for diagnostics systems of 62% of technicians. Its reputation for quality provides a strong competitive moat.
In its ranking of the top 500 franchises, Entrepreneur Magazine ranked Snap-on 22nd and again first among mobile tool franchises. In addition, Franchise Business Review ranked Snap-on 23rd in its 'Best of the Best: Top 200 Franchises,' based on franchisee satisfaction.
Secular Trends
Snap-On is poised to gain from trends in the automotive industry. The average age of US vehicles on the road in 2016 hit an all-time high at 11.6 years and the average length of ownership is a record 79.3 months, meaning that demand for repairs will continue to grow.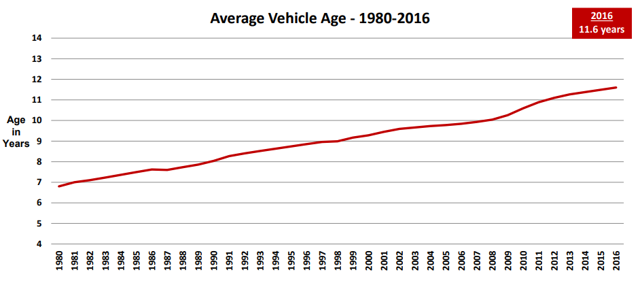 Additionally, cars and trucks are increasingly complex, requiring new solutions and tools. Cars. Snap-On is uniquely positioned to profit from this increased computerization with its strong market share and Modis Edge Diagnostic System and Software. This system uses Snap-On's online database containing hundreds of millions of records of car repairs to automatically diagnose problems and recommend replacement parts. The platform ensures that Snap-On's customers can repair these increasingly complex vehicles right the first time, which is critical for shop workflow and reputation.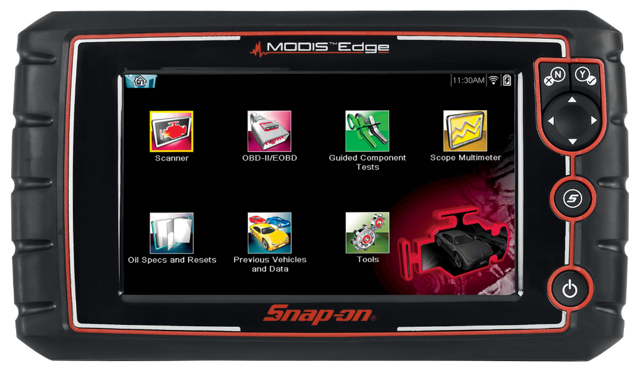 Operating Metrics
Snap-On achieved an impressive 4.5% compounded annual growth in sales revenue over the past five years while expanding its operating margins. The company has consistently improved its profitability metrics, with return on assets (ROA) and return on equity (ROE) measuring 11.8% and 22.1% respectively for fiscal 2016.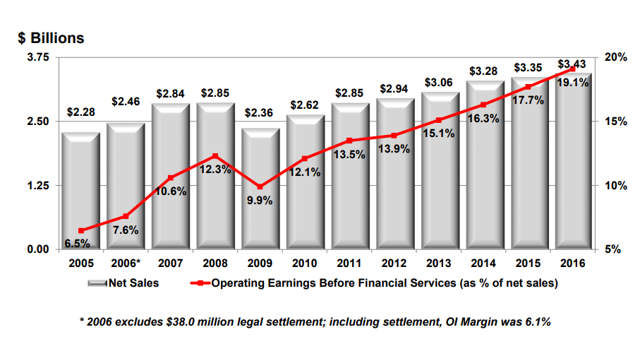 As a result of its operational excellence, Snap-On can compound growth and improve free cash flow generation. Snap-On efficiently reinvests its cash to develop new product lines, expand its franchise network, expand geographically, and finance acquisitions. It has paid dividend without interruption or decline since 1939.
Dividend Growth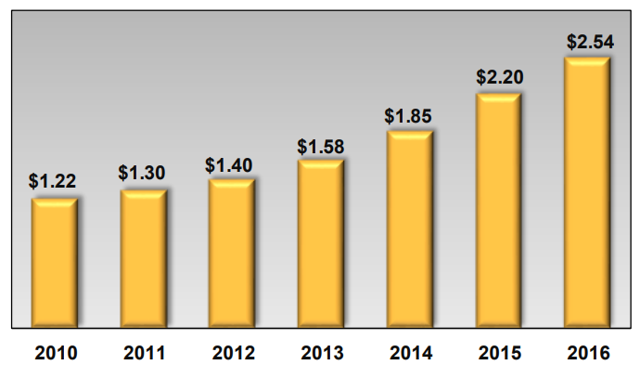 Discounted Cash Flow Valuation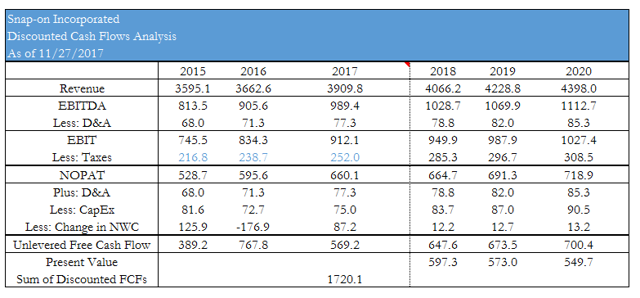 For the DCF, I calendarized fiscal 2017 to end at 3rd Quarter 2017 and to include 4th Quarter 2016. I used a 4% annual revenue growth rate, which is below the 5 year average of 4.5% and in line with analyst estimates. Additionally, I assumed a 25.3% EBITDA Margin, which was the 2017 margin, for each of the next three years.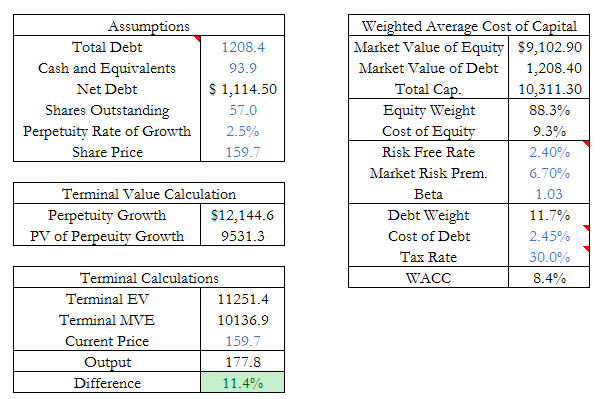 Bonds Outstanding

In order to determine cost of debt for the DCF, I took a weighted average of the yield to maturity of the bonds outstanding. This resulted in a value of 2.45%.
Sensitivity Analysis

Conclusion
Based on a Discounted Cash Flow Analysis, I project about 11% upside for Snap-On at its current price of $159.70. The company has a trailing 12-month P/E ratio of approximately 16.7, an attractive valuation based on its competitors and the broader market. Thus, Snap-On offers a promising investment opportunity to buy into a growing business with operational excellence and strong management at an attractive price.  
Disclosure: I/we have no positions in any stocks mentioned, and no plans to initiate any positions within the next 72 hours.
I wrote this article myself, and it expresses my own opinions. I am not receiving compensation for it (other than from Seeking Alpha). I have no business relationship with any company whose stock is mentioned in this article.