Workday (NYSE:WDAY) working days are over - A storm in the cloud
Price Target $25
Growth issue
Management muddy moves
Broken business model - extracting value from shareholders
Ageing and out of date software
Insight from WDAY employees
When talking about Workday, we learned that WDAY is one of the most misjudged and overvalued cloud SAaS-based companies on Wall Street. Additionally, calling WDAY a cloud company would be a stretch - in reality, WDAY is a single-use application, which is already out of date.
In this report, we explain our short thesis disclosing previously unnoticed facts and misjudgments. We go through unknown knowns and show in a simple and concise manner why WDAY working days are truly over! We recommend a strong sell with a price target of $25 and cannot see how WDAY will survive in the current environment.
We acknowledge that WDAY management and CEO Aneel Bhusri are well known and successful entrepreneurs, and are admired for their work in the technology space, HOWEVER their HCM baby WDAY is a big cloud that is soon going to rain empty.
While investigating WDAY, the more we looked into the details, the more shocked we became at the level of the bubble in which WDAY is floating.
We are sorry to admit that analysts are wrong in pricing WDAY - they don't do their homework and fail to see the dark side of this unsustainable business model. In this report, you will discover that WDAY is, in fact, an obvious short case.
Growth issue
We know how Wall street loves big growing stories and market opportunities, yet it is very difficult to admit when the high growth stage is over and deceleration in progress. A glaring example of this phenomenon is Workday . The chart below clearly demonstrates the disconnect between the revenue growth rate and exuberant investor sentiment toward the stock.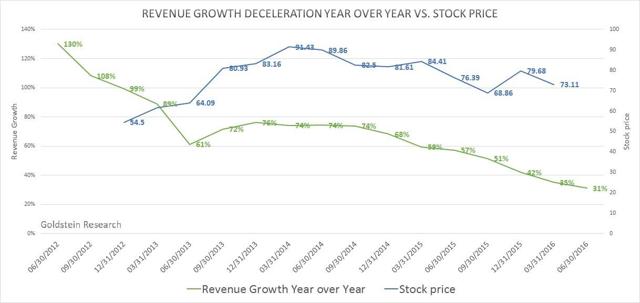 Sources: 8K filings, Bloomberg
Now let's look at WDAY from a financial point of view. The stock trades at a fantastical valuation of 138X 2019 Street consensus earnings estimate.

Sources: Bloomberg consensus
So we have decelerating growth, ageing software, broken business model (see below) which implies 2019 138X P/E. This is either very bold or, more likely, absurd. These valuations imply almost a guarantee that WDAY will take over the entire HCM (Human Capital Management) space, edging out Oracle, SAP, and all other competitors. According to research house Apps Run The World[1], the global HCM market totaled $6.1 bln with projected growth of 10.4% over the next five years. Thus, the total HCM market is projected to grow to $9.9 bln by 2019. In the meantime, Street consensus on WDAY revenue for the same year is $3.2 bln. Let's put this into perspective. The sell side analysts expect WDAY to generate $3.2 bln, but the whole industry is only expected to total $9.9 bln! This means that a relatively small company will dominate the whole industry with a 32% market share. How probable is it? Well, WDAY has a 9% market share now, so it would need to outpace SAP, Oracle and other large competitors. While it is true that WDAY has relatively quickly grown to almost 1,000 clients and $1 bln in revenue, let's not forget the personal animosity between the management of WDAY and one if its biggest competitors ORCL. This is exactly the point when a larger company would consider crushing its smaller rival like an annoying cockroach.
The next day after the most recent quarterly results were released, CEO Aneel Bhusri went on CNBC, where WDAY was hailed by Jim Cramer, who stated that the company was back to strength[2]. We respect Mr. Cramer's view, but in this case he could not be more wrong. WDAY is like a fancy looking book - everybody only sees the cover, but nobody bothers to look inside. On the cover, everything looks great, the stock price is up on strong growth, but a look into the details reveals that last quarter was, in fact, an inflection point for the company. From now on, it could not be more obvious that WDAY is in the deceleration stage, and has already used its entire bag of tricks to fuel as much revenue growth as it could ever get.
WDAY strategy is to obtain clients no matter the cost, and this cost is destroying any chance the company has to become profitable.
Management muddy moves
After the management bluffed its way to pleasing quarterly results on 03/01/2016 which sent the stock price soaring +18.7% on 03/01/2016, suddenly on the next day the Chairman/Co-Founder David Arthur Duffield was awarded 400,000 common stock dated 03/02/2016 which he immediately sold on the open market in two days netting over $28 mln.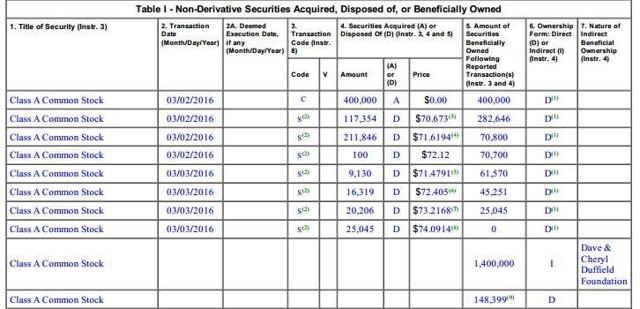 The table is taken from SEC filing outlining the share disposal http://bit.ly/1X4f4Zd
Clearly, the management knew that quarterly results would please the street and took advantage of their inside knowledge in order to allow the co-founder to dispose of his stock at the best possible price. How can you trust the management which takes advantage of inside knowns and eases its way out of the stock?! They promote the company on the conference calls promising growth and success while just the next day they turn around and sell large blocks of stock. The sales by Chairman Duffield signal that the stock price is too high and the growth is over or maybe something else. Given the Chairman's behavior, it's a pity to be a shareholder of WDAY - company insiders are cashing at the shareholders expense. Mr Duffield, congratulations on your huge bonus!
Unsustainable business model
So the big question is: how does WDAY capture the market competing with such giants as SAP and Oracle? Does it have a better software platform or other advantages over the competitors products? The answer is simple: WDAY is buying growth on shareholder expense - its aggressive marketing and sales practices are financed via stock sales and debt. And there is no way out! In order to sustain the stock price, the management has to deliver revenue growth, which is achieved by burning money on client acquisition.
WDAY has been consistently losing $60-80 mln per quarter on the bottom line for the last three years for a $270 mln per year basis[3]. That's not too bad if you have a market cap of $14 bln. But the only way out of this burning ring is cutting expansion expenses which would result in no growth and losing market share - game over for WDAY valuation.
At this pace, WDAY will NEVER earn money - its operating expenses are larger than gross profit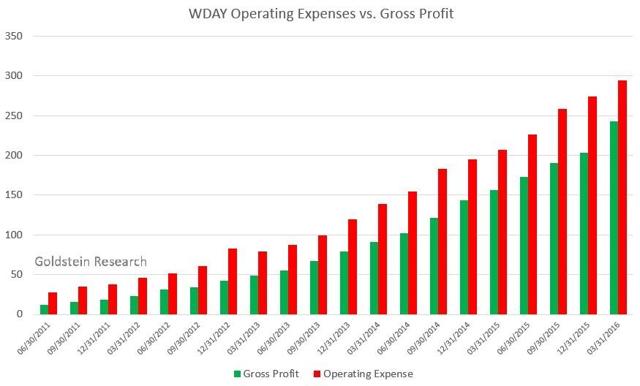 But still, why do companies choose WDAY? They have lately introduced a new sales methodology that is called "flexible payments". In truth, these flexible payments are disastrous for shareholders and Co. When clients adopt the WDAY platform, they can choose to postpone payments well into the future. No wonder they choose WDAY products! The increasing proportion of long-term deferred revenues seen in the most recent quarterly report is clear evidence of this trend. Although the payments are modeled into the revenues and earnings, it is questionable whether these payments will actually materialize due to the uncertain nature of technological innovation.
WDAY is so dependent on stock price - the cloud company compensates employees with stock in order to preserve cash for growth expenses. The stock grants amount to nearly 10% of all outstanding shares, which can be a risky approach to employee motivation. Imagine a scenario where WDAY stock price hits a wall - employees will be understandably upset, which will dampen the morale of the staff. For an aggressive growth company like WDAY this is a critical component of success.
In conclusion, WDAY business model is a ticking time bomb. In other words, in order to sustain the business model and to please shareholders and keep the stock price high, the company will continue burning money up until the moment investors get fed up with this vicious cycle.
Ageing and out of date software
For starters, let's see what an application that is worth $14 bln looks like:
https://www.youtube.com/watch?v=xDe-26IYqY4
You don't need extraordinary IT skills to see that WDAY product featured in this introductory video looks plain and simple. How can this aged and primitive looking app have cost the company over $1.5 billion in research & development expenses over the last 7 years[4]? In the fast growing innovative tech industry, what are the odds that this product will last?
Still not convinced that the product is a laggard? How about some critical insight from WDAY employees.


Full text here https://www.glassdoor.com/Reviews/Employee-Review-Workday-RVW5058956.htm
It is difficult to find a better judge of the company's inner workings than senior level staff. Here is another example of recent WDAY troubles: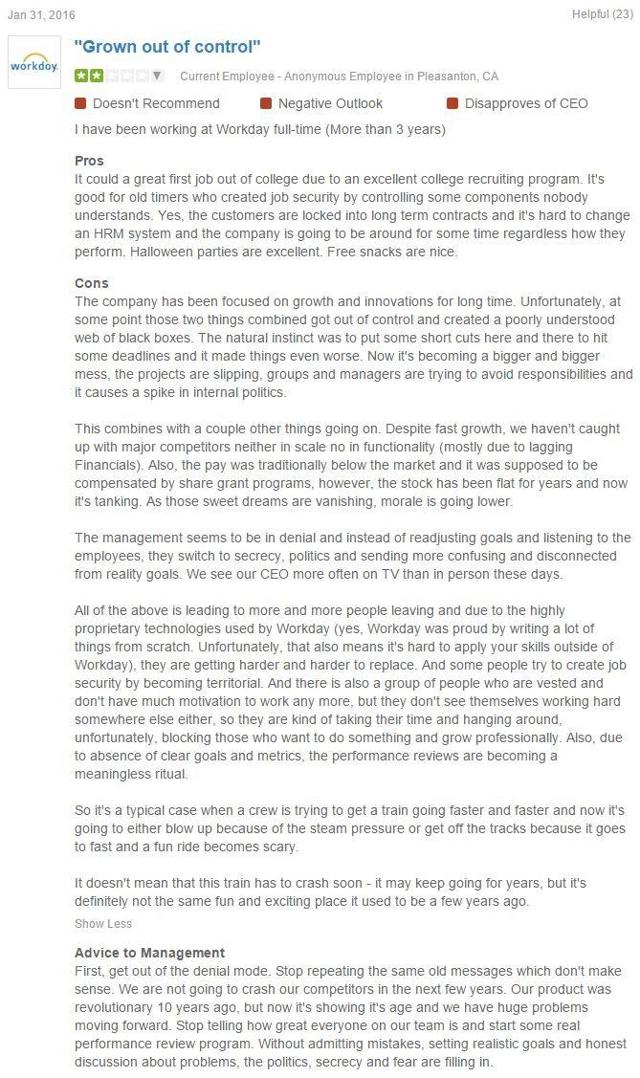 https://www.glassdoor.com/Reviews/Employee-Review-Workday-RVW9405630.htm
Conclusion
A few last words from Goldstein Research. We have done a lot of work to produce this report. In order to obtain a valuation for the stock, we tried to understand what value can be assigned to a business that has never made money on the bottom line or even on the operating income line. As we have discovered from staff reviews highlighted above, the product is probably all but worthless now. Therefore, the value of the company is in the client base. We believe that WDAY, given its decelerating growth profile, should definitely be valued no higher than its main competitors, which are trading at 4.2X forward revenue[5]. Assigning this multiple to WDAY, we obtain a valuation of $25. Let's not forget that competitors are in much better financial shape compared to WDAY, which makes us wonder if WDAY even deserves this valuation.
We arrive at a valuation of $25 per share assuming a normalized revenue growth rate in line with the industry. Although we believe even this valuation is generous, given that WDAY product is aged and out of date, perhaps even worthless. We cannot find any reason not to sell or short the stock.
---
[1] https://www.appsruntheworld.com/top-hcm-applications-vendors-in-the-cloud-and-market-forecast-2015-2019/
[2] http://www.thestreet.com/story/13477834/1/jim-cramer-workday-is-back-investors-should-get-on-board.html
[3] Source: 8K filings http://www.sec.gov/cgi-bin/browse-edgar?company=&match=&CIK=WDAY&filenum=&State=&Country=&SIC=&owner=exclude&Find=Find+Companies&action=getcompany, Bloomberg
[4] Source: 8K filings http://www.sec.gov/cgi-bin/browse-edgar?company=&match=&CIK=WDAY&filenum=&State=&Country=&SIC=&owner=exclude&Find=Find+Companies&action=getcompany
[5] Competitors are ORCL and SAP. ORCL Market Cap of $161 bln / forward revenue of $37.26 bln = 4.3
SAP Market Cap of €91.25 bln / forward revenue of €21.9 bln = 3.9
Figures from Bloomberg
Disclosure: I am/we are short WDAY.