On November 29, 2016, GreatQuarter posted an Instablog reviewing Basic Energy Services and the perceived overvalued equity price: https://seekingalpha.com/instablog/47336232-greatquarter/4937384-basic-energy-services-bas-stock-83-percent-downside-mondays-close-upon-bankruptcy-exit-month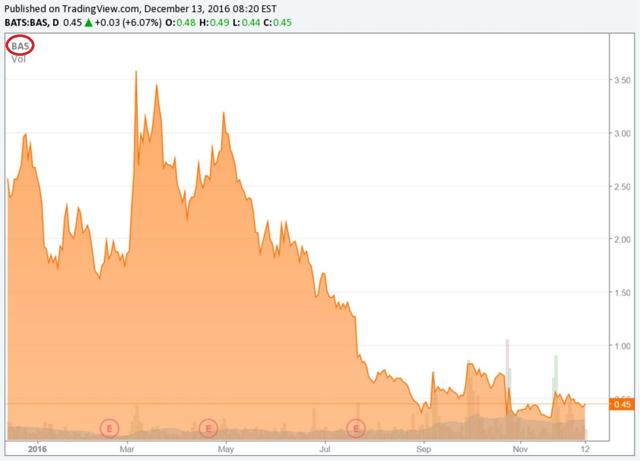 Over the past two weeks, there have been material developments.
The U.S. Bankruptcy Court confirmed the Basic Energy Services Chapter 11 Prepackaged Plan. The confirmed plan was very similar to the proposed plan, but now we can be certain of details.

Current shareholders, owning a total of 42,757,644 shares, will see their existing shares canceled. In turn, current shareholders will receive 75,000 new common shares, plus 7-year warrants for another 2,066,598 new common shares, representing over 6% on a fully diluted basis.

BAS stated in yesterday's SEC filing that it hopes to leave bankruptcy on or before December 23 (the Efffective Date).

Separately, insiders continue to sell, with Director Thomas Moore, Jr. selling 77% of his (and family's) holdings.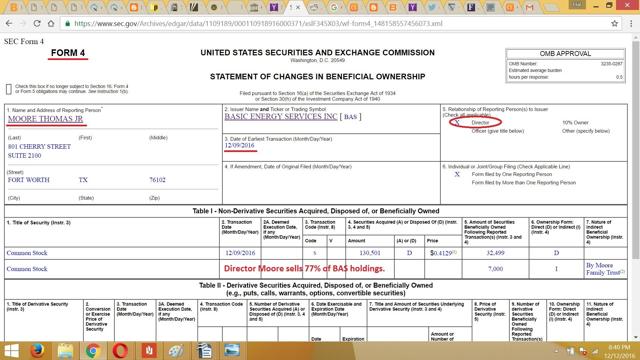 Based on the trading price of 30 for both issues of the 7.75% Senior Notes, and percentages of new common stock that both the senior noteholders and stockholders will receive, the I calculate an estimated value of the existing common stock to be $0.13/share, with most value coming from the warrants. From yesterday's close of $0.445, the estimated value represents a 66% decline.

RECOMMENDATION: SELL BAS, since the base case value of the new equity, calculated from the current senior notes' price, is 13.3 cents per existing share, representing 66% expected downside from the 12/12/2016 NYSE close of 44.5 cents/share. This is not a recommendation to short, since shorting is tricky and so many things can go wrong shorting. Recommendation: Sell BAS.
I wrote this article myself, and it expresses my own opinions. I am not receiving compensation for it. I have no business relationship with any company whose stock is mentioned in this article.
Disclosure: I am/we are short BAS.