On its Q3 2017 quarterly earnings conference call held on October 26, 2017, ConnectOne Bancorp discussed its exposure to New York City taxi medallions.  CNOB's NYC taxi medallion loans total $44.7MM, equivalent to 1% of the aggregate value of all NYC taxi medallions.  (Taxi medallion lending comprises 1.1% of CNOB's net loans receivable.)
As of September 30, 2017, CNOB reduced its valuation per NYC taxi medallion to $348,000 from $374,000 as of June 30, 2017.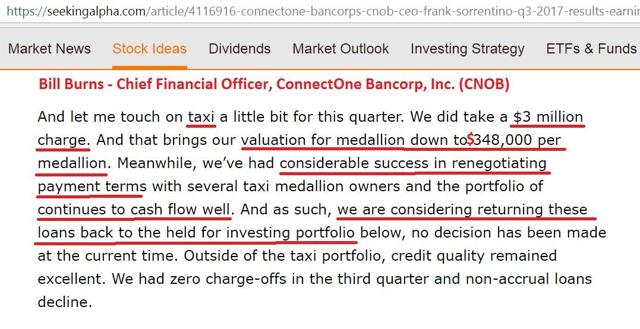 CNOB had put its taxi medallion loan book on "held for sale" status but is considering returning it to "held for investment" status since the portfolio is cash flowing and anticipated institutional buyers are not yet ready to buy portfolios.  Currently, the taxi medallion loans are on non-accrual, so: 1) interest is not being recognized as income; and, 2) all cash, whether principal or interest, is going to reduce the principal of the loans.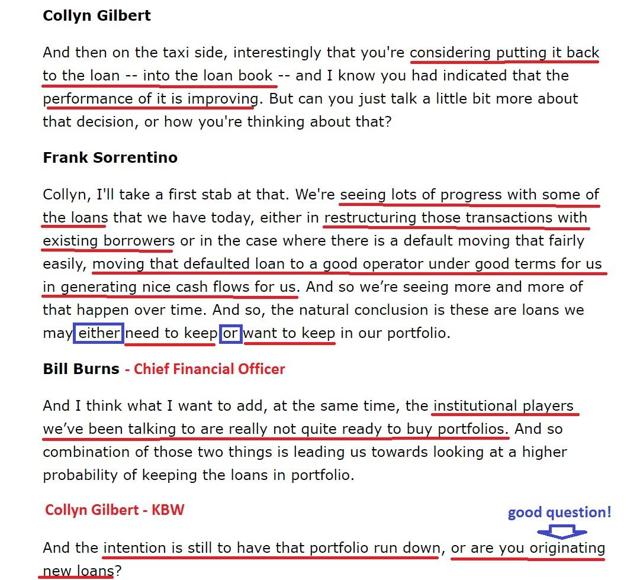 Chairman and CEO Sorrentino stated that it appears the pendulum is beginning to swing in the favor of medallion cabs.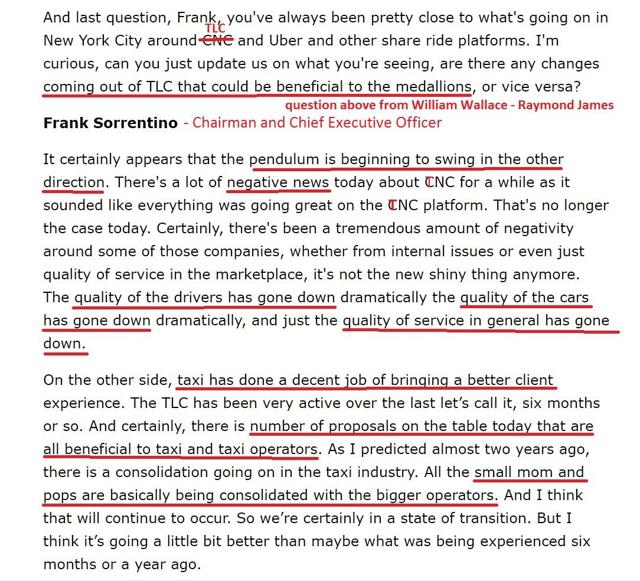 Analysts on the call did not inquire as to whether the description of a cash flow return of 5% or 6% included interest alone or both interest and repayment of principal.
Disclosure: I/we have no positions in any stocks mentioned, and no plans to initiate any positions within the next 72 hours.
Additional disclosure: In addition to Seeking Alpha's Terms of Use: Read this article at your own risk. Under no circumstances should this article be construed to be investment advice. You agree to do your own research and your own due diligence. Always consult a financial advisor. In no event should Great Quarter be liable for any losses. I make mistakes and I've been wrong. While, to the best of Great Quarter's ability and belief, great care was put into its research, analysis, opinion, and writing, and while this article and the information herein is believed to be accurate and reliable and does not omit material facts, it is presented "as is" and without representations or warranties of any kind, express or implied. Great Quarter makes no promise to update articles or any information, analysis, or opinion herein. Following the publication of this article, Great Quarter reserves the right to make any trade at any time in any securities mentioned; in the future, I may be long, short, or neutral regardless of any information, analysis, or opinion herein; furthermore I will not report when a security position is initiated or exited. Humans are bad at predicting the future. Part of this article attempts to predict the future. Great Quarter's goal to be more right about the future than wrong. But, the future holds surprises. Please be aware that at least part of this article will prove to be wrong. Great Quarter welcomes readers to make comments or ask questions in the comment section below. If you enjoyed this article, please follow Great Quarter by clicking Follow above.