We started the 2011 on Natural Gas futures just as a revival of the past two years when a well supplied market gave us a systematic downtrend with little moments of rest leaving UNG just shy of his $5.20 all-time low.
With the movement started on Jan-24 from $4.82 we had almost $0.97 downside so far on the current NGH11 contract hitting a low on Monday at $3.861, a low that for now on has been holding as 2011 low.
That's being said we did saw some signs of selling saturation on the last sessions, something common in markets that remains without a correction for a relative long time and that, usually, points to a quick short-squeeze.
Also, the market finally get a grip on the last two sessions getting a bounce from lows to 3.97 at today's close, although this may be just a "dead cat bounce" promoted by the oversold conditions, we may getting some hints on where the market can get a rest on this selling as we are just shy on UNG of an all-time low ($5.20) and just shy of a new low on current NGH11 ($3.856 on late October) with expiration on this contract next week we can have some volatility to get a squeeze even if we have a disappointing inventory on Thursday that leads us to lows.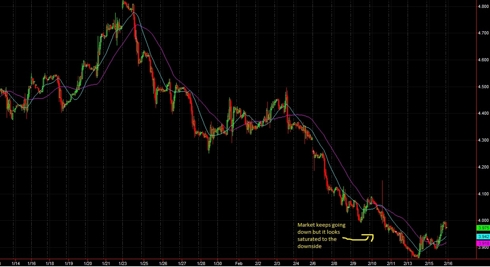 So, I think we have to work with the following expected scenarios for the coming days:
1)      A market getting a breakout on $4 and squeezing short to get a quick $4.10-$4.15 target.
2)      NG stuck in a range $3.85-$4 until we finally get rid of this range, may be after March expiration.
A bullish scenario (i.e. a quick $4.30 in days) seems unlikely given the bear response from the market to latest inventory reports which came in line with expectations and a bearish scenario seems also unlikely (i.e. a market going quickly to $3.60-3.70 with a strong breakout) due to the market failure to run down in new lows as the markets seems saturated when running on new lows.

In Conclusion: I think we may have a buying opportunity around $5-5.20 on UNG or $3.75-85 of the current NGH11 contract (or $3.80-85 on NGJ11) even if the Natural Gas is bear during 2011 mostly due to a good risk-reward ratio given to the fact that the market its having trouble accelerating to the downside and we may have a squeeze if one of the following conditions met:
- A good draw in inventory.
- Cold weather forecast sometime on the remaining of winter.
- Market failure to break down to new lows.
- squeeze due to March into April contracts rollover.