Starbucks Corporation (NASDAQGS: SBUX) is a worldwide coffee chain founded in Seattle, WA. It's popularity has grown quite substantially since its inception in 1971, with a year by year increase in the number of storefronts worldwide. As of 2015, there were 23,043 reported stores in 70 countries. This is 7.85% greater than 2014.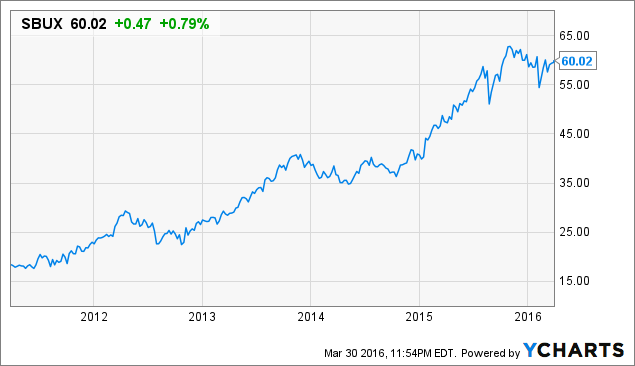 Along with Strabucks Corporation's store growth, there has also been consistent growth in it's stock price. Since 2012 the company has grown approximately 140%. This is due to the successes of diversifying their coffee expertise with not only its expansion but also made-to-order food, mobile order and pay, and adding the Starbucks Evening Menu at some stores that offer wine and other alcoholic beverages.
Comparing Starbucks to the industry average, Starbucks' P/E ratio is currently 36.84 (after hours on March 30, 2016), which is slightly higher than the industry average of 34.88. Although this may be ugly to some investors, others understand the growth opportunities that Starbucks has in the future, so the P/E ratio isn't a total turn-off.
In conclusion, I would recommend Starbucks Corporation for any growth investor. It's a large enough company where there is little risk, but still a growing company with a larger picture in mind.
Disclosure: I/we have no positions in any stocks mentioned, and no plans to initiate any positions within the next 72 hours.