Demand for office space correlates closely with white collar job creation and with the employment rate below 5%, there is concern that the U.S. is nearing "full employment" and should anticipate decelerating job growth. Additionally, oversupply continues to be a problem in major office markets and will likely continue throughout 2018. Most of this office construction and oversupply is concentrated in major metro areas such as New York City, Houston, and Washington D.C; however, West Coast markets continue to outperform on strong demand from technology, entertainment, and life sciences.  The convergence of technology creates new business models that will only drive demand and growth for real estate. 

Kilroy Realty Corporation (NYSE: KRC) seems to have the strongest position on the West Coast and has a $1.4 billion development pipeline that will only solidify itself as a preeminent Office REIT. KRC develops, acquires, and manages a total of 101 real estate assets, consisting primarily of Class A properties in the coastal regions of Los Angeles, Orange County, San Diego County, the San Francisco Bay Area, and Greater Seattle.
The averaging asking monthly rent for West Los Angeles rose 16.9% YoY with demand driven by the merging of technology and media. Furthermore, Apple, Netflix, Facebook, Hulu and Snapchat's recent announcement that they plan to invest more than $10 billion to media and content creation will bode well for the Los Angeles market. The Seattle market is debatably the best in the country with diverse demand, marginal vacancy, and little new supply. This strong demand and restricted supply is driving rents and net absorption levels to new records. South Lake Union's Class A rents are up 9.8% YoY. In San Francisco, net absorption is positive, vacancy declined, rents were up and supply continues to decrease. Rents are up 8.1% YoY in SoMa driven by tech and entertainment while Class A rents are up 2.6% YoY in Silicon Valley. In San Diego, asking rents continue to increase (up 5% YoY), and Del Mar Height has the highest rents in the county.                                                                                                                                           
KRC has four state-of-the-art projects currently under construction that will be delivered over the next two years. They include just over 1.7 million square feet of office space, 62% of which is now leased, along with 86,000 square feet of PDR space, 96,000 square feet of retail space and 237 residential units, which represent a combined estimated investment of $1.4 billion and will generate over $100 million of cash NOI on a stabilized basis. There was recently a significant announcement that KRC leased 100% of the office space at one of these projects to Dropbox. Along with the 100% square foot lease to Adobe at another one of these projects, KRC has now leased 100% of the 1.1 million square feet of speculative office space under construction in San Francisco.
Additionally, KRC has a very strong balance sheet.  They do not have any significant debt maturities until the third quarter of 2018 and are rated Baa2/BBB.  Kilroy has a $1.4B borrowing capacity on a revolver & term loan with only 115M currently drawn on the revolver.  Approximately 80% of their portfolio is unencumbered and 95% of total debt is fixed rate.  Lastly, KRC has one of the youngest, modern portfolios as the average age is roughly 10 years.
There are some risks involved with KRC as 15 of their largest tenants represent 37.3% of total annualized base rental revenue and a large percentage of tenants operate in concentrated group industries such as technology, life sciences and health care, finance, and media; however, there are relatively few options for larger tenants seeking new/renovated space and there is a significant amount of demand for Class A space in these markets with little supply coming online. Additionally, 96.2% of their portfolios are leased at quarter end and technology and life science demand remain healthy, especially in Seattle. Furthermore, these tenants are all rated investment grade as can be seen in Exhibit 3.  Lastly, U.S. GDP is related to healthcare and is expected to grow as the senior citizen population is expected to double from 2010 to 2050.
Quantitatively, KRC's stock price seems to be at a discount compared to their net asset value.  After applying a 3% growth rate to KRC's TTM NOI, which is in line with KRC's projections, their forward NOI is projected to be $481,349 thousand. After calculating their weighted-average cap rate at 4.95%, which was derived from GreenStreet (Exhibit 1), their value of real estate assets is $9,724,220 thousand.  This resulted in a NAV/share of $88.88, providing a 18.6% premium. The NAV analysis is shown below in Exhibit 2.

Kilroy Realty Corporation's presence in the West Coast, strong balance sheet, and upcoming developments provide compelling justification to add it to your portfolio.
Exhibit 1

Exhibit 2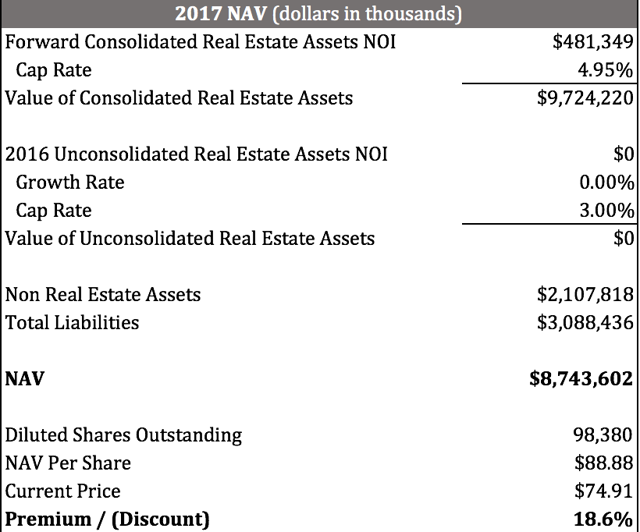 Disclosure: I/we have no positions in any stocks mentioned, and no plans to initiate any positions within the next 72 hours.