Background:
Chipotle Mexican Grill (NYSE: CMG) primarily exists as a major leader in the fast-casual dining setting, providing the expediency of a typical fast-food experience but aiming to serve fresh and high quality ingredients. Chipotle seemed infallible for many years; Customers genuinely loved Chipotle, the media consistently recognized their corporate social responsibility efforts, and the sales seemed unlikely to slow down, propelling the company's publicly traded stock to rise from around $90 per share in 2010 to over $750 per share in the summer of 2015.
The tail end of 2015 saw the emergence of reports involving numerous cases of foodborne illness connected to Chipotle restaurants. A company that built its whole brand and likewise success on "food with integrity" was now largely under scrutiny. Over the past 12 months, Chipotle's stock plummeted to under $390 per share in the summer of 2016, and has been trading in a $50 range since early summer 2016 (≈$390-$440 per share). Despite its recent economic hardship, there is reason to believe Chipotle will return to its glory days, making this stock something investors should soon add to their portfolio.
Reasons for Optimism
Chipotle's strong management team - the same team that grew the company's stock to trade at nearly $760 before the E. coli outbreak - has not gone anywhere.
Led by Co-CEO and founder, Steve Ells, management responded quickly, was sincerely apologetic, and outlined all of their proposed actions with transparency as the company moved forward into 2016. Chipotle has adopted heightened business-level and operational strategies in food preparation and sanitation, and various new features have been implemented into Chipotle's supply chain, as their new comprehensive program aims to make the restaurant the industry leader in food safety. Since an investigation, performed by the Centers for Disease Control and Prevention, reported in January 2016 that Chipotle's E. coli outbreaks were over, there have been no further cases of foodborne illness related to the food chain.
In order to incentivize customers to return, Chipotle has thought up multiple ways to increase foot traffic, offering free food and rewarding customer loyalty. Stated in a Well's Fargo Research note to clients, " Chipotle's consumer research indicates that its promotional efforts have lured back its core customers, but at a lower visit frequency." This is depicted in its comparable store sales, which is expected to decline for the fourth straight quarter, with an analyst consensus at -17.9% for Q3.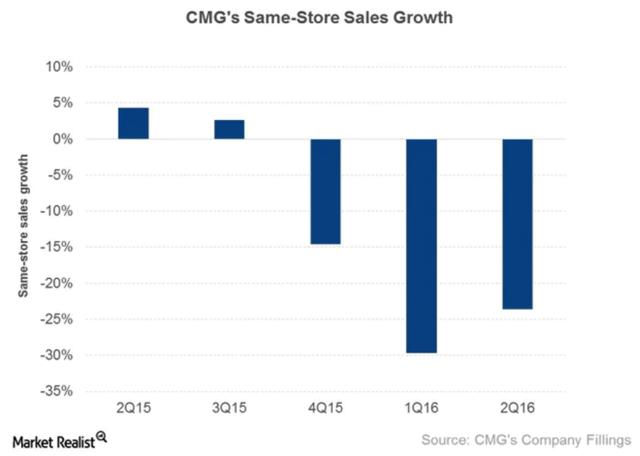 Albeit it rather slowly, Chipotle has managed to reduce the pace of decline. Bears view this metric to indicate that Chipotle won't be able to recover fully, but history shows this is not the case. Notable instances where restaurants faced notorious foodborne illness outbreaks, such as Jack in the Box and Taco Bell, all similarly saw a decrease in sales, with comp sales declines ceasing after 4-6 consecutive quarters. However, a potential for a slower turnaround may be possible for Chipotle because of social media's prevalence, coupled with consumers' expectations of Chipotle's high-quality ingredients.
Buy Before Prices Rise
Momentum is slowly but surely building for Chipotle. Its stock price has stabilized and shows no reason to drastically decline, despite whatever the results of the Q3 earnings may be, which are set to be released following market close on 10/25. Chipotle has managed to retain their core customer base throughout the past year's adversity, and are seemingly at the same stage of customer growth they were once before, setting themselves up for a strong comeback.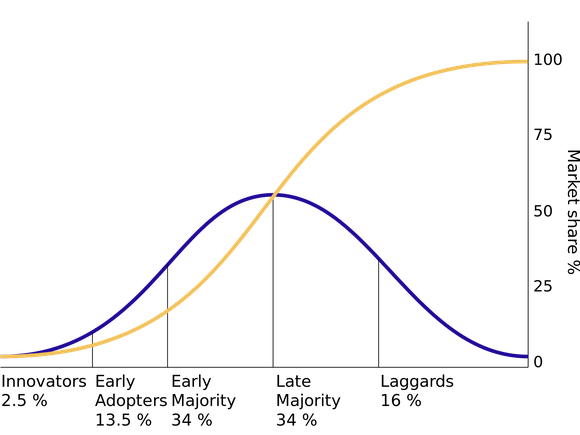 (Source: WIKIMEDIA COMMONS)
This is a segmented graph depicting when a given portion of a customer base becomes regular diners at Chipotle. Currently, it's presumed that Chipotle is back in the early adopters/early majority stage of their "reboot." This rise will shadow its original strategy - draw in hard-core loyalists to visit frequently, and eventually the masses follow. This is not to say their rebound will be explosive, but now would be a good time to hop on the train before it catches too much steam.
As foot traffic increases, revenue is expected to bounce back. Furthermore, Chipotle remains on pace for this fiscal year to meet their goal of opening an additional 220-235 restaurants. This has helped to mitigate some of the lost revenue of their older stores, although not by much. While total revenue is down, it is net income that has been affected to the greatest extent.

(Source: S&P GLOBAL MARKET INTELLIGENCE)
Since its IPO in 2006, Chipotle reported its first quarterly loss in Q1 of 2016. Much of the expenses related to the drastic change in net income can be attributed to the massive overhaul Chipotle undertook in response to the E. coli outbreak. They had to fix the immediate problem at hand and ensure food-safety, thus cost-effectiveness became irrelevant for the time being. Additionally, their in-store promotions came at a high price as well; however, for Chipotle it is seen as an investment in their long-term success. These expenses have also severely taken a hit on EPS.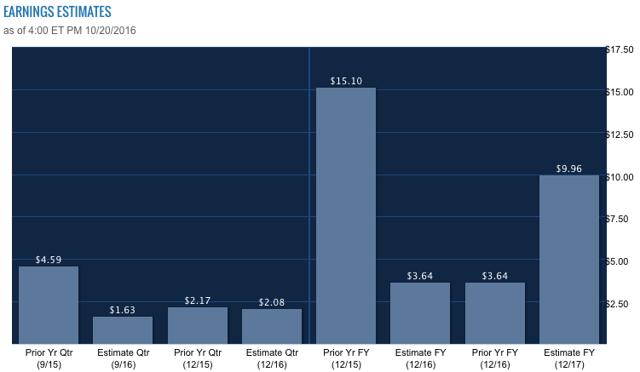 (Source: The Street)
With future fiscal years' EPS expected to continue to grow, although with less uncertainty each year out, it gives me reason to believe a comeback is inevitable. With an average target price of $478.83, their stock should begin to see slow growth rather soon. There is just too much that Chipotle does right that it'd be foolish to think it won't return to, or surpass, its former record stock price. Because of the steps highlighted by management, the food chain will come back even stronger and serve as a model for food safety. Y ears out, this will prove to have been a fluke and rare setback in Chipotle's success. With how the stock is currently priced and the pieces falling into place for momentum to begin building, I believe this is an opportune entry point.
Disclosure: I/we have no positions in any stocks mentioned, and no plans to initiate any positions within the next 72 hours.
I wrote this article myself, and it expresses my own opinions. I am not receiving compensation for it. I have no business relationship with any company whose stock is mentioned in this article.