Commodities as an asset class experienced the 5th year of a severe bear market.
Despite the hikes in Gold and Crude this year, broad commodity markets didn't attract investors favor.
The following analysis looks at commodity cycles since 1970.
Conclusion: The tide has indeed turned. Watch for set backs to build strategic positions in commodities.
Commodity markets in 2016 started the year on the wrong foot. Bloomberg Commodity Index, the benchmark for the performance of oil, gas, metals and agriculture, plummeted to a staggering 72 index points on the 29 th of January, which was the lowest point witnessed since 1991. S&P Goldman Sachs Commodity Index, calculated since 1970, even crept to levels last seen in 1973. The reasons for the slump are the following: a supply glut that temporarily pushed crude oil down to 26 USD and the slowdown in the Chinese economy that weakened the demand for other cyclical commodities such as base metals. In addition to the concerns of the slower growth in the global economy, the strong greenback has also been a constraining factor. Since the highs seen in the summer of 2011, commodity markets lost on average 50% of value.
After dancing with the bear for five years, one can question if the worst commodity slump in recent history has ended and if a turnaround is in fact in sight. It would be ideal to spot the right signs at the right time to participate in the first phase of a bull market.
Exhibit 1. Commodity Cycles. The long run from 1970 until 2016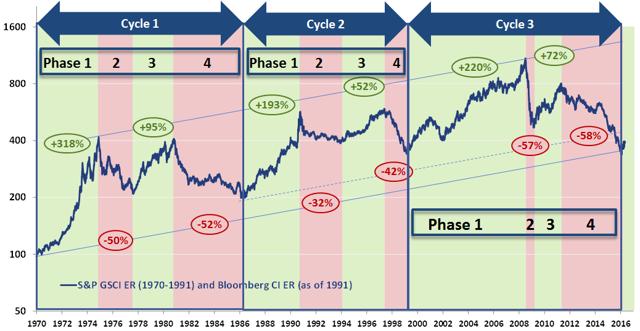 Source: Tiberius Research, Bloomberg
Commodity markets since 1970 have developed in different cycles and phases. When comparing current and historical cycles, it can be seen that there were similar drawdown periods with similar characteristics (exhibit 1).
Exhibit 2. Asset Class Performance Matrix. From 1999 until 2016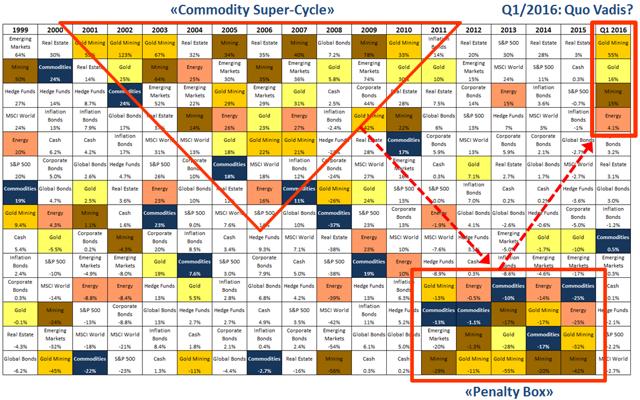 Source: Tiberius Research, Bloomberg
As demonstrated in exhibit 2, it is not hard to overlook the commodities scraping in the Penalty Box in the last 5 years. Between 2011 and 2015 within 14 asset and sub-asset classes comprising of equities, bonds, alternative investments, and cash, commodities, gold, and commodity related equities (oil & gas, mining, gold mining) occupied the seats in the back row. For the first time in Q1 2016, gold, gold mining and the broad mining sector were outperforming equities and fixed income. Is this now a short term revival or could this be the first sign of a trend reversal and a healthy bottom building?
Commodity Cycles in Retrospect
Commodity prices follow a typical cyclical pattern. Applied to energy and metals this pattern results from the time lag supply side needs to react on changes in demand and vice versa. As a result of high prices, companies invest in expansions and development of additional capacity. Thereupon, supply increases to a point where the price begins to retreat as demand is not growing fast enough. Supply continues to rise and prices fall below marginal costs of production. As a result of this supply glut, mine closures occur and prices begin to stabilize and rise.
In the last 50 years, commodity markets experienced 3 price cycles (as shown in exhibit 1 and 3). The last cycle, known as "Commodity Super-Cycle" attracted broad attention, lasted for almost 10 years from 1999 to the summer of 2008. The growth of the Chinese economy, which sparked additional commodity demand, catapulted nominal prices to levels never seen before. When comparing the previous boom phases in 1970-1974 (+318%) or 1986-1990 (+193%), the commodity super-cycle trended over a long period but with a sub-average price increase of +220%.
Special Factor - China: Potential to Surprise to the Upside
In the past months, the Chinese economy experienced a slowing down in growth due to its transformation process. The growth in the economy slowed down to a staggering 6.8%, clearly lower than the 14.9% in the booming years and lower than the average growth of the past 15 years of 9.4%. When comparing to the 12.7% (average) and 19.5% (high), the Industrial Production fell to 5.9%. It is no wonder that the demand growth for commodities declined and suppliers are forced to adjust to a new reality.
Figure A. Commodity Prices und Economic Growth in China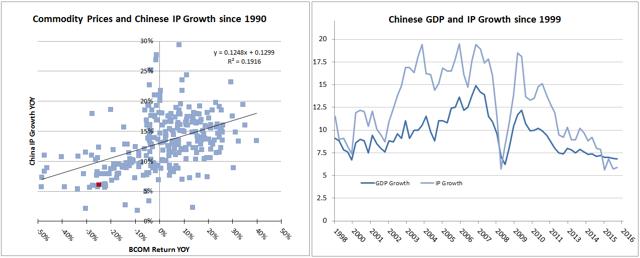 Source: Tiberius Research, Bloomberg
The future growth of the Chinese economy comes to question due to the following factors: The devaluation of the Yuan, the debt-levels in public and private sectors, the control of the shadow-banking sector and the state of the housing market. The volatility that the Chinese equity market experienced in 2016 led to losing trust of investors. Despite government interventions, the Shanghai Composite lost almost 30% of its value.
However, we believe the negative sentiment towards China is exaggerated. President Xi Jinping targets a minimum growth of 6.5% until 2020. The declining growth rates in consumer prices give an opportunity for government intervention through stimuli. On the contrary to the USA, Europe and Japan, China has room to maneuver within monetary and fiscal policy instruments. In order to support growth, it is highly likely that infrastructure programs and job initiatives will be undertaken. Therefore, we expect stabilization in the economic development and a moderate increase in the activities in the latter half of 2016. This implies a positive impulse for the demand for the cyclical commodities such as energy and metals.
Analysis & Results
Every commodity cycle since 1970 comprises of 4 phases which we classify as: " Shock Phase" ( Phase 1), " Correction Phase" ( Phase 2), " Expansion Phase" ( Phase 3), and " Capitulation Phase" ( Phase 4). The first initial phase of a commodity bull market is characterized by a multi-year price increase caused by a temporarily supply and demand mismatch, which is followed by a price correction in phase 2. During an expansion phase supply is growing, but commodity prices are accelerating as well (phase 3), whereas phase 4 is a culmination point of supply and demand mismatch which is followed by severe adjustments.
A dominating factor in commodity index returns is crude oil. The reason lies in the direct correlation of crude and oil products such as heating oil, diesel and gasoline, and due to the fact that commodity indices have a high weighting in the petroleum complex. In addition, there are indirect effects of oil prices that trickle into the agriculture and metal commodities, contributed from distribution and processing costs.
Therefore it is no wonder that in every cycle a point of culmination in phase 1 was directly caused by high oil prices. Autumn of 1973 marked the beginning of the first oil crisis, as OPEC decreased crude deliveries as a political weapon. As a result, crude oil prices increased by almost fourfold from 3 USD to 11 USD per barrel in 1974. In August 1990 the Second Gulf War began with the conquest of Kuwait by Iraq and the intervention of the international community under the leadership of the United States. In 1986, crude oil cost almost 10 USD per barrel and jumped to 40 USD, sparked by the conflict. Driven by the commodity super-cycle which had been ignited by the boom in the Chinese economy, the oil price exploded to 145 USD. It should be noted that crude oil in 1998 and 1999 was 10 USD per barrel, an increase by 14 times.
In order to investigate dependencies in the development of commodity markets in regard to cycles and phases, this paper analyzes the following macroeconomic factors: economic growth, interest rate levels, inflation and US Dollar.
Exhibit 3. Selected Economic Data and Commodity Cycles /Phases, 1970 to 2016

Source: Tiberius Research, Bloomberg
Exhibit 3 shows level data and changes in core parameters for every phase of the cycle. In the current state of commodity markets, a special emphasis lies on similar characteristics of an initial bull market (phase 1), and market capitulation (phase 4). The price development in particular in Q4 of 2015 and in the first weeks of 2016 implies that we currently experience a late stage of phase 4. Therefore it will be crucial to recognize the characteristics when this phase has concluded.
Exhibit 4 suggests that across the different cycles, the capitulation phase has been characterized by: declining economic growth, declining inflation, falling interest rates, and a strengthening USD. If we compare this with the economic data for 2015/2016, the medium-term trend of economic growth, which remains well below the long-term trend of global growth, remains imminent. In particular we focus on the weaker growth in China caused by its economic transformation process and the decline in growth of the BRICs, with focus on Brazil and Russia. The latter countries were dramatically aggravated by the oil price crash. Massive monetary measures by central banks in the US, Europe and Japan have yet to see a success in stimulating growth, a rise in inflation and higher interest rates.
Exhibit 4. Common features across commodity cycles and phases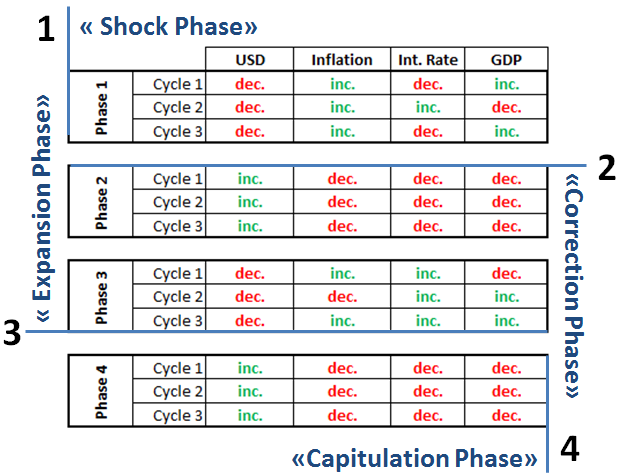 Data: increasing (inc.) and decreasing (dec.). Source: Tiberius Research, Bloomberg.
How can the environment of a first dynamic phase of a commodity bull market be described? All three cycles have been characterized by a rising inflation and a falling US dollar. In each phase, crude oil had been an initial driving force. Counter intuitively, a pick-up in economic activity and rising interest rates had not been a necessary requirement for phase 1 of a commodity bull market. An improvement of these fundamental data had been witnessed later in the cycle.
Applied to cyclical commodities like energy and metals, the market is still described by a miss-match of supply and demand. The market balances are in surplus, however, the stock building has passed its peak and the market balances improve. However, the financing conditions of commodity-related companies remain tense due to low commodity prices. The austerity measures - which also include falling investments in expansions and developments - are not yet complete. The vast majority of the companies is forced to focus on factors such as balance sheet improvement, caused by the decline in market capitalization in relation to its debt levels. The protective measures of management necessarily involve the sale of partial business areas and the issue of new shares. This we observed in the past few months by companies such as Glencore, Anglo American, Freeport-McMoRan or Nyrstar. This process is at this stage not yet completed and comes clearly at the expense of shareholders. Therefore, we see an outperformance of corporate bonds in the commodity-related equity sectors versus the direct equity investment in an environment of stabilizing and slightly more attractive commodity prices to be highly probable. As an important performance component, crude oil and oil products seem to have completed a bottom building after prices per barrel temporarily dived below 26 USD. After the sharp increase in recent years, US crude oil production has been declining for several months now, and many small and medium sized companies in the sector still face financial trouble or even bankruptcy as funding dried up.
Conclusion
The just past price slump of more than 50% is severe, but not unusual. In the past 50 years commodity markets and prices followed a total of three cycles, which in turn can be divided into four phases: an initial shock phase, a correction and expansion phase, followed by a capitulation phase. It is premature after Q1 2016 to beat the drums for a new commodity bull market, but interpretation of economic parameters shows us a state of the global economy characterized by a weakening growth, a strong US dollar, falling interest rates and falling inflation: a set of factors, summarizing a capitulation phase.
During the last commodity cycle the economic growth of the Chinese economy played a dominant role. As stated in " Special Factor - China", we forecast a positive surprise potential for the Chinese economy and interpret the sentiment regarding China as more negative than justified by economic data.
As is apparent from the analysis of the last 50 years, a bullish sentiment in commodity markets is not necessarily associated with an increase in economic activity and rising interest rates, but investors should carefully watch an acceleration of inflation and the end of the regime of a strong USD. Applied to energy and metals markets, the cards for an emerging bull market are already played out: 1. prices of many commodities already found a bottom but still remain at low levels, 2. inventory surpluses are not growing any more, 3. corporate strategy of producers focuses on austerity measures and cuts in production. A prime example is crude oil as US production finally declines and prices of around 26 USD at the beginning of 2016 marked a healthy bottom building.
The combination of these factors reinforce our forecast that within a timeframe of 2-3 years, a situation is emerging and intensifies, which again can be characterized by negative market balances, where demand exceeds supply significantly, and commodity prices on average trade at a much higher level. Actually, with hindsight we may then argue that 2016 saw the beginning of a new multi-year commodity cycle.
Appendix - Methodology
Analysis of commodity markets are based on two commodity market indices: Bloomberg Commodity Index (NASDAQ:BCOM) and S&P Goldman Sachs Commodity Index (S&P GSCI). Bloomberg Commodity Index (formerly Dow Jones / UBS, and Dow Jones / AIG Commodity Index) was first calculated in 1998 by Dow Jones and calculated back to January 2, 1991 to a base value of 100 points. The index includes 22 commodities in the form of fully collateralized transactions and offers relative to the S&P GSCI a diversified image of the commodity market. Energy, metals and agricultural goods allocate a third of total index weight each. In contrast, energy sector weight makes up two thirds of the S&P GSCI. The S&P Goldman Sachs Commodity Index comprises of 24 commodities, first calculated in 1991 by Goldman Sachs, acquired by Standard & Poor's in 2007 and calculated back to January 2, 1970 to a base value of 100 points. Until data availability of the BCOM, S&P GSCI has been included in the analysis.
To identify common characteristics of bullish and bearish phases, parameters of economic growth, interest rates, inflation and USD were examined between 1970 and 2016. To measure global economic growth we use World GDP data published by World Bank. As a proxy for interest rate levels, generic 10 year US government bond data has been utilized. Inflation is measured by US consumer price index (NYSEARCA:CPI) published by the Bureau of Labor Statistics. The change in the USD is analyzed against the USD index, which compares the value of USD to a currency basket of six currencies (EUR, JPY, GBP, CAD, SEK, CHF). Data of China's industrial production growth is published by the National Bureau of Statistics of China since 1990.
To calculate the asset classes performance matrix the following indices were used: MSCI World, S&P 500, Emerging Markets, Global Bonds, Corporate Bonds / High Yields, Inflation Protected Bonds, Hedge Funds, Commodities, Real Estate (REITS), Gold, Energy, Mining, Gold Mining, und Cash (MXWO Index, SPX Index, MXEF Index, JGAGGUSD Index, IBOXHY Index, LBUTTRUU Index, HFRXGL Index, BCOM Index, REIT Index, GOLDS Comdty, MXWO0EN Index, MXWO0MM Index, HUI Index and US0001M Index).
Important legal information
The information in this document constitutes neither a sales offer, a request to submit an offer nor investment advice. It is given for information purposes only. No liability is assumed for the accuracy and completeness of the information. Opinions and assessments contained in this document may change at any time and reflect the point of view of Tiberius Group in the current economic environment.
Investments should only be made after a thorough reading of the current prospectus and/or the fund regulations, the current simplified prospectus, the articles of association, and the current annual and semi-annual reports, as well as after consulting an independent finance and tax specialist. The mentioned documents can be obtained in hard copy or electronically and free of charge at Tiberius Asset Management AG (+41 41 560 0081/info@tiberiusgroup.com) or at the particular management company.
The value of the units and the return they generate can go down as well as go up. They both are affected by market volatility and by fluctuations in exchange rates. Tiberius Asset Management AG does not assume any liability for possible losses. The performance of past values and returns is no indicator of their current or future development. The performance of values and returns does not include the fees and costs which may be charged when buying, selling and/or switching units. The breakdown into sectors, countries and currencies and their respective positions as well as possibly indicated benchmarks are subject to change at any time in line with the investment policy determined in the prospectus. The representations made in this publication may be changed at any time without prior notice.
This publication is copyright-protected. All rights appertaining thereto, even in case of only partial use, shall remain reserved, particularly with regard to the following: translation, reprinting, recital, use of images and graphics, broadcasting, duplication via microfiche or other means, and/or storage in data processing equipment. A duplication of this publication or portions thereof shall not be allowed. Any breaches may be subject to the penalties provided for under law.
Copyright © 2016 Tiberius Asset Management AG. All rights reserved.