Speculation Is Fleeting, Investing Is For A Lifetime
Please Note: Blog posts are not selected, edited or screened by Seeking Alpha editors.
Summary
We get that a few may make out like bandits by speculating in bubble markets. That is IF they sold out at the right time.
What happens when the euphoria subsides though?
Try a value conscious, conservative portfolio to earn 7%-9% annually notwithstanding of the market moods and madness.
Enjoy writing options? Our service writes cash secured puts and covered calls on securities at splendid valuations. Although the recent market action has so far not resulted in any option assignments, we would love for a chance to own each and every one of out picks. It is a WIN-WIN for us. We either get to keep the premiums or we get our favorite stocks at amazing prices. 
Want to make your investment work for you in the background, rather than it being the center of your attention, all day, everyday? We aim for a portfolio beta of <0.35 and the results are there to see in the last couple of weeks of rollercoaster action in the market. The beta of both our model portfolios was <0.24, with the SPY down by 2.48%. Sure, that does mean we make less on up moves, but the whole point is to make income of 7%-9% without losing a leg and an arm, along with peace of mind.
But you are aiming for higher returns and are willing to up the risk? The same size does not fill all, and nor do our trade suggestions. We provide our portfolio pick and our subscribers, based on their risk tolerance, tweak the strike and expirations to a more lucrative but riskier play or at times to a more conservative play.
Not convinced? Try it out for 14 days free of cost. You can cancel anytime in that period without being charged a dime. We provide a preview by showing the returns of our three most recently closed cash secured put trades and elaborate on some of our thinking.
1) Entry: Axis Capital Holdings Limited (AXS) $45 strike/March 19 expiration @ $4.30: Although it was comfortably away from the strike, we got uncomfortable holding it after the Texas weather crisis. The crux of the matter was that the price we were comfortable owing this one after the event was lower than the strike we sold the option at. We do not sell options if we do not want to own the stock at the premium adjusted strike. We took our gains, leaving $0.50 cents of premium on the table. We will revisit if the price comes closer to our current fair value for it.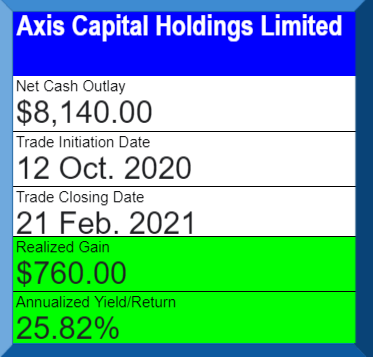 2)Entry: Lumen Technologies (LUMN) $10 strike/April 16 expiration @ $1.28 : We had $0.14 cents of premium left so it was a good candidate to offload to get our communications sector weighting back on target.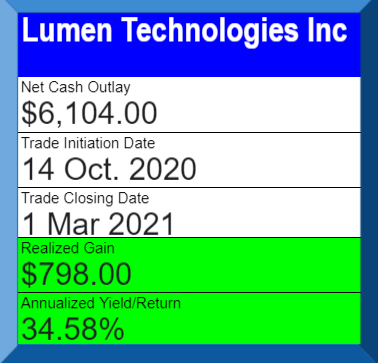 We monitor our sector allocations closely, but do stay away from grossly overvalued sectors until they make a trip back to earth with gravity in tow. Currently two sectors get a 0% weighting in our portfolio. 
3) Entry: NuStar Energy L.P. (NS) $10 strike/ June 18 expiration @ $2.10 : We had $0.20 cents of premium left so it was a good candidate to offload in order to be ready to pick up more lucrative energy picks. This was before OPEC surprised everyone, but exiting the trade with almost all of the premium is still a successful trade.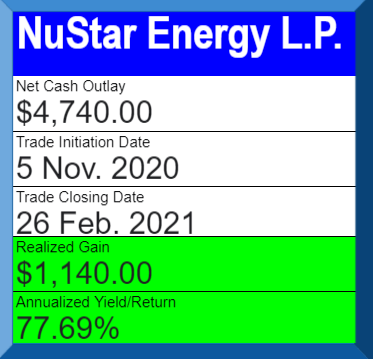 If not the energy sector, we can deploy to other sectors that are getting less love at the moment. 
Do we promise these kinds of returns for all our trades? NO. We only promise to try and find the best value stocks and try and get paid fat premiums for owning them. Two things can hence happen.
1) We get put stocks at fantastic prices, prices from where we have a high probability of making great returns. 
2) We get paid high double digits yields for offering to buy them at the right price. 
The market will from time to time provide opportunities for even higher returns like the above due to mispricing of sectors. We go where the love will be down the line, rather than where it is. 
Give investing a try with our service!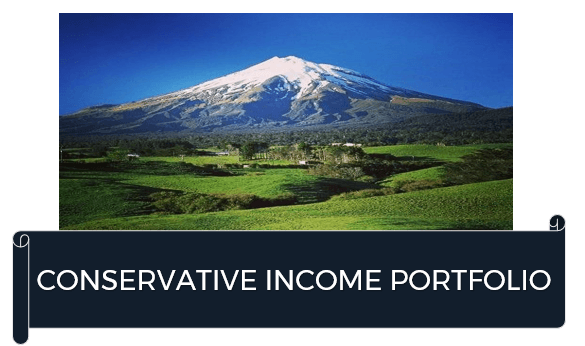 We launched this as the risks for low returns are getting exceptionally high, just as investors pile into growth and passive market tracking investments. We have designed these portfolios to reduce beta and enhance yields. By joining,
You will get exclusive access to a cash generating portfolio of Cash Secured Puts and Covered Calls, designed to have a lower volatility than the market. Each trade will have a risk ranking generated from a composite of 4 measures.
While you may get 3-4% yields from Blue-Chips today, we get annualized yields that are in the double digits, ...just for committing to buy. We not only commit to buy, but we commit to buy at a price we love!
You will get exclusive access to other ideas including deeply discounted income picks in preferred shares, CEFs and ETFs.
You will get first access to other arbitrage trades and more complex option ideas. While these are not for everyone, we will offer it for those who can handle them.
Trades exclusive to subscribers until the value in them can no longer be replicated.
If you are looking for a lower beta way to generate income, give us a try! We have briefly turned on free trials so you can experience this service, at no risk to you!
Analyst's Disclosure: I/we have no positions in any stocks mentioned, and no plans to initiate any positions within the next 72 hours.
Seeking Alpha's Disclosure: Past performance is no guarantee of future results. No recommendation or advice is being given as to whether any investment is suitable for a particular investor. Any views or opinions expressed above may not reflect those of Seeking Alpha as a whole. Seeking Alpha is not a licensed securities dealer, broker or US investment adviser or investment bank. Our analysts are third party authors that include both professional investors and individual investors who may not be licensed or certified by any institute or regulatory body.