Apple (AAPL) Recently delivered its quarterly results to the dismay of investors. Revenue from Apple's flagship product the iPhone had fallen 18%. Revenue was not only down for the iPhone, but across the board as sales declined for all of its major products. Sales were down in every continent, painting a dire picture for Apple's future.
The iPhone 6s did not generate the usual buzz when it was announced and has failed to impress investors and consumers alike since it's release. This is to a large extent expected however as it is usual for interim models to not sell as well as the main ones. The iPhone 7 will have to impress consumers however or the iPhone is destined to fall further into mediocrity. The design of the iPhone has stayed the same for many years now and is looking dated compared to its rival the Samsung (OTC:SSNLF) Galaxy S6 Edge.
Reports about the iPhone 7 have so far been disappointing. Small incremental change are becoming the only possibility left for smartphone manufacturers. Screens have hit the resolution ceiling with pixel densities so high that pixels are no longer visible to the naked eye. Phone cameras are incredible and suffice for everything you would need a phone camera for. This has resulted in people upgrading their phones less than they used to, which lowers smartphone sales across the board. This is not only a problem for Apple, but for it's rivals too. The smartphone market has reached saturation in Europe and North America, so phone manufacturers need people to upgrade their phones on a regular basis to continue to enjoy the high revenue they are currently getting. With the differences between phone models becoming smaller and smaller, the incentive to pay out for a new phone each year is becoming less and less.
With major technological advancement out of the question, Apple's only choice to boost sales in it's high end models is to modernize the design of the iPhone to make it distinctively different to its predecessors and keep up with rivals.
This alone will not halt the company's decline, merely slow it. Apple is at it's core a device company. They create great devices to make our lives simpler, easier and more enjoyable. However their two most recent devices, the Apple TV and Apple Watch while trying to performing these functions, do not do this in a way that makes them a necessity. They are simply accessories, and as such have a narrower market. People "have" to own a phone, but they do not have to own a watch costing hundreds of dollars. This limits the target audience to the more affluent customers.
Nevertheless the Apple Watch has sold well, selling over 7 million units. The majority of these has been the sport version. The wearables market is still in its infancy. Coming second only to Fitbit (FIT) Apple is still doing well in this growing sector of the watch market. While it is estimated that the Apple's business is around 4% of the company's value, this will increase if sales of its core products continue to fall. This is not good news for investors as it will further lower Apple's operating margin. The recently introduced iPhone SE will help the continuation of this trend as Apple finds it cannot maintain sales growth purely through the sale of its higher gross margin iPhones. The iPhone SE has an estimated gross margin of 35% compared to the mid 40%s of the standard models. The other downside to the iPhone SE is that it is cannibalizing sales of the more expensive iPhones. The strong demand for the iPhone SE combines with the increasing sales of the Apple Watch can only lead to a lower operating margin, further disappointing investors.
Entering new markets is generating extra revenue for Apple, just not to the extent that disrupting an already fully fledged market has historically. The iPod was better than other MP3 players. The iPhone is a great phone. Both of these devices appealed to the masses in ways that no other Apple product has. Both of the portable music player and mobile phone markets were huge when Apple entered them. Taking portion of a large established market will inevitably give a higher revenue than entering a growing market, at least in the short term. So what is the next market Apple could enter?
The Apple Car
Your car is your car is your most expensive device. It has been heavily rumored for months that Apple is going to enter the automotive industry. Tim Cook himself has hinted at it in an interview with the Wall Street Journal. A quote that should send shivers down the spines of car manufacturers around the world. "It would seem like there will be massive change in that industry, massive change." The question on people's minds at the moment should not be will Apple enter the automotive market, but how?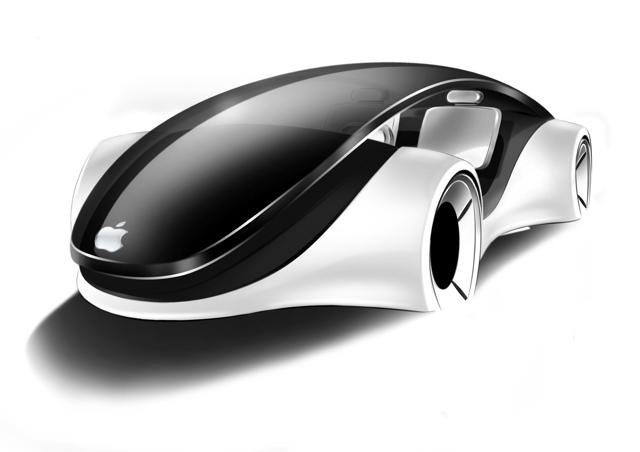 From a company that dominated the MP3 player market and made a huge impact on the smartphone market, any attempt to enter a new industry should worry those in it. Around half the smartphones sold in the USA are iPhones and globally Apple had a 14% market share as of early 2015. Of course the other 86% of phones sold don't have the 40% profit margin that makes Apple the cash cow of the tech industry. This was after entering the smartphone industry as a new player in 2007. Globally over 70 million cars are sold a year. If Apple can have a comparable impact as it has had on the smartphone market it will carve out a double digit share of the market within a decade, selling 7 million plus cars a year. Even without their sky high 40% profit margin, this will be very lucrative.
They wouldn't be the first tech company to enter the market. The Google (GOOGL)self-driving car is making a name for itself by pioneering the autonomous car revolution. The headway Google has made into creating the need for regulations regarding self-driving cars and the leaps in technology that go with it will be invaluable to Apple in the future. Don't forget Apple doesn't need to innovate to get ahead of it's competitors. It just needs to create a superior, more streamlined product. The iconic scroll wheel of the iPod was not invented by Apple.
The Apple Car can not be anything but electric
The test sites for new cars developed in Silicon valley are silent. Not because they are neglected, but because every car being tested is electric. From the Tesla (TSLA) Model 3 to the Ford Focus E, car manufacturers new and old are embracing electric cars as the way forward.
For this reason the Apple car being electric is a given. Anything else would be out of character. Electric car technology has come a long way in recent years with the Tesla Model 3 boasting a range of over two hundred miles at a cost of only $35k. It is now at the stage where it is becoming practical and affordable to the masses.
The network of electric charging points for cars is still relatively small. There are only 3,500 public charging points for Tesla's around the world. You can also charge the car at your own home which will be sufficient for the majority of users most of the time. Only when you are going on holiday or on a business trip will you need to use anything but your home charging point. It is these occasions that would put worry in the minds of electric car owners and put people off buying one. This is why a global network of charge points needs to be established. They need to be widespread throughout the US and Europe so people don't have to worry about where they will charge their car when they are on holiday. At the moment this is not the case. Again, Tesla is laying the groundwork for Apple as it aims to double the number of charging point to 7,000 in 2016 and the number will grow exponentially from there if the Model 3 is a success. The Apple car can piggyback onto this network and add to it when it enters the game.
The Apple Car vs the iCar
Since the iPhone there has not been an iProduct. The Apple TV and Apple Watch have been so insignificant that they do not warrant their own unit sales being reported in Apple's quarterly earnings. That privilege is reserved for the iPhones, iPads and (i)Macs. It is like the Apple executives knew that these devices were not going to make an impact, so didn't deserve the i prefix of their predecessors. For this reason I think the Apple car should not be the Apple car, but the iCar. It is also cleaner when they bring out several models and iterations of said models.
Apple has learnt from it's past though. The iPhone SE (Cheaper model of the iPhone) and Apple Watch Editions (That retail up to $17,000) have shown that they are coming to terms with servicing all levels of customers. Tesla built up it's company in three stages, the low volume high cost roadster. The medium cost medium production Model S and X, then the low cost high volume Model 3. Apple does not need to this as it is sitting on a cash pile of $230 billion. It can afford to enter the market at multiple levels and create a name for itself within a relatively short space of time. It has taken Tesla thirteen years to get to where it is today. Apple could be ahead of it within five.
There are dozens of well established car manufacturers around the world however. The American market is dominated by Ford (F), General Motors (GM) and Chrysler (FCAU). It would be in the best interests of these companies to hinder Apple's development and supply of it's cars. Google has signed a deal with Fiat to develop their self-driving cars using Fiat's manufacturing facilities. Google does not have experience in the supply and distribution of physical products. They also do not have a brand associated with quality and prestige. It therefore makes sense for them to seek a partner to help them.
Apple will either have to partner someone to manufacture and distribute its cars, or go at it alone. I think a solo effort would make the most sense for Apple. Also no major car manufacturer would want to help Apple. An Apple car dealership could by synced perfectly with the current Apple stores, with the same feel to make consumers familiar of the brand feel at home. Apple recently boasted that they have an ecosystem of over a billion active devices in their ecosystem. While it is a leap to from a phone to a car, the build quality and brand trust has been established. At best they would be a minor competitor, like Tesla, selling a few thousand cars here and there (Until recently), at worst becoming a major player and turning the big three into the big four.
Unlike Google I cannot imagine Apple wanting to share a dealership with anyone. They have dedicated Apple stores purely for their products. If they were to go in wholeheartedly they would have a range of cars on show sufficient to fill a dealership from day. However this would involve the creation of a completely new dealership network. This would be an extremely expensive venture as they would be picking prime locations for the dealerships. An Apple dealership sitting alongside the BMW (ETR:BMW) one on Park Lane in London would be great for the company's image. However this would cut heavily into the operating margin if sales did not reach Apple's expectations. What investors do not want to see on Apples books is a low margin or potentially loss making segment of the company.
However Apple is at it's core a premium brand. It can enter the market at a higher price point than even the German executive car rivals and still sell well.
Apple may decide like their original Apple TV venture, that the risk of failure is too great, could potentially damage the brand, and not even pursue it all. However if Apple does this right the iCar could be Apple's next game changing device. An extension of the Apple experience, clean interfaces and no cumbersome manuals on how to use your car, because it will all be so easy and intuitive. What Apple does best is disrupt and with recent technological advancements the automotive market has become a very suitable target.