-Transocean Q4 results were very solid
-Crude Oil markets have floored and are on the up
-Price Target $18
Transocean, like most in this industry have taken a huge hit the past couple of years. Not only has revenue fallen, contracted backlog has fallen substantially. Transocean has also seen a contraction in its RIG count over the past 3 years. In April of 2014, Transocean owned 78 total rigs, since then, they have decreased their total fleet to 56 total. I must say, the floor has been set.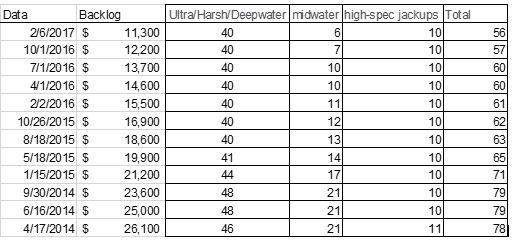 Sure contracted backlogs are down, however that doesn't mean Transocean is down. Here is why:
Too many investors look at Revenue alone, which is a poor way to value a firm. When you buy a company, you should be buying more than just its revenues, you should be buying its management, its assets, and its liabilities.
Transocean is managed very well, take a look at its assets and its liabilities over the past 5 years. Although assets have fallen, management has made sure liabilities were paid down with them. This is a great sign, you would not buy a firm where its assets fall by 10%, and liabilities increase 5%.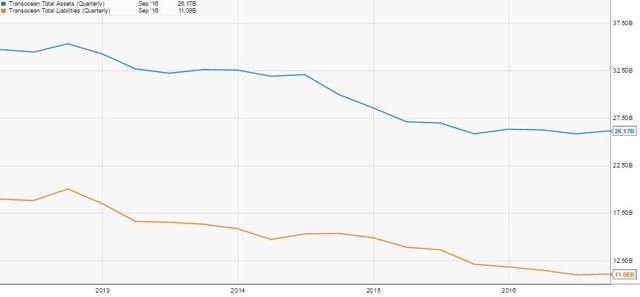 Next take a look at the sales, operating, and net income, and compare the growth year over year.

Their total revenue was very bad in 2016. With higher crude prices, expect a material change in revenue in quarter 1 of 2017. If you have been following crude prices and the oil industry, it is evident a recovery is in session, revenue increased more than 8% quarter over quarter. Keeping in mind, winter is typically the worst time for crude because oil sales are far less than in summer months, when people tend to travel more frequently.
Sales growth fell -0.81%, -19% & -43% from 2013 to 2016. However, with bad management, cash from operations, the king number everyone should look at, should have fallen as well. Transocean, and their very good managers did not allow that to happen. In fact, their cash from operations actually increased each year from 2013 to 2014 to 2015, besides in 2016, which was equivalent to 2013.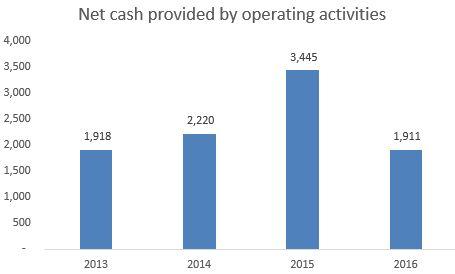 As we know, industry trends happen, this is not the first time oil has fallen, but with these companies that rely on such commodities such as oil, a fall in crude is devastating for the industry. Take a look how the industry stock price floats with oil and with each other.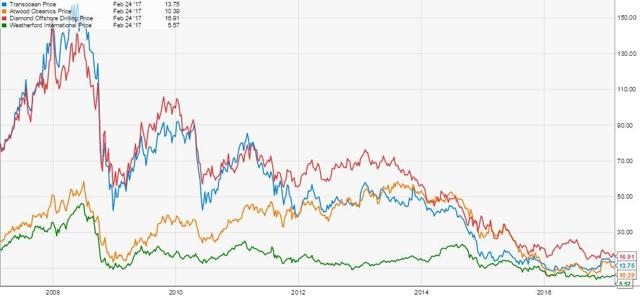 Now Transocean vs Brent Crude prices: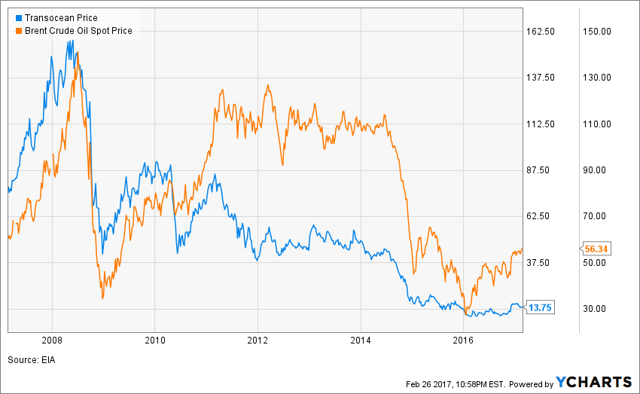 Both of the above charts look very identical. We can conclude oil stocks and oil prices are a direct correlation. I truly believe once Oil hits $60-70, Rig will be trading between $20-25, and I see that by the end of this year.
Another reason I believe RIG is undervalued is because Book Value is too high compared to the Market Value.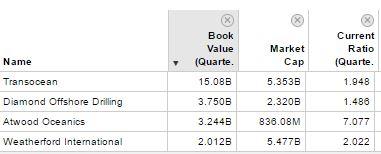 If a company has a Book Value less than its Market Cap, it could mean one of two things:
1. Management is bad and they have been taking losses in their retained earnings account, which is not true here exception of 1 year
2. The company is undervalued, hence their Market cap is less than book value of equity
Last but not least, let's compare its 2015 to 2016 balance sheet.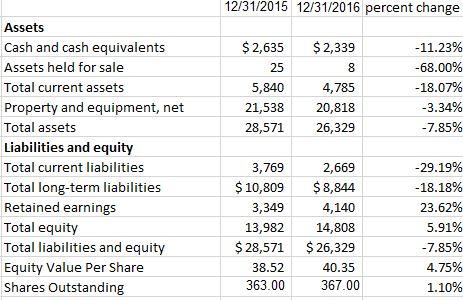 Cash has fallen, which is expected. Not by much, only $300 million. However, assets for sale have fallen as well 68%, which shows they are no longer selling their assets(rigs) as much as in the past. Which is a great sign. From what I see, only the rigs that are 20 years plus are being sold.
Assets also fell, which is acceptable in the current write off of assets. However, current and long term liabilities have fallen as well which is a HUGE surprise. You would expect RIG to have to borrow money to build Work in Process Fleets, and funds it current operations, but RIG has instead downsized and cut its debt at a higher proportion to its assets. An 18% decrease in liabilities to a smaller 7.8% decrease in assets in a bad crude market?
Equity Value Per Share is important, the investors own the equity on the balance sheet, that means in 2015 each stock should have been worth roughly $38, and in 2016 $40. I think RIG is far undervalued and will go up as oil prices increase. In the short term, I can see it trading between $13-$16. However, once oil hits $58+, RIG will be $16 or higher. My one year price target is $18.
Disclosure: I/we have no positions in any stocks mentioned, and no plans to initiate any positions within the next 72 hours.