-Customers will be happier in the long run
-Lower gross margins is not a bad thing
-Price Target = $70.87
Target Corporation has been struggling as of late. Earnings have disappointed investors the past few quarters. Is it time to sell your shares?
Let's look at what the experts think the price target should be, these are the current price targets: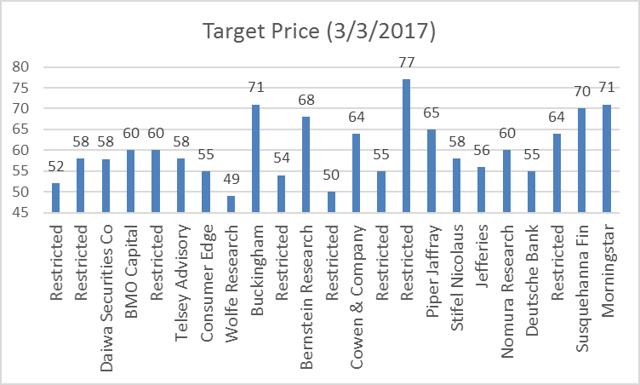 As we know, market value is not indicative of a company's true value. When Target released its earnings, many people sold the company's shares due to uncertainty. I believe if market value decreases by 15%, that doesn't mean book value is worth 15% less, thus a profit can be made by buying a companies stock.
First, let's look at what the future guidance is from the CEO of Target, and the main reason the company fell almost 15% the past week, "we will invest in lower gross margins to ensure we are clearly and competitively priced every day. While the transition to this new model will present headwinds to our sales and profit performance in the short term, we are confident that these changes will best-position Target for continued success over the long term."
Target is set to cut gross margins, which is seen as not favorable to its investors. Currently, Target has a gross profit margin of 29.9%, which is superior to its competitors. Walmart has a gross margin of 27.71%. Amazon has a gross margin of 21%(including fulfillment) which is why Amazon has the current market share they control. As a millennial, I love the low prices of Amazon. Amazon has drastically hurt the retail industry's sales. Besides Target and Wal Mart, other retailers are closing or downsizing the number of stores, such as JCPenney, Sears, and K-mart. Amazon has caused a huge disruption in the retail industry.
The shift to lower margins by Target is viewed as a negative, therefore investors have sold their shares. The guidance of management that margins will fall this year made us feel ominous about Target. However, after an in-depth analysis, TGT is a BUY, with a Price Target of $70.87. Let me explain why:

Moving forward, I estimate that in year-end 2017, 2018, & 2019, sales will be $67.4, $66.7, $68.1 billion, which represents a decrease of 3% and 1% year-end 2017 and 2018, and a positive 2% increase in year-end 2019.
Target has gross margins of about 29.7%. I expect their gross margin percentage to decrease to about 25.3% in 2017, and 23.3% in 2018 & 2019, which represents a decrease of 4.6%, and 6.6%. This represents a gross profit of $14.8, $13.3 & $13.6 billion in 2017, 2018, & 2019. Evident from the chart above, this is a huge fall in gross profits.
Operating expenses stayed in proportion to the previous years, which on average, represented about 73% of Gross Profit. Which left us with an EBIT of about 27% of Gross Profit, or $4.0, $3.6, & $3.6 billion in 2017, 2018, and 2019, respectively. Management has done a great job by repurchasing shares outstanding, which is beneficial to the shareholders, they've bought back $3.71 & $3.48 billion in its common shares in years 2015 & 2016. Overall, less shares outstanding is great for investors.

I don't see net income taking a big hit. Here is why, with the republican ideology currently running our country, I expect the corporate tax rate to be cut to 15% sometime this year, which would save the company more than half of its taxes it currently pays per year. Considering the cut in taxes, Net Income will not be much less, in fact I see it being higher going forward, especially with Target doing most of its business domestically.
A tax rate cut would be very beneficial to Target, on the contrary, a higher import tax (border tax) would be detrimental to Target, as mentioned by President Trump in his campaign. Target, as we know, like most retailers, import a tremendous number of goods from South America and other countries that would be subject to an import tax. Let's consider Targets cash flows going forward: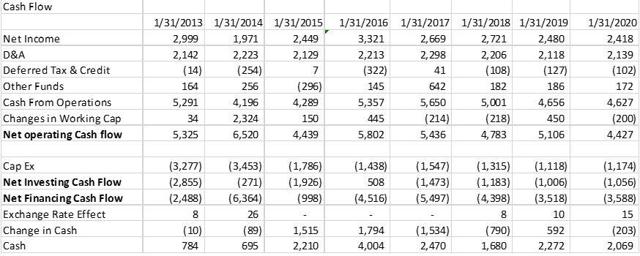 Net operating cash flow, which is the key number to see how much money a company generates, has fallen from $5.8 to $5.4 billion from 2016 to 2017. I see this trend continuing especially into next year with Target cutting its gross margins. I also see capital expenditures decreasing year over year as Target will invest less in its infrastructure, and more on lowering consumer prices.
To see how I came up with the fair value for Target:

I believe Target is very undervalued right now. I believe Target is worth $70.87. Some very important numbers to look at. Target's board of directors have approved a share repurchase plan as of September 2016 of $5 billion, of which $264 million was used in quarter 4 of 2016. Target has approximately $4.7 billion in repurchasing left. Another key item to note, Target's REDcard penetration has improved. The numbers below represent how much of their revenue comes from clients using their REDcards. If I'm devoted to Target and do a lot of my shopping there, I would get a REDcard. Why not save 5% right?

My last point I would like to make, if target was losing money, or they assumed their margins would be so bad that they would be affected materially, they would not have grown the number of stores they operate year over year, instead they would contract the number of stores they operate. However, that was not the case, as evident above, Target increased their stores by 10 from 2016 to 2017.
Disclosure: I/we have no positions in any stocks mentioned, and no plans to initiate any positions within the next 72 hours.