Summary
Overall analysis of the Oil Drilling Industry.
Bankruptcy is imminent for some companies.
Excluded any company with a market cap of less than $1 billion.
Overview:
The oil drilling industry, as of late, has been fragile. Crude oil has fallen, inventories are at an all-time high, and demand is insufficient to the current levels of stored crude. Very few new contracts as well as cancelled contracts has been occurring over the past 2 years, all of which has finally caught up with these firms. Bankruptcy for some will transpire over the next year.
I will compare the companies in the oil drilling industry with one another. I will compare these firms using financial statement data that I think is important. To start off, we will list out the companies that are the biggest by market cap, the top 25 in order are below: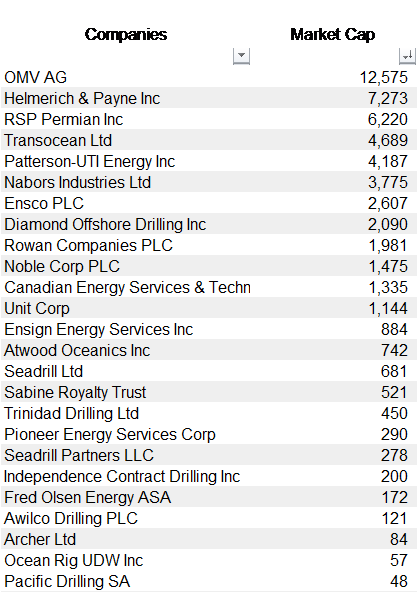 The top 25 drilling companies makes up $53.9 billion in market cap.
Market Cap doesn't tell you the whole story of a company. We will compare the top 25 companies in sales, gross profit, and net income, we will sort it by total revenue(ttm):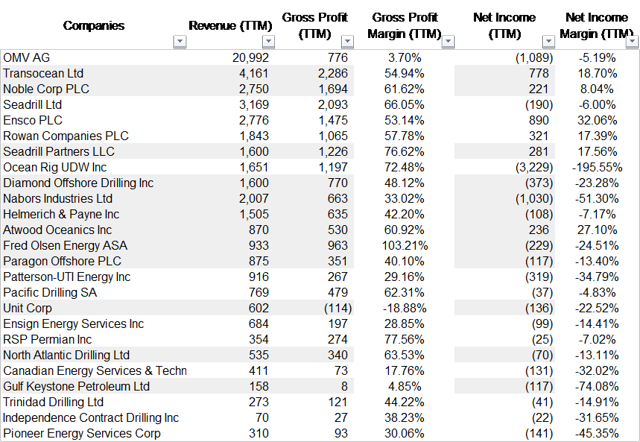 Evident from the chart above, OMV has far more total revenue then the industry average, however, their gross profit is far less. Gross profit margin of 3.7% is far less than the industry average of 47.83%, which is a very good margin for the industry. Overall oil drilling margins are very profitable, assuming there is enough revenue to fund all operations and have excess cash for a return to investors.
Top 5 Gross Profit include (in order):
Transocean Ltd
Seadrill Ltd
Noble Corp PLC
Ensco PLC
Seadrill Partners LLC
Top 5 Net Income include (in order):
Ensco PLC
Transocean Ltd
Rowan Companies PLC
Seadrill Partners LLC
Atwood Oceanics Inc
Overall, Transocean, Atwood, and Seadrill Partners stick out to me so far. Another measure to look at when comparing companies is total assets. The negative with comparing assets of one firm to another is the companies with the most assets, are not always the best. Even if they have the most assets, they can potentially go bankrupt if they don't have enough cash.
Total Assets: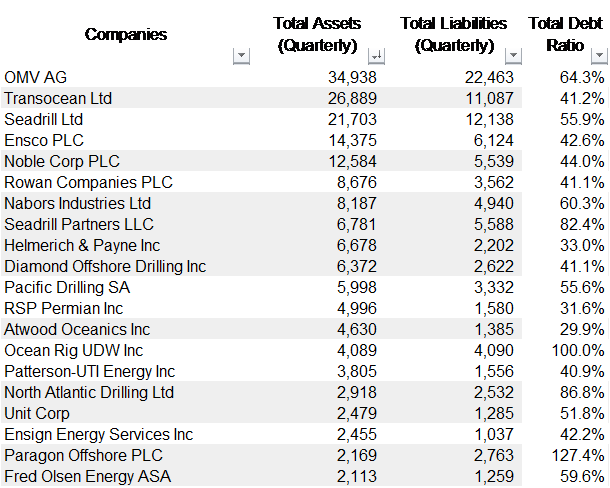 OMV comes out on top again, with Transocean, Seadrill, and Ensco right behind it. Total Debt Ratio is important to consider, with a total debt of 64.3%, OMV has a lot of debt tied to its assets. Considering assets typically lose value over time, liabilities do not. The industry average total debt ratio is 49.5%.
Transocean, Ensco, Noble, RSP Permian, and Atwood Oceanic's currently have a very good capital structure.
Cash From Operations: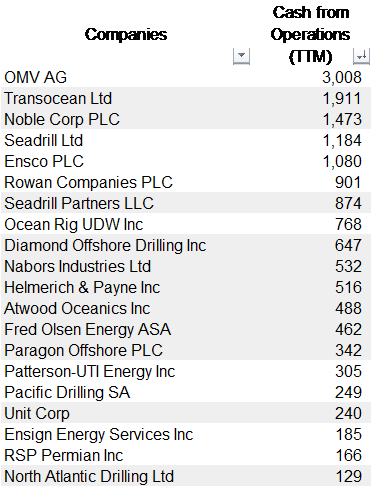 Cash flow from operations is imperative for a company to survive this oil crisis. OMV, Transocean, Noble, Seadrill and Ensco are leading the pack with cash from operations. We look at a company from the outside in, however if you are on the inside, you understand it's very crucial to have enough cash to pay your suppliers, your current expenses, and have cash to fund capital projects. Cash is King.
One thing I didn't speak of in my overview of the oil drilling industry is how much debt is currently owed in the next year by each firm, which is crucial for a full analysis.
For example, Seadrill Ltd. made $1.2bb in cash over the past twelve months, however they owe $4.7bb in current liabilities. Although they will most likely borrow more debt to pay their current debt, this is not a plausible solution to paying down debt.
My Conclusion:
Overall I am bullish on the price of crude oil and the oil industry altogether. Crude price is a direct correlation to the stock price of any given company in this industry. By year end, I expect the crude oil price to be in the $58-64 range, and most of the companies that survive this down turn will see gains of more than 30%.
Disclosure: I/we have no positions in any stocks mentioned, and no plans to initiate any positions within the next 72 hours.