Not February 2018?  Click here for the latest blue chip dividend stock report.
How is everyone's stomach feeling?
Hope it's not doing too bad after the roller coaster we've been riding that is the stock market.
Massive downs followed by ups followed by more huge drops. And that is all taking place within the span of a day!
No telling what is going to happen next.
Most people knew this was bound to happen, though. The bull market run we had been on needed a correction at some point.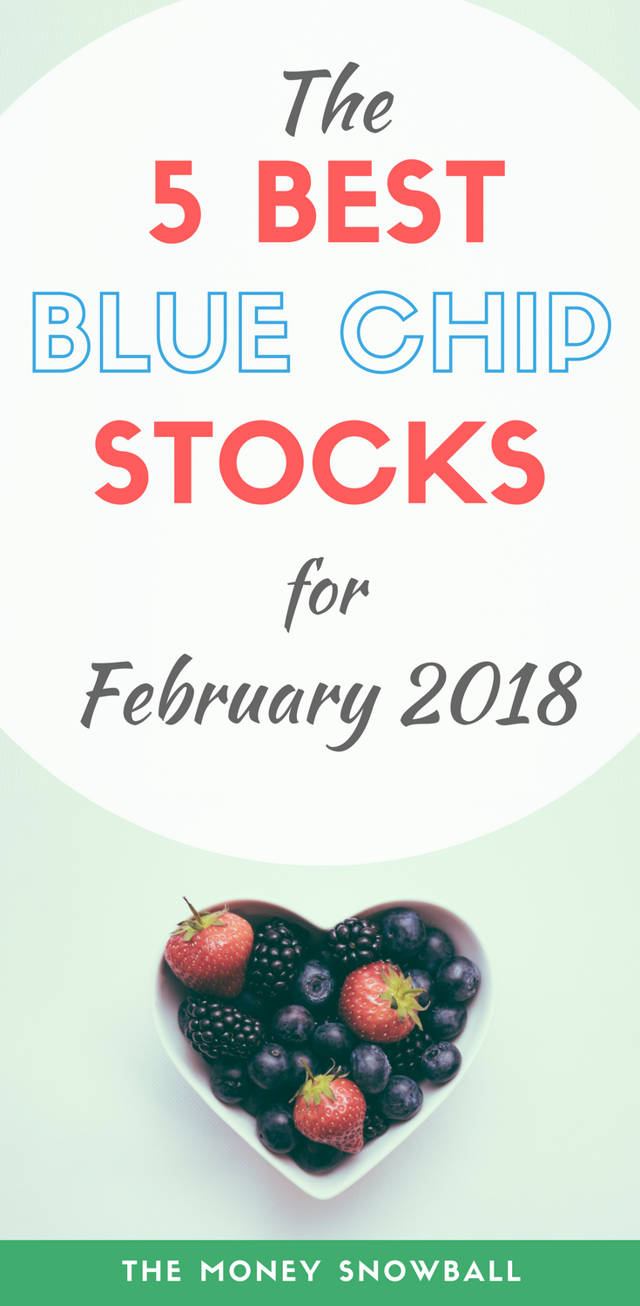 No one knew it would happen in the span of two weeks.
That's OK.  We don't worry about the movements of the market.
As long as you invest in good companies at a good price, things are always going to move up and to the right over the long-term.
With that in mind, let's use our investing strategy to see what the best blue chip dividend stocks are for February 2018.
5.  Johnson & Johnson (JNJ)

Sift through the cabinets in your bathroom right now and you'll probably find a dozen Johnson & Johnson products.
Some of them you won't even realize are Johnson & Johnson without looking at the fine print.
For over 100 years, J&J has been producing medical devices, pharmaceuticals, and consumer goods.
The company started in 1885 after Robert Wood Johnson heard a speech advocating for antiseptics.
Robert joined with his brothers James and Edward to create a line of ready-to-use surgical dressings.
The product was first offered in 1886 and the company incorporated in 1887.
Over the next 40 years, the brothers expanded their product line. They started selling products like tooth floss, sanitary pads, and baby powder.
The company quickly expanded internationally by making their products available in Canada and the UK.
Home goods weren't the only things developed. In those early years, the company brought contraceptives and pain relievers to the market.
These were the first products offered by their Medical and Pharmaceutical divisions.
The 1950s onward saw Johnson & Johnson expanding through acquisition.
Their expansion was so rapid they currently operate over 250 companies in what is termed "the Johnson & Johnson family of companies."
Future Growth Potential
Johnson & Johnson operates under three broad divisions: Consumer Healthcare, Medical Devices, and Pharmaceuticals.
The Consumer Healthcare division is what most of us are all familiar with. These are the brands like Aveeno, Neutrogena, Lubriderm, Band-Aid, and Neosporin.
Because they have such a strong consumer presence, most don't know or, pay attention to the other two.
The Medical Devices division develops new technologies, products, and services to improve every aspect of surgery.
Pharmaceuticals develop treatments for six major areas: Cardiovascular & Metabolism, Immunology, Infection Diseases & Vaccines, Neuroscience, Oncology, and Pulmonary Hypertension.
While Consumer Healthcare gets all the recognition, it's been Pharmaceuticals with the strongest growth.
In 2016, Pharmaceuticals increased revenue 11% while the other two grew by 4% each.
The future is bright, too. J&J expects to file 10 new products by 2021. Each has the potential to have over $1 billion in sales annually.
With the healthy growth of their Pharmaceuticals division and the strength of their Consumer Goods and Medical Devices, J&J is positioned extremely well.
They're both a Dividend Aristocrat and Blue Chip stock for a reason. No doubt they're going to keep it that way.
4.  Home Depot (HD)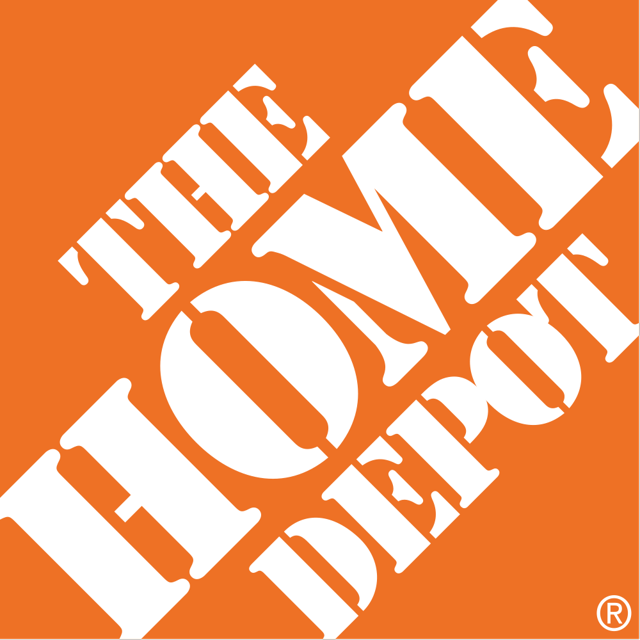 Anyone who owns a home has been to Home Depot.
The home improvement store has been a common destination for homeowners since its founding in 1978.
The company was co-founded with the idea of building home-improvement superstores.
Two spaces were leased from J.C. Penney and became the first locations of Home Depot. Both located in the metro Atlanta area.
Things went really well from the beginning because the company went public two years later in 1981.
Along with their public offering, Home Depot started branching out of Georgia and into Florida. Two new stores opened in Hollywood and Ft. Lauderdale.
By 1984 The Home Depot was operating 19 stores with sales over $256 million.
The company made its first acquisition in 1984 to expand into Dallas. Bowater Inc. became The Home Depot on October 31, 1984, for $40 million.
Rapid expansion had it's downside, though. During the 80s, earnings fell 42% while debt rose to $200 million.
Another stock offering was issued that allowed them to raise capital, open 10 new stores and restructure their debts.
In 1989 The Home Depot surpassed Lowe's as the largest home improvement store in the United States.
Home Depot aggressively acquired various supply companies across the US in the early 2000s.
They wanted to expand their direct-mail marketing to gain customers out of reach by The Home Depot.
Early 2000 also saw their expansion into Mexico with the purchase of home improvement chain Del Norte.
Future Growth Potential
Like most of the country, 2008 was bad for Home Depot. Because the financial crises targeted housing, in particular, Home Depot especially took the brunt of it.
However, Home Depot is resilient and has bounced back in a big way.
Since 2010, revenue has grown from the low of $66.2 billion to $94.6 billion in 2016. Net income even tripled from $2.6 billion to $8.0 billion.
The housing recovery has meant a major recovery for the home improvement giant.
Going forward, Home Depot is looking to expand its professional customers base.
They want to become the go-to location for professional contractors and service providers.
In 2015, Home Depot acquired Interline Brands for $1.6 billion.
Interline Brands is one of the nation's leading suppliers and wholesale distributors for those in maintenance, repair, and operations.
Meaning, their primary customers are facility and maintenance staffs at apartment complexes, hotels, hospitals, colleges, etc...
The company is also pushing to integrate its online and in-store sales. Home Depot wants customers to be able to order anything online and pick it up quick and easy at the store.
While retail is under threat of Amazon, home improvement seems to be one area the e-commerce giant can't touch.
Home Depot did pause their dividend raises during the Great Recession.
They've had 8 consecutive years of dividend growth but 25+ without a reduction.
Aside from the possibility of another collapse like 2008, this Blue Chip stock doesn't look to be slowing down anytime soon.
It's been a consistent dividend payer and looks to continue being one for the foreseeable future.
3.  Nike (NKE)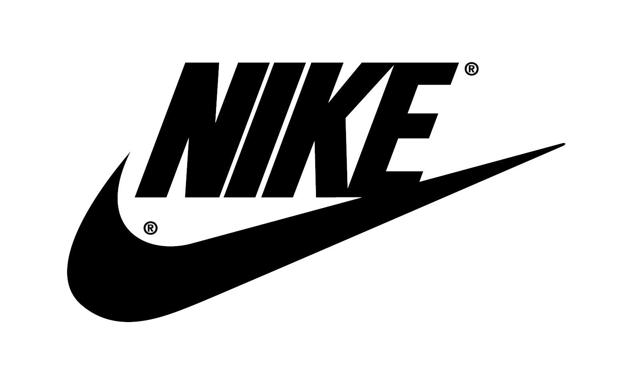 Not a day goes by that we don't see that Nike swoosh somewhere in the world.
It could be on someone's feet walking by. It could be on their shirt or pants. You might see it on TV during an advertisement.
You could also be seeing it on TV as part of a top-flight sports game.
Nike is everywhere when it comes to athletic apparel.
The company was created in 1964 by Bill Bowerman and Phil Knight as Blue Ribbon Sports.
It was another 7 years before the company officially became Nike. So named after the Greek goddess of victory. Fitting for an athletic apparel company.
Initially, the company didn't have any products of its own. They operated as a distributor of Japanese shoe maker Onitsuka Tiger. Now known by most as ASICS.
Bowerman made the first pair of shoes using a waffle iron. He was looking for a better running shoe for his athletes and produced the first pair of Nike's with kitchen equipment.
In 1971, Nike launched its first line of footwear bearing the trademark Swoosh.
By 1980, the company had attained a 50% market share in the U.S. athletic shoe market and the company went public in December of that year.
Future Growth Potential

Products are marketed under the Nike brand as well as through:
Nike Pro
Nike+
Air Jordan
Nike Blazers
Air Force 1
Nike Dunk
Air Max
Foamposite
Nike Skateboarding
Hurley International
Converse
Nike over the last number of years has been losing market share to Under Armour and Adidas. The most drastic losses have come in recent years to Adidas.
Adidas sales soared 31% in 2017 to $1.1 billion to overtake Under Armour for the number 2 spot in North America.
Yet, Nike still holds the top spot by a wide margin.
The scare from Adidas has held the stock down.
Poor sales from Footlocker and Dick's Sporting Goods hasn't helped either.
Falling numbers at the major shoe and sporting good stores have scared a lot of investors.
The theory is if sales are poor there, Nike must not be doing well either.
While the theory has some truth, Nike has many other avenues of distribution.
They're focusing on direct to consumer over the internet and partnering with Amazon to do so.
Nike hasn't reduced their dividend payment in 25 years and has increased it each year for the last 15.
When it comes to dividend-paying blue chip stocks, it doesn't get much better than Nike.
2.  Visa (V)

The way we pay for things is changing.
For years the world ran on cash. Anytime you paid for something, you pulled out a few bills and handed them over.
That's not how things go today. More often than not you're handing over a little plastic card with the Visa logo on it.
In mid-September of 1958, Bank of America launched its BankAmericard credit card program. The program was only offered in Fresno, California through an initial mass emailing.
This was the first successful use of the all-purpose credit card.
There was plenty of middle-class Americans with revolving credit from different merchants in the mid-1950s.
Having so many lines of credit in the world made for inefficient and inconvenient shopping.
You needed individual cards for each merchant and pay various bills each month.
Bank of America's idea was to get rid of the multiple cards and allow people to charge everything with one.
In 1966, BofA began licensing agreements with banks across the country. Later in the 1960s, it expanded to several other countries.
Ten years on, in 1976, the directors of the International Bankcard Company (IBANCO) decided to bring the various international networks together under a single network.
That single network with a single name would be in the best interest of all the corporations with licensing agreements.
The single network became known as Visa.
Before 2007, Visa was four separate incorporated companies: Visa USA, Visa International, Visa Canada, and Visa Europe.
In October of 2007, Visa Canada, Visa International, and Visa USA merged to form Visa Inc. This was the first step in becoming a publicly traded company.
Visa's IPO took place in March of 2008.
By 2016, Visa Inc. had acquired Visa Europe and created one global entity.
Future Growth Potential
The future for Visa is very bright.
Visa currently has a war on cash.
The less people use cash and the more they use credit cards, Visa wins.
What a lot of people don't know is Visa doesn't issue credit cards, they don't extend credit, they don't even set rates or fees.
That's all done by banks.
All Visa does is handle the electronic transfers throughout the world. Typically it's from a buyer's bank to a merchant's bank. Visa then gets a cut of every transaction.
In 2015, Visa processed 100 billion transactions with a total volume of $6.8 TRILLION.
All that said, Visa is still the second largest card payment organization in the world. China's UnionPay surpassed Visa in 2015 based on the annual value of card payments transacted.
That's a threat, but a minor one.
UnionPay's size is based on its domestic market. Nearly all their transactions are happening within China.
Visa still dominates the rest of the world with over 50% market share of global card payments minus China.
There is also competition domestically from American Express and MasterCard to be concerned with.
While paying with a credit card seems like second nature in the US, it is still relatively uncommon around the globe.
If payment trends around the world follow the path of the United States, this is a huge opportunity for Visa.
This Blue Chip dividend stock has been raising their dividend for almost since its IPO and I don't think it's stopping anytime soon. It will eventually reach the ranks of Dividend Aristocrat.
1.  UnitedHealth Group (UNH)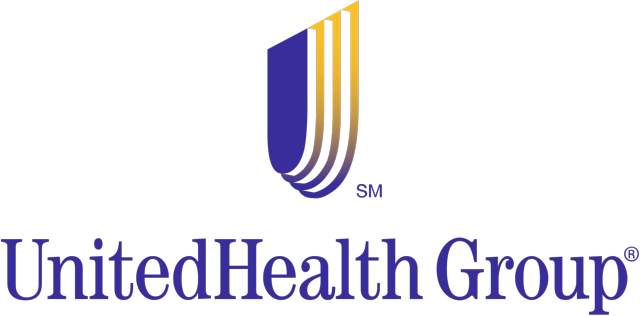 UnitedHealth Group was founded by a group of physicians in 1974 as Charter Med Incorporated.
Along with other healthcare professionals, they wanted to expand coverage options for consumers.
The name Charter Med didn't last long. The creation of United HealthCare Corporation in 1977 was to reorganize and became the parent company of Charter Med in 1977.
The business focused on using the best medical care combined with the best thinking in business management.
The idea is that combining the two would improve the health of patients while strengthening the health care system.
In 1979, United introduces the first network-based health plan strictly for seniors. They're also one of the earliest experiments with private-market alternatives to Medicare.
UNH went public in 1984 and continued to meld solid health care with good business management.
1987 saw the introduction of EverCare. A program designed to help coordinate care for individuals in nursing homes.
Transplant Networks were introduced in 1989 to help direct people to programs capable of handling their complex medical needs.
In 1996 the company came out with AdjudiPro. Using very early forms of AI, United Health created a system for automating much of the claims review process.
This allowed a claim to be reviewed and sent back to health care providers and customers in record times.
Two years later, in 1998, United HealthCare Corporation became known as UnitedHealth Group.
The company has continued to innovate ever since.
Future Growth Potential
The company now operates in two business segments: UnitedHealthcare and Optum. Both are subsidiaries of UnitedHealth Group.
Together, Optum and UnitedHealthcare serve approximately 115 million people in 2016. That same year the company reported income of $13 billion.
Optum splits into three divisions: OptumInsight, OptumRx, and OptumHealth.
UnitedHealthcare includes four divisions: UnitedHealthcare Employer & Individual, UnitedHealthcare Community & State, Medicare & Retirement, and Global.
UnitedHealthcare Global serves more than 4 million people across the globe in 125 countries.
Global expansion is a primary driver of UnitedHealth's growth. While they are the largest health insurance enterprise in Brazil, there is room for more.
United is working to develop public-private partnerships in Brazil as a testing ground. From their, they look to expand to other more developed markets using the same business model.
Another growth opportunity is from Optum and OptumCare. Revenue increased 10% in Q2 2017 with strong results from the health-plan business management.
There is the lingering question of health care reform. No one knows where it will end up, but the expectation is that companies like UnitedHealth will continue to play a major role.
UnitedHealth hasn't reduced its quarterly dividend in 25 years and has been raising it each year for the last 8.
Even with the questions around healthcare, UnitedHealth is a solid dividend paying Blue Chip stock.
Conclusion
Even with this crazy market, things stayed relatively calm in the top five.
Intel got bumped to the 6th spot while Johnson & Johnson slid into number five.
Visa's stay at the number one slot was also short lived.
Here's a recap of the top 5:
Disclosure: I am/we are long V, UNH, JNJ, HD, NKE.
Additional disclosure: This article was originally posted on www.themoneysnowball.com