We've spent a ton of time over the last month documenting the mad dash into equities that helped propel stocks to a truly remarkable January.
That mad dash certainly seems to suggest that if retail investors were indeed still sitting on the sidelines, they're in the game now thanks in no small part to Donald Trump's incessant tweeting about a stock market rally that began eight years prior to his presidency.
Another thing that mad dash succeeded in doing was making stocks the most overbought in history on some metrics. At one point, the S&P had spent the longest stretch in overbought territory in more than two decades and last month, the index also broke a record for the longest stretch without a 5% correction.
[...]
The "fear of missing out" meme was enshrined in a BofAML note by Michael Hartnett who, the following week, warned that the avalanche of inflows into equity funds had helped push the bank's Bull & Bear indicator to flash a "sell" warning.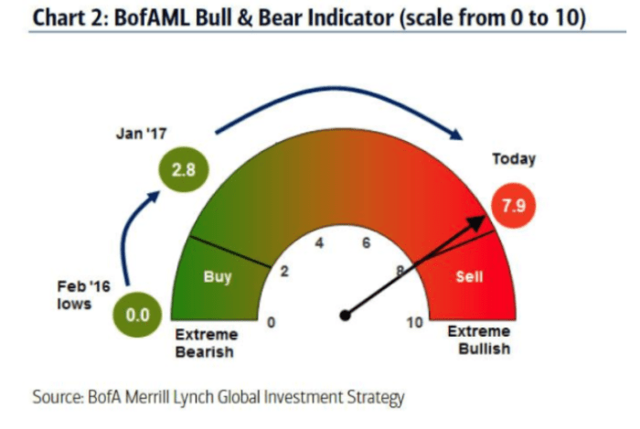 Well in light of that, and considering the rather rocky week stocks have had (relatively speaking, because everything looks like a blip on the radar screen when you consider the scope of the rally off the 2009 lows), we thought we'd highlight two followup charts.
Full post here:
https://heisenbergreport.com/2018/02/01/2-more-scary-charts-because-why-not-right/